QuickBooks Online Review 2018 Pricing, Features And System Requirement
Last Updated on: February 21st, 2019
Posted by:

QB

Category:

QuickBooks Online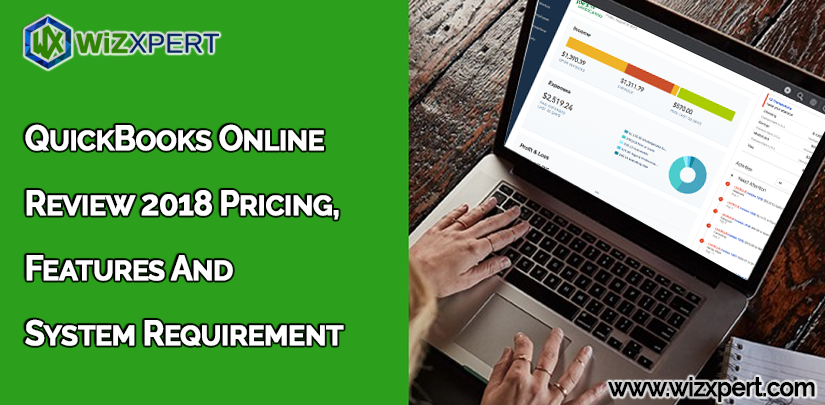 QuickBooks Online Review: Quickbooks Online is accounting software that can easily fit into your business and make your accounting easy. It is designed for small, medium and growing businesses so that they can easily manage their business finances without spending more time.
As we all know that every coin has two phases, likewise QBO also has its pros and cons. Let's discuss that:
Pros.
Cons
It does not support multiple currencies.
Has a high price. That's why it has limited users.
Sometimes it is buggy.
Provides a moderate learning curve.
Overview of QuickBooks Online
Moving further, let's discuss in brief about Intuit QuickBooks. So, if you have heard of accounting, it's obvious you have heard of Intuit QB also. In 1983, Intuit was founded and the idea behind this was to make accounting better or simple. And, now it is one of the biggest names in accounting and personal finance. Quicken was their first product and it was launched in 1984. Earlier, in 2002 QuickBooks was followed by the users and two years later QBO came.
The best part about Quickbooks online is that it is easily accessible. It offers true double-entry accounting with ample reports. And also offers a strong chart of accounts as well as customizable invoices.
Surprisingly, QBO has grown to 2.2 million users and there has been some significant changes and advancements seen in the software, with one of the most recent being a long-awaited project management feature.
Again, if we talk about our last review then some major navigational issues and feature limitations led us to demote the software to 4.5/5 stars. However, this doesn't change anything because QB is happily back to its old trick. But, still a few minor navigational difficulties are there and the company has reinstated its time to track feature. The company has also added a brand new lending platform known as QuickBooks Capital and has also improved its customer support response times.
Additionally, many features are offered by QBO that is not seen in the locally-installed version of QB(like automatic sales receipts, split transactions, and scheduled invoices). It is seen that many customers believe that the sheer mobility of QBO is entirely worth the upgrade. Whatever the minor navigational difficulties I mentioned earlier, apart from that the program was still a better learning curve than QB Pro.
QuickBooks Online Pricing
An interesting part about QBO is that it offers a 30-day trial of any plan free. And, after the trial, it has 3 pricing tiers without any annual contracts.
But, it has recently increased its prices, that's why the discount is more important than ever.
Well, Intuit provides the facility of constantly offering discounts so, don't forget to check if they are running any promotions.
Note: It should be noted that if any customer uses free 30-day trial before purchasing then in that case discounts are invalid.
Simple Start Plan
Essentials Plan
Plus Plan

$15/mo
You will get unlimited invoices and estimates
Provides expense tracking and live bank feeds.
It integrates with 200+ apps
Has 27 reports and one user, plus two accountants.

$35/mo
Unlimited invoices and estimates.
Provides tracking and time tracking
Gives live bank feeds and accounts payable
Has 53 reports and integrates with 200+ apps
It has three users, plus two accountants.

$50/mo
Unlimited invoices and estimates.
Expense tracking and time tracking.
Provides accounts payable and inventory.
Project management feature
Facilities for class tracking and live bank feeds
Has 75 reports and 1099 tax support.
It has five users, plus two accountants.
Extra Costs
In order to increase its pricing plans, QB has significantly increased its payroll support. It's your choice totally, you can choose between enhanced payroll and full-service payroll. And if you need custom invoice template then you have to pay an extra $4.99.
User Satisfaction
While purchasing Accounting software, it is not only important to see the expert reviews, but also to find out if the real people and companies that buy it are actually satisfied with the product. And keeping that in mind we have our ProAdvisors that will help you with your doubts and assist you accordingly.
Moving to the technical details, QBO is supported by Windows, Android, iPhone/iPad, Mac, and web-based. Language support in English and it is suitable for small business and freelancers. Its pricing model comes with a monthly payment.
Web-Hosted Or Locally-Installed
In this no downloads or installation required.
Hardware & Software Requirements
As you know QBO is cloud-based software, so it operates with nearly all internet browsers as long as you have internet access. Some of the supported browsers include:
Google Chrome
Firefox
Internet Explorer(11+)
Safari(6.1+)
It also has desktop apps for Windows and Macs, that runs faster. Unfortunately, Linux is not supported by QBO at this time.
Adobe Reader 7.0+ or the Firefox PDF plugin is required to read forms and to use the print checks feature in QBO. It also has mobile apps for Apple(iOS 9.3+) and Android(4.1+).
Specific Size Of Business
It is ideal for nearly any type of small business. It also possesses advanced accounting features, payroll, and user permissions to support medium-sized businesses but other web-based software program does not. Although, large businesses may find that QBO's feature set and amount of employees are too limited for their needs.
You need to know one thing that on QB Plus Plan, 25 is the maximum number of users but you can purchase more employees for an additional monthly cost.
Accounting Method
It is based on both cash-basis and accrual accounting.
Ease Of Use
Most often it is seen that QB is intuitive and easy to use. Its UI is beautifully designed, but the organization needs some improvement.
Some of its features are hidden in settings and difficult to find at first, but the built-in help search and faster phone response times help make it easier to find what you are looking for.
QuickBooks Online Features
QB Online has an impressive feature selection, for cloud-based software. The basics are covered by this section, you can also check out the full list of QuickBooks Online features on the company's website.
Dashboard:
It includes a list of tasks and charts for Invoices, Expenses, and Accounts, Profits and Loss, Sales, and Discover. You will find a "see all activity" option at the bottom of the dashboard that will take you to a full audit log and history of recent activity.
Invoicing:
You will find five invoice templates or you can also import an existing invoice template via Microsoft Word. Invoice customization portal is easy to use and is the most developed portal on the market. You can easily customize the logo, logo position, font, font size, header, footer, number of columns, and more.
Default invoice messages and add shipping charges can also be created along with discounts and attachments to invoices. If you have the Essentials or Plus Plan, then you can send invoices reminders to late customers and also recurring invoices.
With QuickBooks Online sending sales receipts and refunds receipts are also easy. It offers auto-schedule invoicing features. By invoice tracking, you can see customers view and take action on an invoice.
Estimates:
It is easy to create estimates and convert them to invoices. Estimates are always sent via email and customers receive the documents as PDFs. If you want to set a default estimate message then you can easily set. Unfortunately, no separate estimates tab is there for estimates and that results in making it difficult to view past estimates.
Client Portal:
QBO does not offer a client portal, but that is only for invoices, not for estimates. And in this, customers can easily view, print, save and pay, or ask questions about their invoices.
Contact Management:
QBO offers a highly developed contact management system. And, because of this feature, you can easily save an incredible amount of information on your customers and vendors, which includes display name, billing address, shipping address, preferred payment method, default payment terms, opening balance, attachments, and default tax codes. Important files can also be attached like contracts to each contact. One can send batch emails to contacts.
Expense Tracking:
In this, you can add individual expenses and manually import bank statements. Expenses can be categorized and you can attach receipts to them as well.
QBO does not use Yodlee for their live bank feeds while other accounting programs do. Yodlee is known to violate some bank's terms and conditions but QBO gets extra points for using their own bank connector.
Bank Reconciliation:
Because of living bank feeds features of QBO, bank reconciliation is easy. Earlier QBO used to have good duplicate transaction but these features no longer exist now and you have to manually match every transaction, though you can still create custom bank rules.
Accounts Payable(Essentials & Plus Plan Only): You can enter and sort bills easily in QBO. Recurring bills can also be set and you can schedule them to be paid at a later date or you can pay bills directly online. If you have a Plus Plan, then you can create purchase orders and convert them into bills.
Chart of Accounts:
It is true to traditional accounting practices. QuickBooks Online offers a default chart of accounts set up. But you can customize each account to fit your business or import your own. It is impossible to track fixed assets and asset depreciation, which is surprising for such a well-rounded accounting software.
Budget(Plus Plan Only):
You can have multiple budgets in QBO, unlike the desktop version of QB. If you want to use data from the previous financial year as your basis for a budget then you can easily do that, also you can copy existing budgets. And, you can create budgets by customer, class, location, or by year.
Inventory(Plus Plan Only):
It only tracks inventory. In this, you can save default sales prices, images, and create item descriptions when adding items. There is a unique option by which you can create item bundles, which make invoicing a breeze. Now, you can set inventory to reorder points and check the current stock level when you are creating invoices.
Project Management(Essentials and PPO):
In this projects can be easily created and you can add billable and unbillable time as well as expenses. It includes basic job-costing or you can also send invoices for projects.
Time-Tracking(Essentials and Plus Plan Only):
It is used to track billable and unbillable hours. By using this, you can easily enter employees total hours or start and end times. See – Top Time Tracking Software To Integrate With QuickBooks
Payroll(Additional Cost):
It is easy to set up. You just need to simply go to your employees, establish a pay rate(by salary or by an hour), set employer taxes and set a payment schedule. After that just print the payroll stubs and check out the payroll reports. For your convenience, you can also set an email reminder which let you know about the time to pay your employees.
Reports:
The access to reports totally depends on your plan. Simple start plan begins at 27 reports and the Plus plan tops out at 75 reports. And, it covers basic accounting needs and gives helpful sales insight as well.
Packing Slips:
It is a shipping document and is required if there are products being shipped and received for sale. QBO supports packing slips.
Location and Classes:
This is another unique feature that lets you sort transactions, estimates, and billable hours by a specific location or class. Print Checks(Plus Plan Only): QBO provides you with the unique ability to order and print checks directly from the software.
Sales Tax:
It gives you a special feature, that you can save many sale tax rates as needed. Additionally, you can assign a default sales tax to your customers.
Tax Forms and Support(Plus Plan Only):
It prepares you and prints 1099-MISCs and W-2s for each employee.
Multi-Currency:
QB Online supports over 150 currencies.
Importing/Exporting:
This feature is convenient and easy to use as compared to other programs. So, it is easy for you to import your customers, vendors, charts of accounts, products, and services. Here, exporting is more limited. But you can export reports to Excel and all other data can only be exported via Internet Explorer.
What Integrations are available for QuickBooks Online?
Moving forward to integration, QBO has dropped from 400+ integrations to around 280. Isn't it sad, but you do not have to worry more because it still offers an impressive number of integrations and partners with many reputable add-ons.
Other QB applications offer easy integration such as QB Payments and QB Payroll. In addition, QBO also offers add-ons such as Mavenlink, Shoeboxed, Jobber, Bill.com and Method CRM.
Many App developers can use the QB API to integrate their products with QBO and showcase them to small business owners. However, QB API client gives developers access to their customers' data via a REST-based API that works with QBO.
QuickBooks Online Alternatives
There might be some possibilities that QBO fails to fulfill your requirements. In that case, you still have several alternative Accounting and Finance Software solutions. Here, we are going to discuss the top QBO alternatives. Some of them are:
FreshBooks: It's an award-winning accounting software and is a great cloud computing app for small business. Makes billing easy.
Tipalti: It is an award-winning payment management system. Also, a powerful and secure payment solution. Provides automation of entire mass global payment processing operation.
ElBats MES: It is known as an integrated manufacturing execution and product lifecycle management software for factories.
Customer Service and Support
During past years, it was observed that QB Online has been notorious for long phone wait times. And also poor customer support.
Well, it's good news for the users that QBO has improved by leaps and bounds. Now no one has to wait for long hours when contacting QB support.
Talking about QB Online phone support, then it is available from 6:00 am – 6:00 pm PST, Monday through Friday and on Saturday hours 6:00am-3: 00 pm PST. All of QuickBooks Online's support services include:
Phone:
Call our customer support at 1(855-441-4417) toll-free.
Help Center:
You don't have to worry more about the help center 0f QB. Because now it's so easy to contact them. They also have features of FAQs as well.
Community Forum:
Communities are the biggest support services offered by QB. Whether you are an Intuit employee or fellow customers it doesn't matter because both can answer any questions posted, and new questions are answered relatively quickly.
In-Program Help Button:
QBO provides a help button features in the top right corner of the software.
Video Tutorials:
This feature explains how each function works.
Youtube:
It provides the same feature that you can get on the QBO site. You can also find helpful videos from fellow users and CPAs.
QuickBooks Online Classes:
It offers both in-person and online classes at an additional cost.
QuickBooks Resource Center:
The main function of this is to hosts articles, business advice, and guides.
Blog:
If you need any information regarding software updates and company news, you find it on QB blog.
QuickBooks Pro Advisor:
QuickBooks Proadvisors are trained technician and they can help walk through the program.
Social Media:
Nowadays many people are connected to social media. Therefore keeping that in mind QB also has a Facebook page where they post updates and helpful advice articles. And within 24 hours customer comments are responded and their responses are relatively helpful and always kind. Twitter feed is also available for the all QB programs.
Reviews and Complaints
Negative Reviews and Complaints
There is no doubt that QBO has great features but it has a few shortcomings also. Therefore, frequent complaints about the software are registered by a few customers. Here are some of them:
Poor Customer Service: It is seen that many customers are unhappy with QBO and dislikes, the services provided.
Bugs and Crashes: Sometimes software get crashed and bugs are found. So, many complaints regarding bugs and crashes are registered by the customers on the website.
Doesn't compare to QuickBooks Desktop: It is another common complaint that is found often. Because a few customers are so underwhelmed by the software.
Expensive: Due to its rising price, many customers have disapproved of it.
Unauthorized Charges: A complaint regarding unauthorized charges was registered by a customer that her account was charged without authorization. And it took five months to fix that problem.
Positive Reviews and Complaints
Despite the few complaints, many users are seen happy with the QuickBooks Online. And, the important part is that most company's ratings have rapidly increased over the last year.
Intuit is officially recognized by the BBB with an A+ rating. You would not believe this but it's true. GetApp has provided 4/5 stars to QBO and mobile apps rank highly with Android users(4.3/5 stars).
Following are the few things Users love most:
Mobility: QuickBooks Online provides mobility to users and companies.
Good Accounting: QBO gives the best full-featured accounting software options to the users.
Easy To Use: It is seen that many customers find it easy to learn and use. Also, even non-accountants enjoy using QBO.
Feature Selection: Various features are supported by QBO.
Saves Time: The best part is it saves much time for the users.
Ample Integrations: 200+ integrations are available in QBO.
Security
Now, moving towards QBO security it uses 128 bit SSL encryption and multi-factor authentication. Its physical safeguards have been implemented at the Tier 4 data center, and routine testing ensures security. If you really want to know more about QB security, then you can check out the Intuit website.
Conclusion
According to the above discussion, I think you have got an idea about all the features of QB. It has complex accounting capabilities that small business owners need. The software also provides an impressive number of integrations and is working on bettering their customer support. Also, the company has created a much-needed project management feature and added an exciting new lending feature.