QuickBooks Installation Error for Windows and Mac
Last Updated on: January 30th, 2018
Posted by:

admin

Category:

Quickbooks
Sometimes, we hear a very common problem from users about getting QuickBooks installation error with Windows and Mac. In this error, the program does not start or just partially appears after clicking on the QB Desktop or company file icon. A number of issues prevent QuickBooks from opening. It is very easy to solve it. In simple way, you can resolve this error by rebooting your computer. We will  discuss some more efficient methods to get resolve from this error. You can also get more help from well qualified accounting assistance of QuickBooks Enterprise support team.
Cause of the installation error for Windows and Mac:
This error is caused by:
Opening of QuickBooks multiple times if you did double click repeatedly which prevent your company file from opening successfully.
Incorrect method to open a particular file type can also be a cause of error.
Problem with reports and another windows within the file.
Using of improper version of QuickBooks to open the company file, folder, compressed or encrypted file.
Improper file name and extension, or data corrupt can also be a cause.
Related Blog: How to Access QuickBooks User Manuals and Installation Guides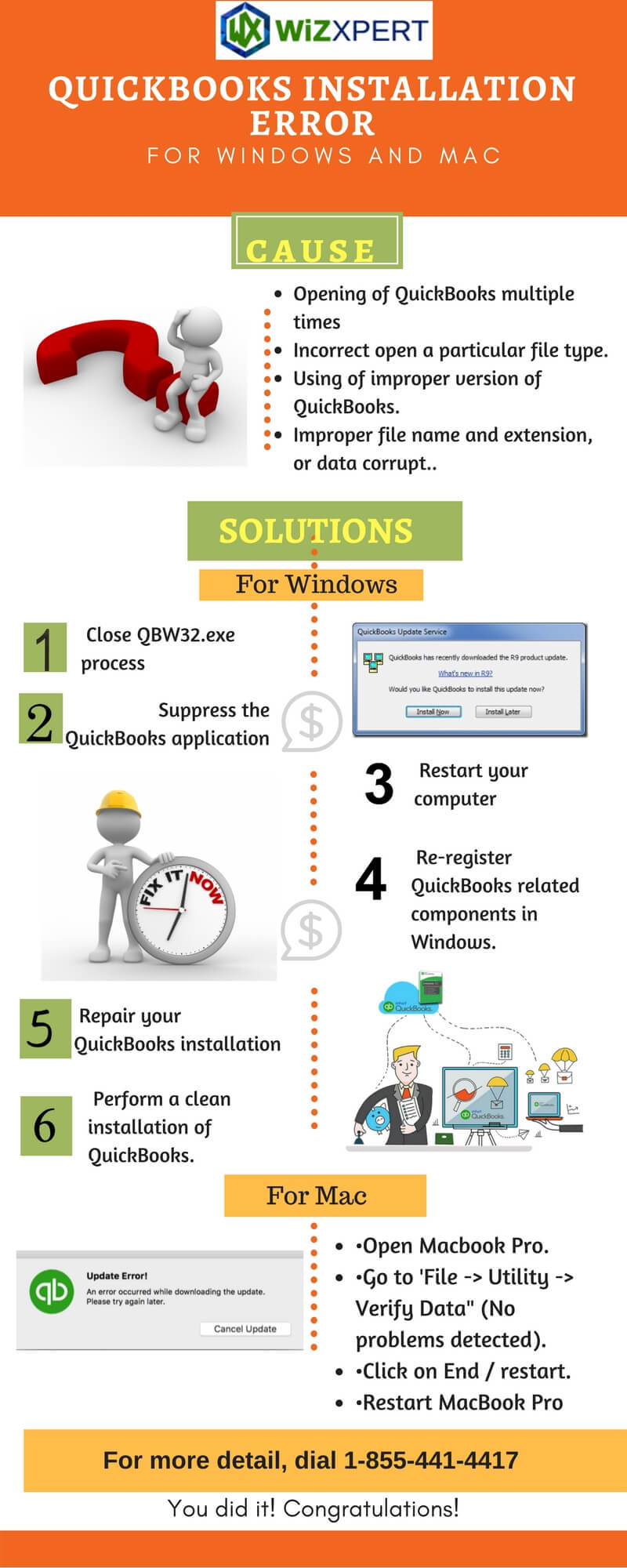 Fix QuickBooks Installation Error.
Let's start to discuss some methods to solve this error with Windows:

Method 1: Close QBW32.exe process.
Right-click on the Windows task bar and choose Start Task Manager.
Click on the Processes.
Click on the Image Name header to sort alphabetically.
Locate and choose EXE.
Finally click on End Process.
Method 2: Suppress the QuickBooks application.
Right-click on the QuickBooks Desktop icon, press and hold the Ctrl key and choose Open.
Finally Open the company file.
Method 3: Restart your computer.
Restarting your computer will bring your computer up from the scratch and also swipes away the current state of the software. Try to open again your QuickBooks after restarting your computer. Furthermore it will reset the wrong setting you might have chosen during your previous attempt.
Method 4: Re-register QuickBooks related components in Windows.
To re-registers QuickBooks-related .DLL and .OCX files in Microsoft Windows, you need to run reboot.bat.
Method 5: Repair your QuickBooks installation.
Replacing all damaged installation files of QuickBooks by running a repair on your QuickBooks Installation.
Method 6: Perform a clean installation of QuickBooks.
Clean installation is the method of reinstalling all the installation files during a current folders but they still exist within the same default folder location.
Related Article: QuickBooks Enterprise Installation & Setup
Now, let us discuss on the update error with Macbook Pro: 

Open Macbook Pro.
Go to 'File > Utility > Verify Data" (If no problems detected).
Click on End / restart.
Finally Restart MacBook Pro.
In this article, we have discussed several general steps to troubleshoot different kinds of QuickBooks Desktop files that will not open or restore. Hope this article will be worthy and helpful.  If you are still getting this error, contact our QuickBooks Technical Support +1 855 441 4417 for help. We can handle all type of issues related to this.