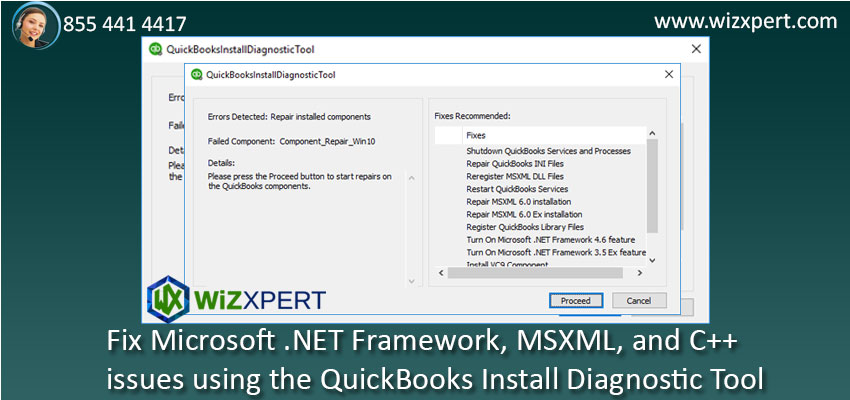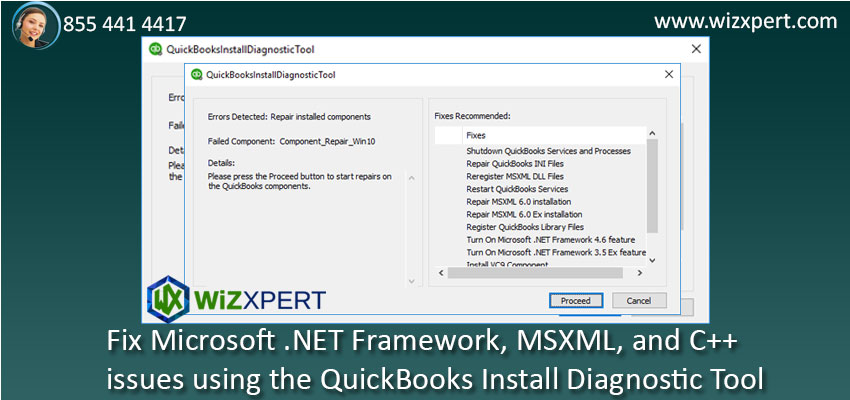 Microsoft components like Microsoft.Net Framework, MSXML, and C++  to run the program properly on a Windows computer. In this article, you will get to know the different methods to fix the Microsoft .NET Framework, MSXML, and C++ issues using the QuickBooks Install Diagnostic Tool.
You can face errors like not be able to install or use QuickBooks Desktop. Another version that is not suitable for the Quickbooks Desktop version. Run QuickBooks File doctor if your company file get corrupted
What is Microsoft.Net Framework?
Generally, the .Net framework component helps to run's interface program properly. QuickBooks/Pro series/Lacerte uses Microsoft.Net framework for many areas of the program. There is a different .Net framework is available for each version of QuickBooks Desktop. Sometimes .Net framework can become damaged and shows errors:
QB Error code 1903
QB Error code 1402
Errors related to damaged Microsoft .NET Framework, MSXML, and C+
What is MSXML?
Which allows the application written in script, VBScript, and Microsoft development tools to create windows native XML related application.  The Set of services in Microsoft XML Core Services. With the help of this, you can organize information and can also view data easily but this applies only viewing data in a Notepad or Windows browser not for apps to access them in the background.
Error encounter if MSXML is damaged or missing:
Ensure that the MSXML has been installed on your system correctly.
Facing problem to access the registration file. Check MSXML is installed correctly or not : C:\Documents and Settings\All Users\Application Data\COMMON FILES\Intuit\QuickBooks\QBRegistration.dat
Steps to resolve the Microsoft .NET Framework, MSXML, and C++ issues
Solution 1: Use the QuickBooks install Diagnostics Tool ( QuickBooks repair tool) to resolve Microsoft.Net, MSXML, C++ errors
Download the QuickBooks Desktop Install Diagnostic Tool.
Save the file to your Desktop When prompted.
Now, Close any of the open programs and run the QB Install Tool.
Finally, to ensure the updates are properly installed or not, restart the computer.
Solution 2: Manually Repair Microsoft Components
Repair/Reinstall Microsoft .NET framework
Repair Microsoft MSXML
Uninstall or install again Microsoft Visual C++
What is C++ for QuickBooks Desktop
The Microsoft Visual C++ Redistributable Package contains library files needed to run applications developed with Visual C++, the language within which QuickBooks Desktop was written.
If a computer does not have the correct version of Visual C++ installed, QuickBooks 2015 and later versions will install it automatically.
Following are errors that may occur if Microsoft C++ is missing or damaged:
Microsoft Visual C++ Runtime Library: Runtime Error!
Error 1904: [file path / name / extension] failed to register
C++ runtime error! c:\program files\quickbooks online backup\onlinebackup.shl
Microsoft Visual C++ Debug Error Program: C:\Program Files\Intuit\QuickBooks [Year]\QBW32.exe Abnormal Program Termination.
Application failed to start because side by side configuration is incorrect.
Read more: Install, Update, and Set up the QuickBooks Database Server Manager
Important Points to Remember:
Please make sure that your internet connection is strong because the process might take some time. If the internet connection is slow then it may affect the downloading process of QuickBooks desktop install diagnostic tool.
In addition, don't forget to restart your computer after updating the QuickBooks. Because changes may not take place without restarting the computer.
For further assistance contact QuickBooks Error Support Number 1+1-855-441-4417.