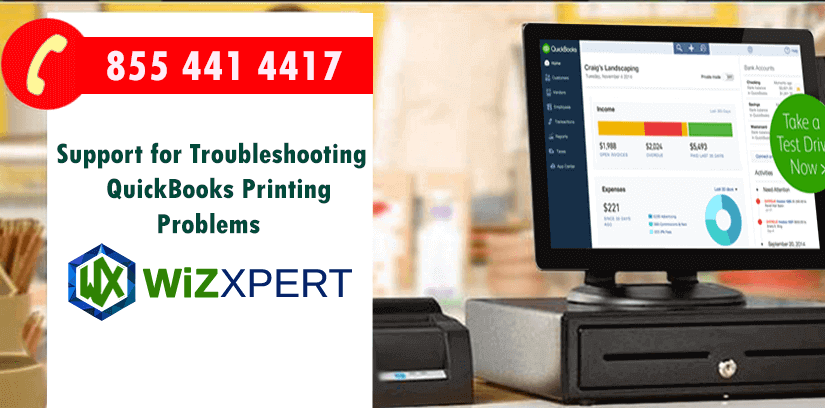 QuickBooks is the most popular accounting software designed by Intuit for small and medium-sized businesses. There are lots of advanced features available in QuickBooks because Intuit upgrades this software every year. As you know that you can access QuickBooks Online from anywhere. And also you can give the print commands from the software itself easily, But sometimes we face some problems related to printing, so, do not worried about it.
There are a number of users are looking for the solution of QuickBooks printing problems. This blog describes how to determine if QuickBooks printing problem is occurring in your Windows and provides solution steps of common printing issues. If you have queries you can contact our QuickBooks Error Support, the team.
Types of Printing Issues
If you are QB Enterprise user and face the printing error, don't worried about that time, In such situations QuickBooks support team should be contacted immediately because may lead to a more significant problem.
We already provide the solution above to fix the invoices related issue you can follow the steps and solve the problem.
QuickBooks 1099 form printing problems
You can solve a problem by applying the above steps.
QB printing problems Checks
If you face this problem that simply means your software needs to be updated.
Printing problems in MAC.
If QB software unable to print by MAC, you should contact QuickBooks technical support for MAC will require different sort of troubleshooting for your better convenience.

Quick Steps to Resolve QuickBooks Printing Problems
Before performing any steps Ensure your QuickBooks is updated to the latest release and check your computer is connected to the printer or not.
Print Outside QuickBooks is possible or not?
Switch off the printer, restart your computer, and then switch on the printer again.
Make sure the printer paper is loaded correctly.
Click the Windows Start button, Select Control Panel, and double-click Printers and Faxes.
Right-click the printer and select Use Printer Online(If the printer is showing Offline)
Double-click the printer and select Printer > Cancel All Documents.
Now, Close the window.
Right-click the printer, Select Properties, and click Print Test Page.
If the test page prints, then test the printer using WordPad:

Click Start> Run.
Enter WordPad and click OK.
Enter some text in Wordpad and choose File > Print.
Select the right printer and click Print.
Make sure that there are no error lights displayed on the printer.
Mention to the printer manufacturer's documentation for any of the following:

The printer displays the error signal.
Won't print the test page.
Doesn't print from WordPad.
Related Article: How to Troubleshoot QuickBooks Printing Problems
Also, Check
Rename the QuickBooks Qbprint.qbp file and try again to print.
If you are not able to print then try to print different file of the same format or similar type of file to find out that the problem is with your file itself or the software. Now try to print, If you are successful in printing then the prior file is damaged.
Now, try to change batch printing to single printing, It takes more time but solves your error.
Ensure that the, your printer driver is of the latest version.
Related Blog: QuickBooks 2018 Desktop: Invoice Past Due Stamp
Check Printer Detail of Printer Setup in QuickBooks Desktop
Firstly verify that the default printer setup is selected or not:
Choose File> Printer Setup( From the menu bar in QuickBooks Desktop)
Verify and Select the right printer for each particular Form Name.
Check the name of the printer on the hardware and check it match the driver info in printer setup window or not?
Verify that the precise name of the printer hardware is listed in Setup:
Choose File > Printer Setup
Now, Verify printer name. If incorrect, Correct the setup within your computer's Printer Setup first.
Is the Printer on a Network or local?
Network, validate network settings are set up correctly.
Local, the problem may be on your computer. Validate there is a connection between the printer and computer.
Do you have another driver installed on the computer?
Use one of the different drivers to try to print
If you need help to know how to use other drivers, contact printer manufacturer support team. Also, you can dial our QuickBooks Support team.
If your issues persist, you should call our QuickBooks Help Number +1 (855) 441-4417. We are always ready to solve users issues and problems. Feel free to call us and get an instant solution.