It is not as much harder to open the QuickBooks files (qbb files) without using QuickBooks. You just need to follow some guidelines and can easily open a qbb file without QuickBooks. There might be many reasons why you want to open the QuickBooks file without using QuickBooks. In which switching to a different account application is one of the most important reasons.
Well, there is no straightforward path to open qbb files without QuickBooks. But, some methods can help you avoid the task of opening the QuickBooks company file without the QuickBooks app. As you heard that you can open the QuickBooks file in the Microsoft Excel application on your system without facing any issue, or without following any complicated procedure. Read the complete blog and follow the steps to open the qbb file without QuickBooks.
Before that we first discuss what is the main difference in QuickBooks QBW, QBB, and QBM files.
What is the main difference in QuickBooks qbw, qbb, and qbm file
First, we should know what exactly the difference in the QuickBooks QBW, QBB, and QBM files. As there are different data or backup file formats in QuickBooks. You can choose according to your choice which is the best option for you.
qbw File: Generally QBW file is your actual working data file. And this is the most important and useful QuickBooks data file in your system.
If you are looking at a QBW file in Windows, then simply type "QuickBooks Company File". There will only be one of those for your company name.
Note: You will also get a file yourcompanyname.QBW, where the Type is "Data Source Name". Which means this file is not your actual file.
qbb File: QBB File is the regular backup file in QuickBooks for the Backup Company/Create Local Backup command. And basically, this is more important than the main QBW File. This file also contains the contents of the TLG file too that is the reason why these files are more important.
qbm File: QBM Files are portable files, that are kind of backup file generated with QuickBooks Create Copy… / Portable company file command. Generally, these files are actually smaller than the main QBW files; they contain only 20% of the main file. Because indexing in this file is totally removed. But you will get everything when you restored this file. So, this file is best suited when you want to transfer QuickBooks data to your colleagues. We always request the clients to upload this file format for data repair, super condense, and for Enterprise downgrade work.
Steps to Open a qbb File without QuickBooks in Excel
QuickBooks backup files (.QBB) is the most common or simplest method that we use to receive data from clients. So there are simple and short instructions that are helpful in sending data..
The given below solution will help you to open QuickBooks file without using the QuickBooks Program and still, you can easily able to read the data in the file.
Open company file in the QuickBooks Desktop.
Click on the File tab, and choose the Open tab to open the file.
And not able to find the file Browse the company file with using.qbb extension and select Open.
Then select Switch to Single-User Mode in the File tab.
Choose the File tab again and click on the Export option.
Click on Send the Report to a New Excel Spreadsheet and select OK.
Now QuickBooks will open your Company file in the Excel spreadsheet.
Click on Save as in the File tab and mention the name by which you want to save the file.
Choose the file location and click Save.
Steps to Open a qbw File without QuickBooks in Excel
First, go to the Start button > All Programs now you see a list of programs on your screen, look for the Intuit to launch it.
After launching Intuit, you need to select the QB company file that you need to export from your QuickBooks. Right-click on the company file and choose open. If required, Insert the user name & password. After accessing you have to choose the Customer Centre.
Now choose the Excel option to import qbw file to excel, after that choose Export excel. here you must have to give the file name and also the destination where you want to save the file. After that select the Export option.
The Excel file you exported in the previous step has to be opened. If by any chance, your Excel file version is out of date, you must select the Excel file again. Next, you will have to import the file. To perform this activity, you will need Excel 2010 or later. If you have the latest version of MS Excel to open a QBW file without QuickBooks, it will be called Best.
After following the above steps, that is, you have imported the file, now you have to go for the tab data. After selecting tab data, then you can go to tab other resources.
To open QBW files without QuickBooks, search for the QBW file that usually appears in the window. By any chance, if you cannot find the QBW file you are looking for, then you will have to search for the file.
Finally, you will be able to open the QBW file easily without QuickBooks. As you have identified the file, you will have to run new QBW files.
How To Import QuickBooks (.qbb) file into Excel
1. First open Excel
Note: Not to worry older versions of Excel will also work.
2. Go to the File option and choose the Import option.
3. Click on the Data tab, and select From Other Sources option.
4. Search for a.qbb file on the Import window.
5. And convert the QuickBooks file to Excel.
6. And open the.qbb file.
Note: If you required to locate the file, then search for. qbb.
Follow the above steps carefully and you will be able to open the QuickBooks company file in the excel spreadsheet. There may be an instant chance that you might face issues. One of them is when you trying to open an old company file in the updated version of QuickBooks that time you may face the error. So try to open the upgraded version of the company file.
How To Restore a .qbb file in QuickBooks
Make sure you are using the same version of QuickBooks to restore the file as it was backed up in is supported and if you are trying to restore the backup file (qbb) with an older version of QuickBooks then you may face the issue.
Restoring QBB ( QuickBooks Backup) file
First, locate the file which is restored. This file may be saved in a system's hard disk (which may not be suggested because of hard disk crash issue and you may lose data), an external hard drive, a recordable CD, or a USB drive.
Note: Ensure that removable media used to back up your file is inserted into the system.
Then open QuickBooks go to the File menu and select Open or Restore Company.
Choose Restore a backup copy and go to Next.
Choose Local backup and select Next.
And select for a.QBB file you want to restore from the Open Backup Copy window click on Look in feature to locate your file.
Select Open and Next.
Note: If you want to restore a backup company file from the removable media then QuickBooks will provide you with the location where you can store that file. This is completed by click on "Save in" and choose the correct folder to store the data to the hard drive. By chance, if you are facing error while backup company file then read this article QuickBooks unable to back up company file.
If you require then click in the Save in the drop-down arrow and search for a location where you want to restore the file.
Choose the backup file and select Save and give the response for a message QuickBooks may be displayed.
After importing import QuickBooks qbb file into excel you can easily open and read that file. But if you are facing issues while opening in a qbx file. Then follow these points.
How to open a QBX file without QuickBooks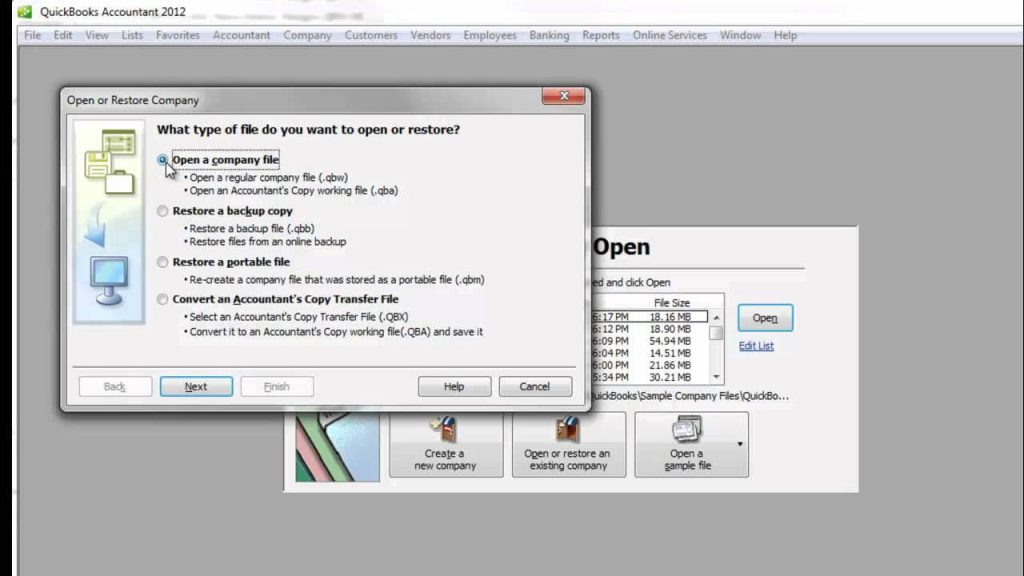 Sometimes you face an issue in opening QBX file while converting a QBX file to a normal QBW file.
First, open a particular file (QBX or QBA).
Select the File menu then click on the Accountant's Copy in the Send Company File.
Choose Convert Accountant's Copy to Company File/QBW and Ok.
Select the location where you want to save the converted file and then Save it.
And click on Ok.
How to open qbm file without QuickBooks
Follow the below steps to open qbm file without QuickBooks
Go to the start menu and click on all program
Later, keep on scrolling down and look for intuit and click on it.
And now click on Quickbooks
Select on open and insert the password if required
Now, you have to agree for a customer, vendor, employees
Now, go to the customer center on the top of your screen
Click on the excel option
Later, click on export excel and next click on export
Now you can open the exported file in excel
Next, search for a QBM file
If your QuickBooks cannot use the path to open the company file then you can read this article to fix this issue when QuickBooks won't open company file. For more help and technical support, you can contact QuickBooks support. Dial our toll-free number +1-855-441-4417.