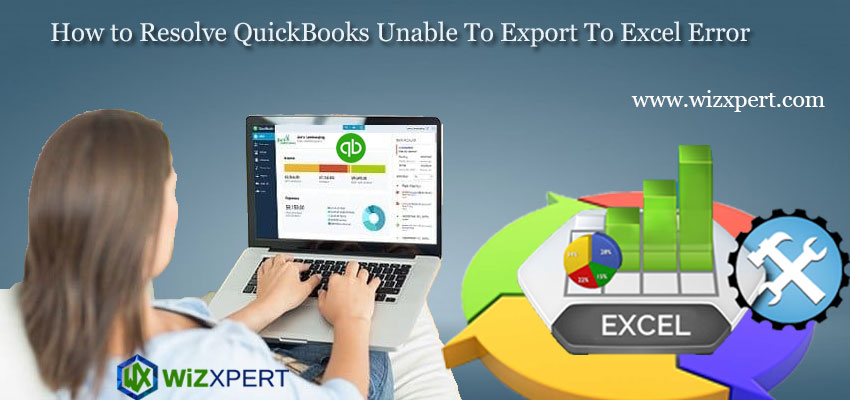 QuickBooks Software is very popular for his design and advanced features and most of the people of the USA used for his Business. Many users face the problem that their QB Software does not allow them to export information to Excel. The best possible reason for this error might be that your software is unable to recognize excel that is installed on your system. Here you can Resolve QuickBooks unable to export to excel error by using these given instructions.
This issue most of the time arises when you upgrade your QuickBooks application. If the update is not successful, then you are unable to export to Excel-like as a transaction journal or account receivable again report or emailing report as an Excel Document.
Causes of QuickBooks Exporting To Excel Issues
The issues usually faced by the users due to which they fail to export to Excel are
Damaged MS Excel Software.
Your QuickBooks Software might be damaged.
Your File Registry is not working properly.
Steps to fix QuickBooks excel couldn't open the data file" Error or "QuickBooks Won't Export To Excel" for QuickBooks Desktop
Solution 1: Update QuickBooks Desktop
Before exporting excel, it is very important to up to date QuickBooks. If your QuickBooks is not updated, first you need to update and after that try to export a report:
First, go to the Reports menu and open any report on the list.
Choose the Excel option. All export choices, including Excel, must be available

If after performing these steps, you are still facing the same problem then proceed to the next solution
Solution 2: Check QuickBooks system requirements
Every version of the QuickBooks desktop compatible with particular versions of Microsoft Office. QuickBooks: Verify the system requirements for your version of 2017, 2018, 2019, 2020. In case, if your version of Microsoft Office is not cooperative then you have to upgrade. Move to the next solution if your MS version os not compatible.
Step 3: Repair Microsoft Office
Use this following steps to repair MS Office:
Click here to download and install the Office uninstall support tool.
Open and run the downloaded file and go with the on-screen instructions
Choose the version you desire to uninstall, and then choose Next.
Follow all the on-screen guidance and when advised and restart your computer.
After restarting your computer, the uninstall tool automatically re-opens to achieve the final action of the uninstall process. Go with all the remaining prompts.
Choose the steps for the version of Office you require to install or reinstall. Close the uninstall tool.
How to know my Office Click-to-Run or MSI-based?
Start any Office application like Outlook or Word.
First, go to the File and choose Account or Office Account.
If you view an "Update Options" item, you need to click on the Click-to-Run installation. If in case you do not view the "Update Options" item, you have an MSI-based install.
After performing the above steps, go back into QuickBooks and try to export a report. If you are still facing the same issue, proceed to the next solution.
Step 4: Toggle Windows User Account Controls (UAC)
Turn your Windows UAC setting on and off. Anything blocking this export feature should be reset.
Note: These below steps only beneficial for Windows 7, 8, and 10.
Go to the Windows Start menu and in the search type User Account Control Settings and open User Account Control Settings.
Choose and drag the slider to Never Notify and then click on OK.
Restart your computer.
After performing the above steps, go back into QuickBooks and try to export a report. If you are still facing the same issue, proceed to the next solution.
Step 5: Reinstall QuickBooks
Microsoft Office and Excel want to be installed on your computer before installing QuickBooks. If you have not previously installed Microsoft Office, uninstall and reinstall QuickBooks Desktop.
Steps to Resolve QuickBooks Won't Export to Excel for MAC
Export issues arises in MAC can be due to:
Export issue arises when your system does not fulfill the required specification for QB software like:
You need QuickBooks for Mac 2016 R5 or earlier MAC OS 10.10.2 
Intel Core Duo or higher is highly suggested
2-4GB RAM needed
A minimum of 250 Mb disk space is needed.
QuickBooks payroll needs an active internet connection with a correctly working adobe reader so as to pint the forms.
Here are the steps to resolve QuickBooks won't export to Excel for MAC
Verify if your computer is compatible with the version of Excel you are using.
Check if your system satisfies the specifications required to work with QuickBooks.
If your system fits the expected specifications, chances are you may have problems with the installation of Excel or QuickBooks.
To validate the problem is not to lie with Microsoft to re-register all keys with Microsoft or to repair Microsoft Office. This lets you identify QuickBooks that Excel is on your computer.
A clean install is recommended to get rid of issues with the QuickBooks installation to check if this issue is contained in the QuickBooks installation.
Recommendation: Just make sure you haven't left any of the transaction forms open during exporting the file and report to excel. You will find that the transaction forms may include Invoice, Purchase order and Sales order. And, if you have a non-transaction form opened then you'll find the Export to Excel function will surely work. The example of the non-transaction form is "The Item List of Chart of Accounts". That's why it is always advised to open the Item List first and then go for the export function.
Can't find your answer? Willing to speak to our QuickBooks Error troubleshooting team. Dial +1-855-441-4417 to hire our specialist to help you quickly fix your problem.