QuickBooks is one of the most popular accounting software and available in two versions online and desktop versions (QuickBooks Desktop and QuickBooks Online) because not every business or organization has the resources to run the Internet all the time.
If you want to access your data from the office or permit access to the users who are outside of your company, then it is the best decision to switch or convert QuickBooks Desktop to Online
But, to simplify things for users who want to switch from QuickBooks Desktop to QuickBooks Online, the process is straightforward, and anyone can follow the steps to achieve it. While performing these steps if you feel you are stuck somewhere then you can contact QuickBooks Support.
Things to know before converting QuickBooks Desktop to Online
Advantages of Convert QuickBooks Desktop to Online
One of the advantages you can get by converting QuickBooks Desktop to QuickBooks Online is that it is free. Intuit does not charge anything for importing data into the online version
Efficiently compare reports of the previous year with the current year.
Able to access your data from anywhere through the internet.
Features Not Available in QuickBooks Online
Although we have evaluated QuickBooks Online as the most reliable small business accounting software. QuickBooks Online does not have some features that are available in the QuickBooks Desktop version. Before you convert the QuickBooks desktop to online, you must examine many benefits of QBO are deserving of losing any of the below desktop features
Sales orders
Fixed asset tracking with Fixed Asset Manager
Price levels
Estimate to actual reporting
Steps to convert QuickBooks Desktop to Online
Step 1: Verify the Time & File Size Requirements
You are only allowed to import your data to QuickBooks Online in the initial 60 days of the subscription start date. If you have your QBO membership for more than 60 days, you have two options.
Try to Find a QuickBooks ProAdvisor, who will help you to convert files in the first 180 days of its subscription start date.
You can also set up a new QuickBooks online subscription by using another email address.
Step 2: Set Your QuickBooks Desktop Data for Export to QuickBooks Online
Follow the steps below to assure that your data is ready for export
Update your data: This is an opportunity to clear your data; For example, you can add or change the contact information of customers or vendors.
Complete outstanding tasks: Ensure all bank accounts are consolidated, payroll is processed, and inventory adjustments are made before converting to QuickBooks Online.
Back up your data: Create a backup of the data file: steps to create a backup are as follows.

First, go to File and select Backup company and then click on create a local backup.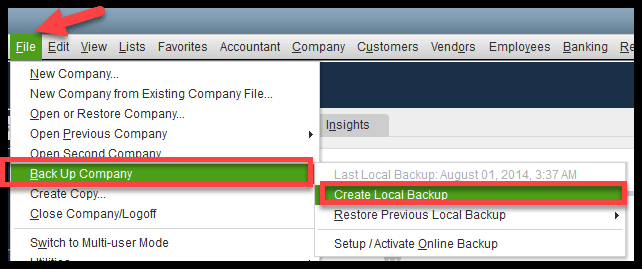 Step 3: Sign up for QuickBooks Online Account
Go to the official intuit signup page for QuickBooks Online and enter all personal information like email address, name, mobile number, and password to secure your online account. It may also ask for additional information like your business.
After sign up for your QuickBooks online trial subscription, you'll be redirected to your company's dashboard. You need to log out from QuickBooks Online in order to import your data from QuickBooks Desktop. To logout QuickBooks Online, look at the right top corner, click on the gear icon and choose sign out.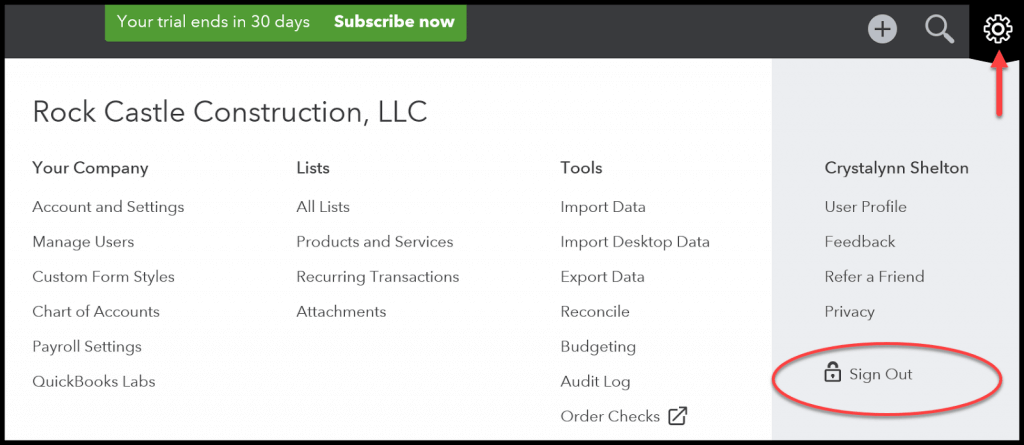 Step 4: Open QuickBooks Desktop
Login to your QuickBooks desktop program and sign in to the company that you want to convert to QuickBooks Online. You have to export your data from this account and into QuickBooks Online.
Step 5: Export Company File to QuickBooks Online
Open QuickBooks Desktop company, go to the company menu, and choose Export Company File to QuickBooks Online.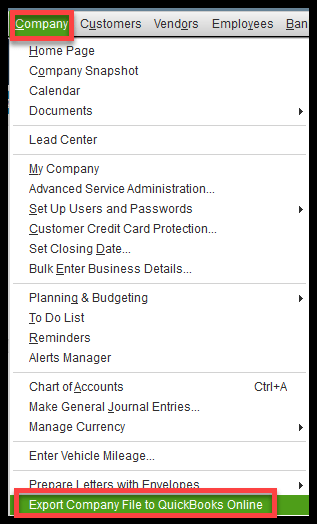 If you are not able to find the export company file in the QuickBooks Online option then you will need to download the latest update of QuickBooks desktop.

To update the latest version, go to the help menu and click on update QuickBooks.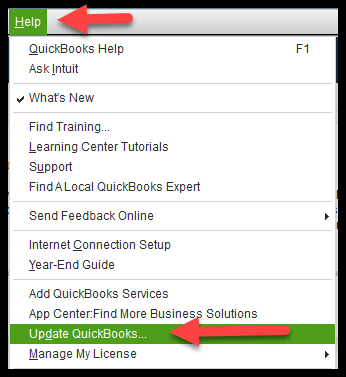 After the update is complete, close the QuickBooks desktop, reopen and sign in, then return to step 2 above
If your QuickBooks desktop program is more than three years old then you cannot update the program to export your company file because QuickBooks has stopped maintaining that old desktop programs.
In this case, get a free 30-day trial subscription of the latest QuickBooks desktop and open your company file in the latest updated software, and your data file will be updated. By doing this, you are capable to export your company file to QuickBooks Online.
Step 6: Again Sign in Into Your QBO Account
When you select the data to export to QuickBooks Online then after QuickBooks desktop program will automatically open QBO account sign-in window. Type your User ID and Password to login to your QuickBooks Online account.
Step 7: Show whether you require to import the inventory into QuickBooks Online
If you are maintaining your inventory in QuickBooks Desktop then it's admired using the average costing method. But, if you prefer existing inventory to QuickBooks Online then it will be worth managing with first out first (FIFO) inventory method. This can have a vital influence on the value of your inventory, as well as changing your inventory method should be reported to the IRS. Make sure to discuss with your accountant before importing your inventory.
If you click Yes (above picture) then the value of every inventory item can be recalculated by applying the FIFO method as the start date you select. As mentioned above, you must need to discuss your accountant before importing your inventory and changing the inventory methods.
If you do not have an account and want to finish your conversion to QuickBooks Online, click. You can always import your inventory from an Excel spreadsheet after consulting an accountant.
Step 8: Select Your Company in QBO
From the drop-down list, select the QBO company you need to import. If in case, you skipped to set up your account then look for the Create New QuickBooks Online Company link and follow the on-screen guidance.
Step 9: Copy Data File
Once you are done with all online instructions for choosing your company, you will see a notification the same to the notification below, whose copying process has started. The time it takes to process this depends on the size of your file. It may take several hours for a small file or a large file.
After copying your data file you will see a notification similar to the note below. Click OK, found the button, and log out of the QuickBooks desktop. After this, it recommends not to use QuickBooks Desktop because if you made any changes will not be exported to QBO.
Once your data is ready, you will receive an email stating that your data is ready to be reviewed in QBO, which is given below. Select the Complete your setup option to log in to QuickBooks Online and verify your data.
Several Reasons to Convert From QuickBooks Desktop to Online
There are benefits to starting QuickBooks Online from scratch rather than getting your data from QuickBooks Desktop to QuickBooks Online. If you have been in business for at least one year, you will want to have access to the current financial data of your business so that you can run a comparison report. In addition, converting your data preserves your customer and seller transaction history and your item lists.
There are mainly three reasons to convert QuickBooks Desktop to Online.
1. Get the Facility to Run Comparison Reports
Whether you have been in business for 12 months or a few years, one of the benefits of having access to historical data is that you can run reports to compare previous years with the current year. With this, you can see trends in income and expenses. These trends can help you make decisions that may affect the future of your business.
2. Maintain Vendor & Customer Transactions
Transferring data of QuickBooks desktop to QuickBooks Online maintains all the previous transactions with vendors and customers. If in case, in the future if we need prepayment from customers then you do not have to open your old books on the desktop to find the answer. All your current and past information you can find in one place only.
3. Maintain QuickBooks Items
Being a QuickBooks desktop user you must be friendly with the importance of absolute and exact item lists that used in payroll, invoicing, purchasing, and other fields. QuickBooks Online uses the same item lists. While converting your existing company, you do not save time to recreate these long lists.
When not to convert QuickBooks Desktop to QuickBooks Online
There are mainly two situations where it highly recommended not to convert QuickBooks Desktop to QuickBooks Online.
The first situation is when your file contains over 350,000 targets. The most suitable option for these companies is to export desktop lists so that customers, vendors, and items do not have to be recreated.
The second situation: If your desktop books are messed up, you may not even want to change your data. In that case, you need to start with a clean slate.
Steps to Transfer Lists From QuickBooks Desktop to QuickBooks Online
When a complete conversion of your QuickBooks desktop data is not possible or appropriate, then you have the best option is to manually transfer individual lists of data by an Excel spreadsheet.
To export manually a list from QuickBooks Desktop, first display the list and choose the Excel option placed in the toolbar.

In the drop-down options, click on the Export Customer List.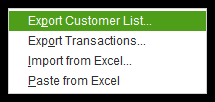 Things To Do After You Import Data to QuickBooks Online
Before you start working in QuickBooks Online, you must verify that your data was imported successfully. The best method to do this is to run a profit and loss statement and balance sheet report in both QuickBooks Desktop and QuickBooks Online and compare totals.
Note: If you are a cash base business, use the accrual method for these reports
Use the following parameters for both parameters.
The more important thing, sometimes after converting QuickBooks Desktop to Online users have no idea what to do next. To know more about what to do after converting QuickBooks Desktop to Online.
We hope, this article helps you to convert QuickBooks Desktop to Online and also gives you a guideline on things to do after converting. But if you still have any questions or query then feel free to reach us on our toll-free +1-855-441-4417 and discuss your query with our team of Intuit certified ProAdvisors and get the immediate solution.