While using webmail on QuickBooks Desktop, after inserting username and password, sometimes users get an error message "QuickBooks could not connect to Email Server". This is a very common issue that most users are facing. So here we are with the solution to this error "QuickBooks Could not Connect To Email Server".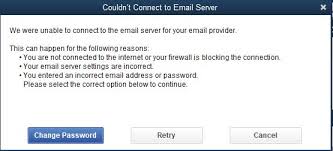 You are facing an error i.e, "Could not Connect to Email Server. We were unable to connect to the email server for your email provider'
OR
QuickBooks was unable to send your form for the following reason: QuickBooks was able to connect to the remote server but could not understand the server's response. Please try again to see if the problem has been corrected on the server. If the problem persists, contact QuickBooks Support.
These above-mentioned issues especially occur with the yahoo email address.
Steps to resolve QuickBooks Could not Connect To Email Server
Solution 1: Update to the newest release
First, visit the Latest Release page and update it.
Here cross-check, whether your product is selected or not. If not then proceed to the Change link and choose your QuickBooks product.
Now, look for the Update button and click on it to download the updated file.
Choose Setup Automatic Updates to know to set QuickBooks to automatically download and install the latest updates.
Solution 2: Review webmail preferences
Select Preferences from the QuickBooks Edit menu.
Select Send Forms on the left pane.
choose the email account you are using under My Preferences, then click on Edit.
In Edit Email, go to the information screen SMTP Server Details section and set the server name and port to your email provider settings. For a record of SMTP servers and ports, suggest Setup Your Email Service in QuickBooks Desktop.
Solution 3: Reset default Settings to Internet Explorer
Open the Internet Explorer browser, and go to the Tools menu (Alt +T) or the gear symbol.
Choose Internet Options.
Under options, look for the Advanced tab and choose Restore Advanced Settings.
Choose OK, then terminate the browser.
If you discover that your antivirus is blocking outgoing email then it is recommended to consult an IT professional or talk to your anti-virus provider to allow QuickBooks to connect while setting up your webmail.
If you still face the same error message after trying above all three solutions, you may want to execute the solution recommended for the error message.
| | |
| --- | --- |
| Error Warning | Solution |
| The message is showing not connected to your internet or connection is blocked by your firewall | Attempt to initiate Internet Explorer and access a website. |
| Email server settings are inaccurate | Recheck you hold the accurate settings as the same which is discussed in solution 2 |
| Shows you entered an incorrect email address or password | In that case, try to log in to your email account with the same user ID and Password. |
If you are getting this error message, however, you do not use web email then it can be a system issue. Try to create a new Windows admin user to solve the problem.
The above are some troubleshooting guides for some common reasons that caused QuickBooks could not to connect to an email server error. There is still a possibility that the error may repeat after troubleshooting if it is caused by some lesser-known cause.
Reasons Behind Server Connection Error While Sending Email
Sometimes it may happen due to loss of internet connection or you not connected to the internet.
You should check your email server setting, If your email server setting is not configured properly then it also shows the server connection error message.
If you don't enter the right login credentials.
It also shows an error message if your QuickBooks is not updated to the latest released version.
If your browser setting is not properly set then it shows a server connection error that hinders QuickBooks error.
QuickBooks experiences issues when sending emails when it lacks the requisite admin access on Windows.
In case, if you are still striving to resolve the error and seeking expert advice then feel free to reach us on our toll-free +1-844-405-0904. Our intuit certified ProAdvisor is always ready to help at any point in time and always tries its level best to provide a quick solution for accounting and bookkeeping issues. We will be more than happy to help you out with your problem.