In this article, we'll discuss how QuickBooks on Cloud works and also how it is different from QuickBooks Online. QuickBooks Cloud Hosting will give freedom to users to access any version of QuickBooks Desktop from anywhere and anytime. Here is an article to provide you with a complete guide to QuickBooks cloud hosting, here you will learn the process as well as an intro to cloud hosting with images of the relevant topics. Go through the detailed article to learn about it, but if you have any queries contact our QuickBooks ProAdvisor toll-free: +1-844-405-0904
QuickBooks is no doubt one of the best accounting software available in the market. The reason why most of the small and medium-sized businesses opt for QuickBooks is its ability to provide users ease of working, even for those users who do not possess great financial knowledge.
What is QuickBooks Cloud Hosting?
As we know, earlier for using QuickBooks you need to buy the licensed QB Desktop and then you need to install and set up the software on the system. But one of the major restrictions of this was you can only access the company files from that system only. If you ever wanted to use QuickBooks then you need to go and sit in the front of the system in which QuickBooks Desktop was originally installed.
But now this problem can be easily solved with the help of the QuickBooks Cloud Hosting application. By installing the QuickBooks Desktop on a third-party cloud hosting service these limitations can be removed completely. If you are using then you can access QB Desktop software and company files from anywhere and anytime, the only thing you need is a computer and a good internet connection.
Modes of QuickBooks Hosting
Hosting of the QuickBooks Desktop application can be implemented in the following 3 modes:
Dedicated Hosting: In dedicated hosting, different users are connected directly to the server on which QuickBooks is installed.
Peer-to-Peer Hosting: In this hosting mode, one user hosts the application and data to provide access to other users on the network. You can be adopted this mode for on-premise hosting.
Alternate Hosting: In this hosting mode process one user (which is the main user) is connected to the hosting server over the Internet. And rest of the users connect to the main user to access the application on the local network. All users are connected to the main user and the main user provides the connection to all users.
How QuickBooks Cloud Hosting Works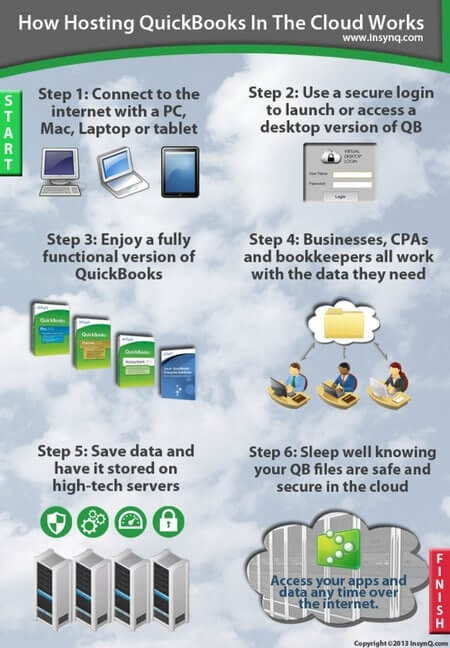 It is quite simple to know how QuickBooks on the cloud works. Just like the traditional QuickBooks, where software is installed on the local desktop and QB is only accessible through that system. In QuickBooks Cloud Hosting, the software is installed on the third-party cloud server and then the authorized person can easily access the software from anywhere with an internet connection and a system.
QuickBooks Cloud Hosting works on the basis of Remote Desktop Protocol (RDP) i.e. the graphical interface, functionalities, and features will be similar to the original QuickBooks Desktop version.
You can install any version of QuickBooks Desktop on the cloud server like QuickBooks Pro, QuickBooks Premier, QuickBooks Enterprise, QuickBooks POS, or QuickBooks Accountant. The fees of the third-party cloud hosting providers will be different from each other and depend on factors like the number of users, packages chosen, etc.
Only the administrator has the authority to add/remove users and the admin can also deny some permissions of users. To log in as an admin in QuickBooks Hosting, you'll need the administrative login credentials.
The only things you need to access QuickBooks from anywhere and anytime are the first a good internet connection and the second is a remote access tool or a web browser installed on the desktop. For using the QuickBooks Multi-users, every user needs a different system and a different operating system.
When working on QuickBooks Cloud all the data and company files are securely saved on the hosting server. Even when the local system on which you were working all the accounting data will remain safe on the hosting server.
Here are the steps on how QuickBooks cloud hosting works:
Authorized images of QuickBooks are installed on the server of a service provider.

The QuickBooks user is granted access to the server through the Internet with several configurations.
Accurate security steps are installed in order to guard the application.
Connectivity between the end-user device and the server is performed using the Remote Desktop Protocol (RDP) that can be installed to log in as the authorized user.
The server is optimized to work on different operating systems/platforms (Windows, iOS, macOS, Android, etc.) from any device (smartphone, tablet, desktop, etc.).
The user can access and work on QuickBooks through a web browser (such as Chrome, IE, Firefox, etc.) or RDP shortcuts. The rest of the UI, features and other functions are the same as the QB desktop.
All changes made on hosted QuickBooks are automatically saved and will be visible to all authorized users.
Benefits of QuickBooks Cloud Hosting
There are many benefits of QuickBooks Cloud Hosting from the traditional QuickBooks Desktop. Below mentioned is the list of benefits of QB Cloud Hosting.
The users will have the freedom to access QuickBooks from anywhere and anytime they want.
The QuickBooks Multi-users mode can be utilized more efficiently.
Data of QuickBooks users are secured all the time on the remote hosting server.
You can easily upgrade the device from which you used to access the QuickBooks software.
All the data you saved on the hosting server will be automatically backed up.
Most cloud servers can offer you faster speed. In addition to being able to easily increase the capacity of your site, cloud hosting also enables easy load balancing between multiple server environments, which can help to put very little pressure on the resources of a single server.
The server hardware association will also affect the speed of your site, but it is good to go with a cloud host that has multiple caching layers, premium server hardware, and low-density servers.
Previous cloud servers were a bit difficult to manage and they needed technical expertise to operate and balance their servers accurately. But, with today's cloud hosting you can easily keep track of your hosting and demand it through an intuitive dashboard. You do not need a technical background to run your cloud server.
With most types of hosting, your site resides on a single server. If something were to happen on that server, your site would go offline and you would not be able to return online until that server recovered. When your hosting is redundant, Site Backup will take your existing site within seconds. However, not all redundancies are created equal. With cloud hosting, you will have a concurrent live version of your website that your host can load immediately.
QuickBooks Desktop Enterprise Cloud Access Packages
QuickBooks Desktop Enterprise is available for users with cloud hosting and you have the option to choose the right packages which are suitable to your budgets and requirements that fulfill the need of your business. It is available in three packages that are Core, Classic, and Delux with their different features. Here, we'll discuss all these packages with their features so that you can decide which one is better for you.
Core: In this package, you can access your QuickBooks enterprise from anywhere and any place and also get the whole functions of the Quickbooks Desktop version that is limited on the Online Version of the Desktop. It is available with 5 GB of storage space that can be well integrated with the Microsoft office suite.
Classic: This package is one of the most popular among users because of its features and moderate cost. In this package, you will get many additional features as like you can select the different apps that can be integrated with QuickBooks to manage billing and expenses. It is available with 10 GB of storage space and integrates with the Microsoft office suite as well as google chrome.
Deluxe: In the Deluxe package, you can get all the features of core and classic, as well as some additional features. You can connect more than 200 plus apps with 50 GB of storage space.
What is the impact of QuickBooks hosting services on your business
Reduce manpower: The programs of QuickBooks hosting are wonderful and adoring. It reduces manpower and accounts for the money issue within a few minutes. The hosting of QuickBooks allows the user to find the solution for the desktop and mobiles as well.
Manage Accounts: The hosting process of QuickBooks really aspires the minds of businessmen and with the help of cloud hosting, QuickBooks gathers the important decisions of the accounts.
With the help of QuickBooks cloud hosting, you can access your accounting files remotely from anywhere and anytime. So, you don't have to send files anymore through emails. Irrespective of the device, you can access the account from any device.
Resolve Accounting Problem: The hosting services of QuickBooks really help businessmen to understand the right transactions done under a particular account. Hosting services or the cloud may bring competition in the business world.
And so, in this environment, it is necessary for the hosting services to deal with the right programmable option. If you use QuickBooks hosting, then you can access your details anywhere in the world.
Is QuickBooks hosting beneficial? What Importance of QuickBooks Hosting for business? Here we discuss some of the major benefits you get with QuickBooks cloud hosting.
Why choose QuickBooks hosting for your business:
Few businessmen don't have enough knowledge about QuickBooks. Let us discuss the reasons behind the importance or benefits given by businessmen to QuickBooks hosting.
Multi-User collaboration: QuickBooks hosting enables them to work simultaneously and stay connected and updated with each other's tasks. That's called a collaboration process all people work together on the same server without any interruptions.
Easy to access from anywhere and Anytime: The hosting given by QuickBooks is through the particular cloud or server. This kind of access makes businessmen to access their work anywhere around the world. With the help of QuickBooks cloud hosting, you can easily update your data file when you're on the road.
You can remotely access supported desktop versions of QuickBooks with just a web browser and connect with multiple office locations.
Flexibility: The flexibility in using programmable software is all wanted by businessmen. We all know that small businesses may have fund issues during their business run. It is also feasible for business owners to access the accounts from the book instead of going to the office at the time of need.
Good server connectivity: If you and your business partners are away from the city at different places, then the server or the QuickBooks cloud platform helps you to share the details. When the particular information is hosted under the particular cloud, everyone can view it and so it involves easier access than bookmarking the one you need to know.
Automatic updates and upgrades: These are free along with minimal cost spending on installation, setup & maintenance.
Security: Do you think it is secure in keeping the data on your desktop? No, it is the wrong way of storing important data. QuickBooks also provides you with the solution of keeping your data away from hackers' thinking. It provides you with the right impulse in maintaining the good ones over. Make sure that you are being under the shadow of the best QuickBooks app.
Increase Speed: The speed of QB is much better in the hosting environment than in the local system. You can add more users to work on your QuickBooks application without losing any performance.
Customer Support: When you use Quickbooks software some issues come such as printer setup, email configuration, permission controls, etc. that can further complicate the accounting work.
Automatic Backup: With Quickbooks hosting, you don't worry about backup or any file corruption because your files are automatically backed up every day, and safely stored for 90 days.
How to Choose Cloud Hosting Provider for QuickBooks
There are many third-party cloud hosting providers available and you have the freedom to choose any cloud hosting provider for QuickBooks. But, we recommend you choose any one of Intuit's Authorized Hosting providers for QuickBooks.
Below mentioned are some factors that you should consider before selecting a hosting provider.
The IT infrastructure and Data Center should be the state of the art.
24/7 and reliable technical support or customer support. To resolve any issue round the clock.
The hosting service provider should support all the QuickBooks versions.
The server uptime should be more than 99% guaranteed.
Difference Between QuickBooks Online and QuickBooks On Cloud
Many users get confused with QuickBooks Online and QuickBooks Cloud Hosting workings because both the software are designed and developed by Intuit and like QB on Cloud, in QBO users can access the software from any system they want but there is a difference between them.
Below we've separately discussed how QuickBooks Online is different from QuickBooks Cloud.
QuickBooks Online
As we know QBO is a web-based application which means users can access it from any system if they have an internet connection but note that QuickBooks Online is a completely different database.
Unlike QuickBooks Desktop, QBO has a monthly subscription fee with an additional Intuit Payroll fee. If you ever want to export data from QuickBooks Desktop to QuickBooks Online then you may have to face some issues and data transfer is not ever 100% accurate. It has been mentioned by many QuickBooks Desktop users who recently switched to QuickBooks Online that QBO is relatively slow in processing than QBD and also lacks some features of QuickBooks Desktop.
You need a browser for access to QuickBooks Online because it is a web application that can be accessed from any device. So, you need a high-speed internet connection which is the main issue that arises during the use of QuickBooks online.
QuickBooks Online is available for users with multiple plan options that are cost-effective as well as meet the requirements of the users so it is in very much demand.
Unlike QuickBooks desktop, you don't need to upgrade the QuickBooks online every year due to it being designed on a web-based application.
QuickBooks Cloud Hosting
Hosting QuickBooks Desktop on the cloud is one of the best options for those users who want to use the QuickBooks web application with the power of QuickBooks Desktop. QuickBooks Cloud is proven to be game-changing for those businesses where many users need to work on the same company file at the same time which cannot be possible with QuickBooks Online. Cloud hosting gives the option to store all the data on the remote server so, you can access your QuickBooks Desktop from anywhere and anytime.
Cloud Hosting gives you the complete functionality that can be used in the QuickBooks Desktop which improves the efficiency of the business and performance because in QuickBooks online you can limit to all the functionality.
You can any version of QuickBooks Desktop i.e. Pro, Premier, POS, or Enterprise on the hosting server to access it from anywhere. If you installed QuickBooks Enterprise on the cloud hosting server then up to 30 users will be able to use company files simultaneously.
Features like reporting and tracking which are only available in the QuickBooks Desktop version can be used via QuickBooks Cloud. These features are not available in QuickBooks Online.
We hope that now you've learned everything about how QuickBooks on the cloud works and in which ways it will be proven beneficial for your business. We've also discussed how QuickBooks Cloud hosting is different from QuickBooks Online.
If you want to know more about QuickBooks accounting software or if you have facing any issues then you can have assistance from our team of certified QuickBooks ProAdvisors. Call us on +1-844-405-0904 24/7 toll-free number to get in touch with our professionals.