When you are running a small business, it is very important to take control of your finances. You require transparency of the financial health of your company and the capacity to track every money.
As we know there are many accounting software available in the market but its always a tough decision for every business owner to choose one that is best for their business. So here we will discuss the top 3 accounting software i.e, Xero vs MYOB vs QuickBooks with their features, specifications, and working.
Xero vs MYOB vs QuickBooks
Xero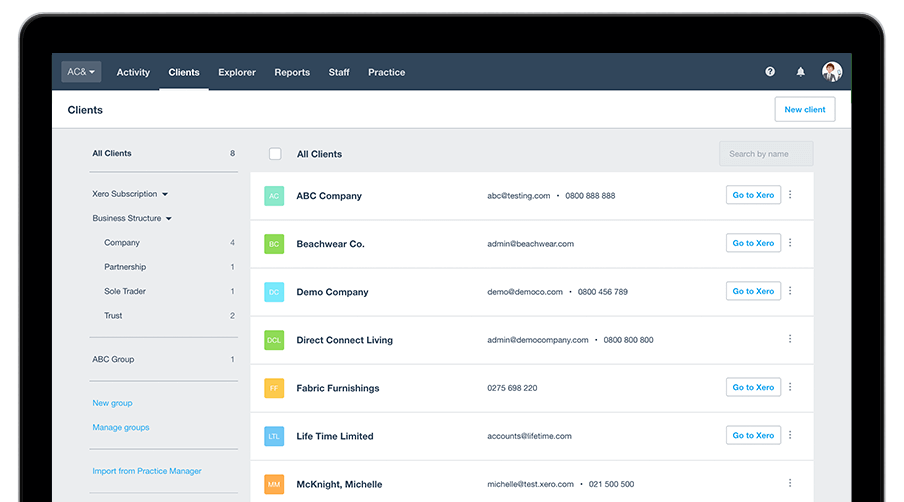 Xero is an accounting tool designed for non-accountants. It is composed of a single book. You can feed many bank accounts in this software under different account codes, which makes the workflow significantly different from other accounting tools.
It is very customer friendly and automatic. Xero is one of some accounting tools that involve the full cycle payroll processing for up to five employees with no additional cost. While QuickBooks (it's rival) provides you the facility to process payroll checks, present payroll tax payments, and file your payroll tax forms.
Xero comes with a lot of financial reporting features that are very important for businesses of all sizes. You can customize, create and track your reports whenever you want. In addition, one of the best features of Xero is its open API. If Xero does not provide integration with the service you use, you can hire a developer to build it. Xero's documentation is public and robust to help developers add other products.
There are three types of cloud/online accounting business plans offered by Xero: Xero Starter, Xero Standard and Xero Premium with 30-day free trials on any of these products.
Xero Starter: It cost you $25/month. In Xero starter, you allow to send up to 5 invoices and quotes, register and pay 5 bills, pay 1 person, and allowed to reconcile up to 20 bank transactions per month.
Xero Standard: It costs you $50/month. In Xero standard, you allow sending an endless number of invoices and quotes, enter and pay an infinite number of bills, here also limited to pay only 1 person and also allowed to reconcile an infinite number of bank transactions.
Xero Premium: It costs you $ 60 / month. In Xero Premium. You allow sending an endless number of invoices and quotes, enter and pay an infinite number of bills, here you can pay up to 5 employees, and include an infinite number of bank transactions. Xero Premium plans also have the ability to handle multiple currencies.
Features of Xero
Bank reconciliation
Tracking of suppliers and customers
User-friendly dashboard
Track and manage expenses
Easily attach documents to your fiscal data
Fiscal reporting
Free, unlimited email tech support
Inventory management
Automatically create and send invoices
Mobile apps for both windows and mac
Support multi-currency
Free Payroll processing for five users
Purchase orders
Fast and simple 1099s forms
Pay bills and invoices
Track and control projects
Give out assessments and quotes
Design smart financial reports
Receive payments
Electronically receive bills
Fixed assets
Note: The only limitation to Xero is that they do not have a free tier. But Xero offers customers free payroll tools for small companies and inviting an unlimited number of users to access your data without additional cost to you.
MYOB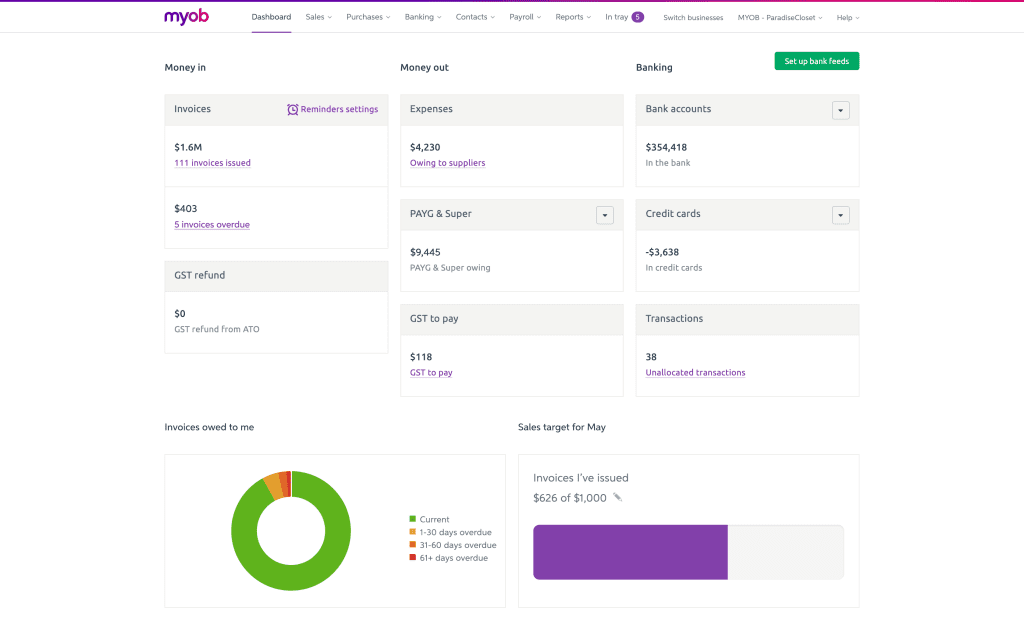 MYOB – Abbreviation for "Mind Your Own Business", is the Australian equivalent of QuickBooks. It arrives with many specialties for both large and small businesses. MYOB is a Microsoft Gold Certified Partner which means it operates flatly with Microsoft products.
It is also a PayPal partner, a subsidiary for e-commerce businesses. Basically, MYOB is a Windows-based desktop application and it comes with payroll, budgeting and project management tools all with specific accounting features.
MYOB does not offer you cloud-based applications but if you need cloud services then you have to buy an add-on that allows you access some features of the tool from anywhere through your browser. Mobile dongle is one of the great features of MYOB. By using this, users can easily swipe credit cards and EFTPOS payments just by plug-in their device into their Apple or Android phone or tablet.
You can also get MYOB Kounta. It is a cloud-based point of sale ad, which is famous for brick-and-mortar stores, travel salespeople, or tradeshows/event booths. There are not many combinations for the cloud version of MYOB like other accounting software.MYOB is one of the more expensive accounting tools at $ 100– $ 130 / month. It is a fixed price. You don't have to pay for additional users like other accounting software.
There are three types of accounting business plans offered by MYOB.
MYOB Essentials Starter: It cost you $25/month. In this plan, you allow to send up to 5 invoices, allowed to pay only 1 person and allowing 25 bank transaction feeds per month.
MYOB Essentials Payroll: It cost you $40/month. In this plan, you allow to send an infinite number of invoices, pay 1 person, and allowing 250 bank transaction feeds per month.
MYOB Essentials Unlimited Payroll: It costs you $50/month. In this plan, you allow to send an endless number of invoices, pay an infinite number of staff, and allowing 250 bank transaction feeds.
Features of MYOB
Allow work offline
Easily calculate and track taxes
Quickly manage bills, invoices, and reports
Easily receive payments
Track and pay taxes
Maintain customers and vendors
Prepare bank feeds
Maintain purchase orders
Allow working with multiple bank accounts
Pay employees and track vacation
Record employee time
Easily job and project costing
Plan and track particular jobs
Manage inventory
QuickBooks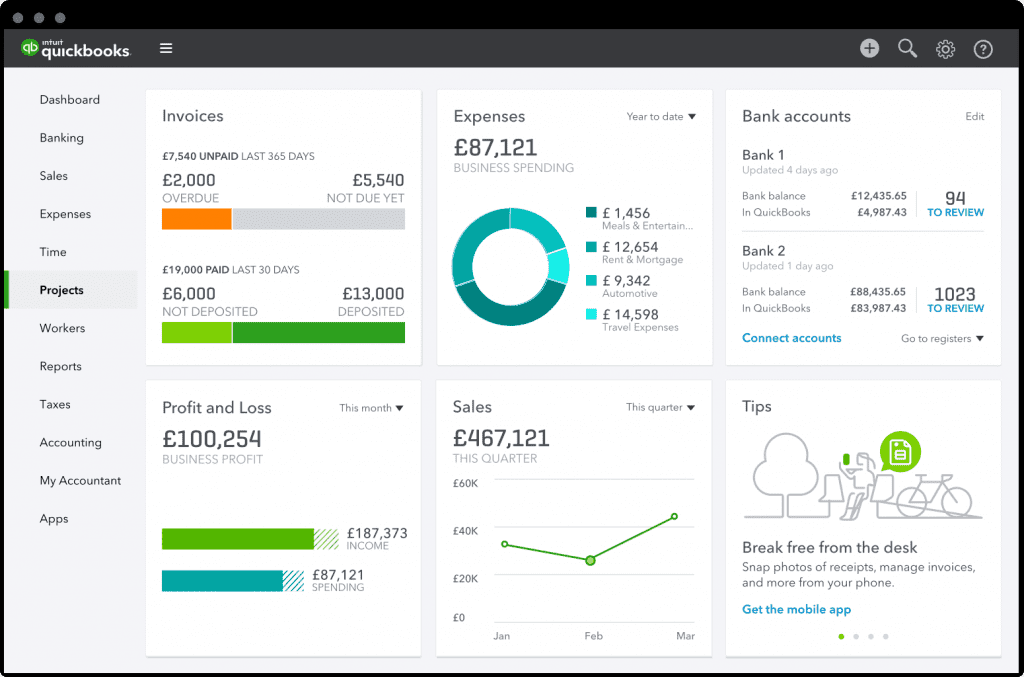 QuickBooks is one of the greatest fame in accounting for the last 30+ years. It started as a desktop application but now offers cloud-based online equivalent: QuickBooks Online. QuickBooks Online is a genuine double-entry accounting tool with lots of reporting and a strong chart of accounts. It offers invoicing, payroll support and inventory management, a project management tool, apart from this offers extraordinary 200 integrations with other tools.
There are three types of cloud/online accounting business plans offered by QuickBooks.
1. QuickBooks Mobile App: It costs you $9.99/month. It is sold by the company as a perfect cloud / online accounting software for self-employed individual businesspeople. This app allows Track the kilometers, Record tax deductions, Track revenue, and expenses, send invoices.
2. QuickBooks Simple Start: It costs you $16.50/month. It enables you to record and maximize tax deductions. Track revenue and costs, send invoices, allowed to Pay up to 10 people, send an infinite number of quotes, track GST and maintain your BAS, allowing you to access your personal data from your desktop computer, tablet or smartphone.
Note: If you want to pay more than 10 staff per month then you have to pay an additional $4 per staff member per month.
3. QuickBooks Essentials: It costs you $27.50/month. It allows you multiple users, control what information each of your users can access, manage your bills and payments, record transactions in multiple currencies, arrange to pay recurring invoices and bills, track your billable hours.
4. QuickBooks Plus: It costs you $38.50/month. It allows you to track your billable charges, Inventory tracking, and management, Project-tracking functionality, Purchase orders, Budgeting.
Features of QuickBooks
QuickBooks Feature List
Connect multiple bank accounts
Track inventory and per-item cost
Manage bills and vendors
Manage invoices and accounts receivable
Create custom invoices
Offers the "Pay now" option for immediate payments
User-friendly Dashboard
Easy reporting
Easily share access with an accountant
Receipt tracking
Xero vs MYOB vs QuickBooks on numerous Features
Ease of Use
MYOB is very simple to work and also anyone can learn simply with several hours of training. However, in its second part, the reporting function options are also simpler and short that's why it is suitable for large businesses. It does not have an ABA file.
Xero, on the other hand, is a complete package. It is designed keeping in mind the user experience. This software also provides a training facility for online support. The software has a huge staff portal, which enhances understanding. It has also been added with the auto-superannuation payment feature that makes it popular for all the users.
QuickBooks Online has excellent reporting edges. It is designed to hide complex tasks to avoid confusion. One disadvantage of QuickBooks Online is its design layout. Sometimes you are incapable to find the things where you would logically think they would be. On the positive side, QBO can be thoroughly understood with the help of video tutorials and online training.
Mobile App Facility
The exciting change in user behavior in favor of mobile Internet surfing has led ninety percent of websites to develop mobile apps to maintain traffic inflow and popularity. Likewise, this trend has caught its way of advancing accounting software to facilitate mobile apps. These days, it is largely friendly because you can contact your account dashboard anytime.
Xero allows many options on the mobile app. The user can create invoices, upload files, send receipts and take photographs of receipts. It is also possible to manage contacts and view bank account balances. Third-party plugin apps like Ezi Debit and Paypal can also be used for payments.
QuickBooks Online app is designed to allow well quoted, bank reconciliation, invoicing, P&L balance sheet reporting and tracking recent activities. If you are contacting for the app on your tablet, you can also get location-based pre-information of invoices and GPS service. Overall no doubt, QuickBooks Online is the best mobile app feature.
The MYOB mobile app is pretty easy to use and offers you three primary functions: invoices, contact information, and payments. However, payment can be made by MYOB directly through the PayDirect app.
Number of users
In Xero, you are allowed to register an endless number of users.
In QuickBooks, you are allowed to a limited number of users. Quickbooks Essential enables you, three users, while Quickbook Plus allows you, five users.
In MYOB, you can start with 1 user for MYOB Accounting. The more advanced version, MYOB Premier, comes with 1 or 3 or 5, and you can extend up to a maximum of 15 users. Sometimes multi-user accesses can slow down connection speeds but you can improve your speed by using add-on software such as Access Anywhere.
Add-on Software
The main purpose of all accounting software is bookkeeping. Additional features include time-sheets, quotes, and inventory tracking. Any software needs to be sufficiently compatible to easily integrate with all types of businesses, such as e-commerce, stocks, inventory, etc.
In this opinion, QBO supersedes XERO and MYOB with 138 add-ons available in the online App Store. The Xero has 400 add ons, while MYOB has 200 in addition to 22 certified ones. On some common apps, time-sheet, job quoting, and POS systems are given great importance.
Multiple currencies
Xero (Standard Edition), QuickBooks Online (QuickBooks Essential and Plus) and MYOB Premier support multi-currencies.
So, in the battle of Xero vs MYOB vs QuickBooks, there is no doubt to state Xero is the winner over QuickBooks and MYOB. This is our personal judgment, Xero is best. If you are also looking for accounting software for your business. First, go through all the features and explanation that we discussed above, and then select which one is the best suited for your business according to the size and budget of your business.
---
I hope you well understood the comparison in these top three accounting software Xero vs MYOB vs QuickBooks and got a clear picture in your mind about the features and specifications of this software. But if you still have any issue and query in your mind then feel free to discuss us by dialing our toll-free+1-855-441-4417 and directly connect with our intuit certified ProAdvisors. We will always available to assist you on a priority basis.