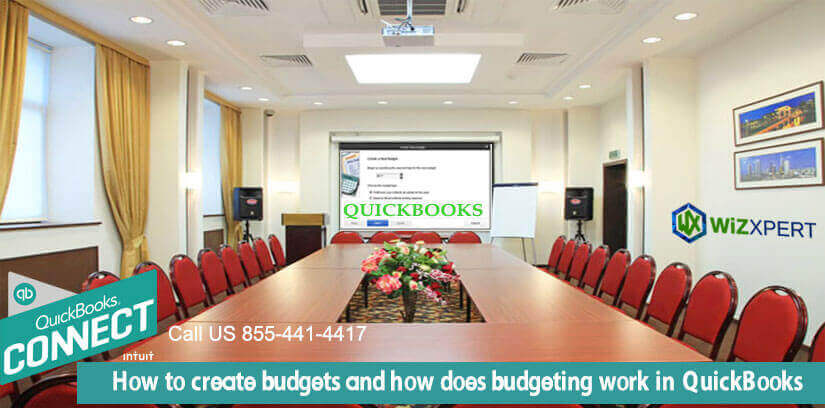 Budgeting in QuickBooks is very important for your business growth. Here in this article, we will discuss how you can create budgets and how does it work in QuickBooks properly. You can also get connected with Intuit certified ProAdvisors to discuss this topic in deep. call our QuickBooks Support number +1-855-441-4417 toll-free.
Budgets in QuickBooks
The QuickBooks Budgets helps you to see how well your company is performing and compare your actual revenues and expenses to your company's budgeted amounts. In QuickBooks Online you can create budgets by Class, Location or Customer, but not by two or all three. You can create a budget in QBO by only one category per budget.
Note : The ability to work with budgets is only available in QuickBooks Online Plus. If you need any support contact our QuickBooks Online Support team.
Create a subdivided budget:
Select the Gear icon then Budgeting.
After that click Add Budget on the top-right corner.

Enter the required information: 

Budget Name

Budget Fiscal Year

Interval: Monthly, Quarterly, or Annual

Pre-Fill Data (select no/from the previous year)

Subdivide by, select:

Do not subdivide
Location (may be asked for Business, Department, Division, Territory, Store, etc)
Classes
Customer( Asked for Client, Donor, Member, Guest, Patient, Tenant, etc)

Note: Subdivided new field will appear in the selected fields.

Click next.
Then select the category.
After that enter the budget amounts, then click save at the lower right.
Enter budget amounts for all subdivided categories.
Click save and close.
Remember in QuickBooks Online you can create budgets only one year at a time. It also does not have the capability to do Budget forecasting.
How to copy an existing budget:
Select the Gear icon then Budgeting.

Locate the budget to copy.

From the drop-down menu on the right select copy.
Enter a new budget name then the fiscal year.
After that, click Create a Budget.

Update the budget amounts.

Click Save and close.
Related article: How to Prepare QuickBooks Online Budget?
How to access or edit existing budgets:
Select the Gear icon then Budgeting.

Now all budgets will display

Each budget selects the drop-down arrow on the right side:

Edit

Copy

Delete

Run Budget Overview report

Run Budget Vs. Actual report
Related article: How to plan your profit with QuickBooks budgeting?
How does it work
After creating a budget you can determine upcoming income and expenses. Day by day you can compare actual income and expenses with your budget.
How to Categorize Budget Amounts:
A basic budget contains a hierarchy for each of your income and expenses accounts, A column is present there for each month. Besides you can track amounts in the interchange for each row and column.
A subdivided budget gives you a facility to be more specific about what you can track or not. You can track account amounts on a monthly basis for each class, location, department, and each customer.
Best ways to speed up data entry:
QuickBooks provides you with different ways to enter your data faster.
You can do it:
By enter quarter/annual amounts and calculate monthly average form them.
And By enter an amount and copy it across the remainder of a row.
By your initial budget on previous data.
Hope this will be helpful for you. If you also want to learn more about budget and how does budgeting work, get in touch with our well qualified and experienced accounting experts at toll-free +1-855-441-4417".