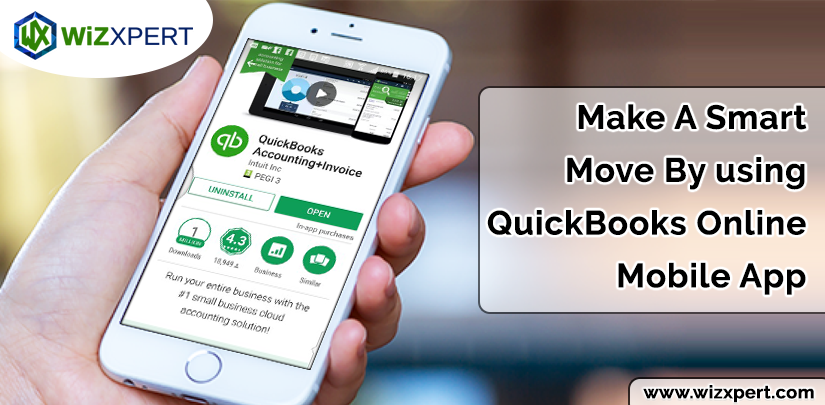 QuickBooks Online App store has more than 600 Apps, and all Apps have unique features. For better response, each App helps your small business clients extend the capability of QuickBooks to meet your specific needs. This is the new reason for the user to use QuickBooks Online.
With these Apps, you can manage sales and inventory, gain business insights track employee time, and much more. Here is the list of top QuickBooks Online app that saves your time.
Hence, these 10 newest Apps i.e; 600 Apps of QBO are given below you can check out them to the store.
List of Best QuickBooks Online Apps
Expensify
Expense management has never been easier. There are days of saving old receipts, waiting to be processed by the accounting department until you have filed an expense claim and are waiting for it. With Expensify you simply take a photo of your receipt, upload it to the app, fill in some boxes, and then it can be approved with the click of a button.
Everyone's saves time, expenses are settled and you don't have to sift through the receipts at the end of every month and get nervous about completing all these claims at once on your cash flow.
Method
The method application is the CRM system for Quickbooks. By looking at your customer's history, especially built with the platform, the method tells you much more than invoices in QuickBooks, such as when your customer will need something and what that item will be. It is also fully customizable, so you can drag and drop essential features to the system at any time.
This indicates that not only will the method help you grow it can also fit your business on every level. The way to save hours every week and never give up is definitely music in the ears of every small business owner.
LeaseMate App
The first app is LeaseMate App. This QuickBooks Online App helps to ensure lease accounting records. And these are accurate and adhere to the ASC 842 standard. LeaseMate Apps automatically calculate the lease account without any spreadsheet. It also saves your time which you waste in a manual process.
Key Features of LeaseMate:
Generates automatic lease Increments.
Keep track of tenants & their records.
Automatic Tax Calculation.
Manages lease for each tenant
Automatic periodic backup.N
In-depth ledger maintenance of the rental income.
It keeps your lease and reset records at your fingertips. Just by putting you in control of your finances and equipment.
LeaseMate helps you to pay less by sending you a periodic reminder when one or more of your leases are close to their end dates.
By upgrading your equipment or premise on-time, pay less.
Connect With QuickBooks:
QB users can easily work with LeaseMate. So, you need to just simply enter some basic lease financials. After that, let LeaseMate accurately reflect your new or existing lease in QuickBooks Online. The online App will create all of the required QuickBooks journal entries and expenses.
LeaseMate consolidates them too, meaning you can keep track of individual assets without polluting your upcoming expense reports with too much data.
It makes certain that your records are as accurate as possible by linking to your suppliers, tax codes, accounts, payment methods, etc.
Pricing:
| | | | |
| --- | --- | --- | --- |
| Plan name | Details | Users | Price |
| FREE | Connect up to 2 QuickBooks Online companies. | 0 | FREE |
| Premium | Connect more companies | 0 | starting from $29 USD/month |
Join App
Join app is also QuickBooks online app which is quick, zero-hassle software to consolidate financial and management reports. In the Join reports include standard financial reports like balance sheet along with cash flow reports and graphical management KPI reports. You can share these reports easily with colleagues and business partners and download them for viewing in Excel.
Key Features:
Click & Connect
Configurable reports
Shared Views
Amazon Infrastructure
Worldwide Integration
End to end security
This App helps users to run consolidated financial and management KPI reports using data from QuickBooks companies and other financial sources and includes an automatic currency conversion.
Multi-Currency: Save time with built-in currency conversion features of Join. For this, you can simply select the currency you wish to view the report in and conversion happens automatically.
Charts, excel and collaboration: You can view financial and management reports for configurable periods in easy-to-understand charts or by downloading to Excel. By sharing your reports with other users work with your colleagues and business partners.
How it works with QuickBooks:
Join App integrates with QuickBooks Online and other financial data sources to provide clear, consolidated reports.
You can connect QuickBooks with Join in simple two steps, and once a Join connects with QuickBooks then takes care of importing your financial data automatically. It import reports in few, and then you're ready to run reports across multiple companies.
Join accepts Visa, Mastercard, and American Express card. It charged on month by month basis and at any time you cancel your subscription.
Pricing:
Join gives the 30-day free trial, no card required, and its plans start at $2/mo.
Plan name

Details

Users

Price

Starter

Jump straight in with our Starter package.

Financial data only for 2 companies.

0

£2

Small

If you're looking to report across more than 1 company, our small business package is the one for you. You can have up to 5 companies.

0

£4.50

Medium

larger businesses with up to 10 companies.

0

£8

Large

customers with up to 20 companies, providing key performance, etc.

0

£15
Time zero App:
This is a GPS time tracking App and saves your time in generating your periodic payroll.
Key Features
Employee time tracking and GPS geofencing using Smartphones or Non-Smartphones!
Reports are good that can be exported as both CSV and PDF files.
It works across all devices: Web, iOS and Android.
Save time and eliminate wasted hours spent calculating paper timesheets. The payroll made easy.
Remote employees will be happier, feel more valued, and are more productive
Creates closer communication between managers and employees
Supervisors easily to oversee employees and pull timesheets & reports
It improves employee accountability by GPS location and time tracking
Benefits in the following industry
Service industry:
Save time in generating payroll
Prevent "buddy punching" and time theft
Hold employees accountable
Eliminate paperwork and wasted time
Easily calculate hours & export timesheets every week
Remove human error for more accurate reporting
Business Industry:
Useful for business owners or managers
Spend less time on payroll
Prevent errors in bookkeeping
Accurate time tracking results in fewer costly lawsuits
Eliminate time theft—employees reported stealing roughly 4.5 hrs/week when a proper time tracking system was not in place
Also, use professional service employes
Works with QuickBooks:
You can review and update your time activities then easily export them to QuickBooks Online in 30 seconds with the click of a button. You can generate payroll easily by sync. Once Timeero sync with QBO it doesn't take more time to generate periodic payroll.
Pricing:
Time zero offers a 14 day free trial period and no credit card required for the first 14 days.
Plan name
Details

Users

Price
Monthly Plan

Access to all features

1
$5
Annual Plan

Access to all features

1
$55
Insurance App (Canada only)
This QuickBooks Online App helps to demystify insurance for start-ups and small businesses and provide commercial general liability insurance. Your commercial insurance, quick & easy by Insurance
Key Benefits:
Insurance does all the research, and recommend the optimal coverage, with easy options to upgrade if needed. Check all term related to insurance.
The online platform of Insurance lets you focus on your business during business hours. Easy to apply for Insurance anytime online by quickly going through our intuitive application online.
Maintain insurance with an easy way
Get insurance and save
Works with QuickBooks: Connect Zensurance with QuickBooks account, you can process your quote application quicker and get you the right insurance to protect your hard work.
Insurance is able to create curated insurance packages ideally suited for each industry with the help of data and analytics to identify the most common risks. With the help of Insurance small business owners do not face any problem.
Pricing:
| | | | |
| --- | --- | --- | --- |
| Plan name | Details | Users | Price |
| Free Quote | When you purchase insurance then you pay, and no cost to you to get a quote. | 0 | 0 |
OIS Connect App:
OIS Connect is a mobile sales solution for wholesalers, manufacturers, and merchandisers. This App set up the communication between your field agents and the central office by simplifying sales, pre-sales, DSD and in-store calls.
This App helps to merchandisers to simplify the store set-up, sales team activity, store & product surveys, and real-time reporting. OIS connect eCommerce is a B2B/B2C eCommerce mobile & web solution.
Key Features:
Administer group prices, specials, and promotions
Scan products and create catalogs
Online and offline capabilities
Sales route planning
Compatibility with Bluetooth printers
GPS tracking
Benefits of OIS Connect:
Provide customers with printed invoices on the spot
Keep track of your sales reps on the field
Use catalogs to close more sales
Program sales routes throughout the week
Remove error-ridden manual data entry all-together
How it works with QuickBooks: Integrates the OIS Mobile Solution with QuickBooks Online and QuickBooks Desktop. You can integrate with QuickBooks and synchronize automatically the data for products (items), customers (stores), sales orders, invoices, and credits.
Without any problem, you can integrate OIS with QuickBooks. The OIS Connect App will help you eliminate your manual double data entry process by directly syncing the OIS Mobile data into QuickBooks.
Pricing:
| | | | |
| --- | --- | --- | --- |
| Plan name | Details | Users | Price |
| Basic | Built for Pre Sales | 1 | $35 per user/mo. |
| Professional | Built for Pre Sales and DSD | 1 | $50.00 per user/mo. |
| Advanced | Built for Pre Sales, DSD, and Merchandising | 1 | $65 per user/mo. |
Business Solution Center Digital Assistant App:
The Business Solution Center Digital Center provides everything from sales, marketing, insurance, cash flow, recruiting employees and more. And plus, your Digital Assistant can proactively identify key insights and offer timely information.
How to connect with QuickBooks: With the help of your profile and company profile the digital assistant personalize the experience and uses additional information to understand your business needs and answer your questions.
The digital assistant makes your business better, bigger, faster and stronger with tailored answers and insights on finance, HR, insurance, marketing and more.
Pricing:
| | | | |
| --- | --- | --- | --- |
| Plan name | Details | Users | Price |
| Free | This App is free. | 0 | 0 |
Verify ERP App:
This App is a completely automated solution for inventory and warehouse management.
Key Features:
Verify ERP provides quick results, typically within 3 to 5 seconds
It reduces unauthorized employment
This App protects employee privacy
The system eliminates SSN mismatch errors
Verify ERP improves the accuracy of wage and tax reporting
It provides the optional department of homeland security compliance and monitoring services.
Benefits of Verify ERP:
By using barcodes and scanners track all ingredients by batch and location.
FIFO, MRP and aggregating facilities available.
Reduce inventory count times by 90%.
Real-time analytics.
Completely paperless inventory, end-to-end Traceability.
Easily track &Trace any batch of product in under 1 minute.
Fully compliant with international standards.
It eliminates all errors and re-keying of data surrounding traceability, reduces audit times by up to 90%.
I also have complete ERP capabilities for manufacturing, material planning, and allocation, job sequencing & scheduling and more.
How it works with QuickBooks:
The verify ERP system links all of your factory transactions directly into your QuickBooks accounts. These transactions are Inventory transactions, production transactions, quality management transactions, and traceability transactions.
To save time from duplicate data entry, your factory, and accounts department will be linked into one integrated system. QuickBooks and verify ERP integrated solution is a complete business management system that eliminates paperwork and reduces costs in your business while also ensuring you are compliant with quality and compliance standards. lastly, you can link directly with your QBO and QBD, for fully customizable to meet your business needs.
Pricing:
| | | | |
| --- | --- | --- | --- |
| Plan name | Details | Users | Price |
| Starter | Inventory & Warehouse Management :- Complete Traceability :- ERP functionality :- Extensive Reporting & Analytics :- Sales & Purchasing Management :- Dispatch and Receiving Management :- Integration with QuickBooks :- Paperless Quality Management | 1 | $150/Month |
| Professional | Everything in beginner plan +:- Automated Planning and analytics:- Material Resource Planning:- Automatic Production & Job Sequencing Planning:- Material allocation and forecasting:- Automated Picking by batch & consignment | 1 | $300/Month |
| Custom | Provide tailored solutions for our client's own unique processes, Our technology platform is extremely extensive and configurable. | 0 | Custom |
RouteMizer App:
A RouteMizer is a QuickBooks online app that provides a comprehensive and easily implemented route optimization solution.
Key benefits:
Integrated with QuickBooks: You can sync your data seamlessly with QuickBooks, and bring in customers and orders to plan them on your route.
Minimize drive time: It reduces travel time by driving the most efficient route. Fewer miles, less time, more value.
Reduce fleet maintenance: It takes less time on the road is less wear and tear on vehicles. Vehicle operating costs are factored in for the most optimal route plan.
Burn less fuel: Routinize save time and money by burning less fuel
Easy to use: Route Mizer finds the best way to run your route. You make a plan for your roots. When RouteMizer reads your plan it can do everything.
Increase profits: It helps to decrease the labor and operating costs of your fleet and save time for other activities.
Works with QuickBooks: For optimization, you can easily import your orders (estimates and invoices) from QuickBooks into RouteMizer based on a preferred date range to create stops on your routes. RouteMizer App also allows you to reduce fuel costs while increasing driver productivity. It also helps to easy to implement, RouteMizer provides a way to optimize every route every day, driving increased profits and customer satisfaction.
Pricing:
| | | | |
| --- | --- | --- | --- |
| Plan name | Details | Users | Price |
| Monthly Subscription | $15 per route, per month | 1 | $15 |
SafetyNet App:
SafetyNet creates a secure, reliable backup for accountants, small businesses and bookkeepers by fetching all the data in your QuickBooks Online.
Key Benefits:
Data security: Never lose valuable financial data
Ease to handle your audit
It allows your users to deploy SafetyNet for unlimited numbers of companies tied to an individual QuickBooks account.
Protect against security threats with SafetyNet
Easy to navigate and user-friendly interface
Simple to use
How it works with QuickBooks: It records all your old backups data. Once they connect with QuickBooks Online, fetches all the data from QBO and create a backup of them. And you can then restore your QuickBooks Online company to look exactly as it did when the archives were created. You can keep as many archives as you like with the professional version of SafetyNet. It gives the easiest solution for your data, and you can feel safe with SafetyNet's features.
Pricing:
| | | | |
| --- | --- | --- | --- |
| Plan name | Details | Users | Price |
| Free trial | Unlimited free backup | 0 | 0 |
ULTops App:
This is a QuickBooks Online App. It is the ULTimate Order Processing System. It is a cloud-based 2-in-1 online order plus inventory management software that simplifies and automates order and inventory management process for all manufacturers. ULTops also provides customer portal storefront access to place orders online. It helps to customize your product or service and settle for off the shelf inventory management solutions.
Key Benefits:
There are some following benefits in terms of management,
Order management
Multiuser functionality
Tiered customer management
Product catalog
Reporting
Shipping and fulfillment
Smart inventory management
Order entry
Recurring orders
Special order management
How it works with QuickBooks: In addition to these benefits, you can easily import or export data from ULTops to QuickBooks and vice versa. And also help to keep accounting records up to date in real-time. For establishing the connection between URLTops and QuickBooks, ULTops provides a feature from the admin page, it imports your data (Customers, Products, Vendors and Purchase Orders) and sync with ULTops database.
Any data changes or adds from ULTops will be saved to the QuickBooks database. you can sync the offline changes by selecting a "SYNC to QuickBooks". And you can disconnect anytime QuickBooks connection at the URLTops admin page.
Pricing:
| | | | |
| --- | --- | --- | --- |
| Plan name | Details | Users | Price |
| FREE | 25 Orders/mo | 0 | $0 |
| Basic | 50 Orders/mo | 0 | $10 |
| Power | 100 Orders/mo | 0 | $25 |
| Plus | 200 Orders/mo | 0 | $50 |
| Premium | 400 Orders/mo | 0 | $100 |
Conclusion:
Therefore, these are the best Apps of QuickBooks Online App store, the user uses them to get a good result. However, with the help of Apps, you can track inventory easily, manage records, easy to create a backup for future use, manage order, ease to handle your audit, also save your time and many more. Last, we hope this article helpful for you if you want more information contact QuickBooks Support by dialing our toll-free number +1-844-541-8444.
QuickBooks Online App
LeaseMate App
Time-Zero App
OIS Connect App:
Summary
QuickBooks Online App store has more than 600 Apps, and all Apps have unique features. With the help of these apps, you can easily manage sales and inventory, gain business insights track employee time and much more.