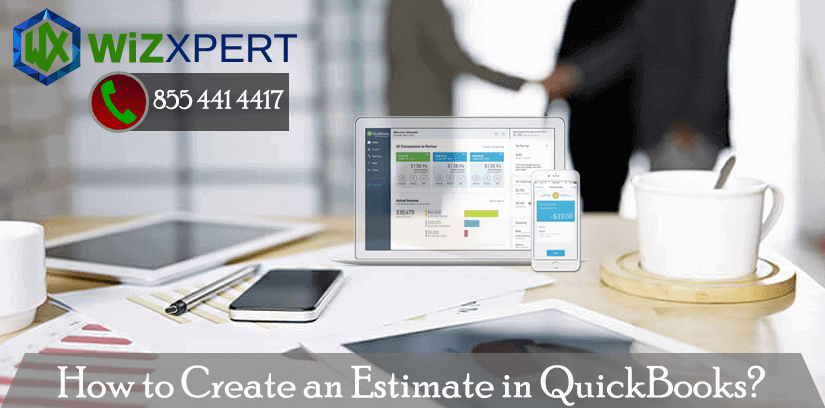 Do you want to create An estimate in QuickBooks? Here you can read all about creating an estimate in QuickBooks. You can also call our QuickBooks Support team to save your time and effort. Our Intuit certified ProAdvisor will provide you with an instant and quality solution for all your related queries.
An Estimate is also known as a quote or a bid. It is a type of document which provides customers, the list of the products and services that you will plan to provide and it also shows service or product charges.
Why Create Estimates Invoice In QuickBooks Online?
This can help customers to decide if they want to purchase the goods or services.
It can perform duties as a written approval to start a job.
Click on Button to turn the estimate into an invoice in QuickBooks Online when you are ready to bill your customer for work completed.
You can run reports in QuickBooks that will help you compare your estimates to actual income and costs after the work is completed
Do you want to create estimates big as quotes for possible customers before you start a job? QuickBooks contractor or you can create your estimates in QuickBooks, mail them to customers and then after complete the work convert them into QuickBooks invoices.
Steps to Create Estimates in QuickBooks Online
Enter the prospective customer's name by choosing customer name from the drop down list or if the given list is not customer click + Add new.
In the details Window enter your expected customer's contact info, after adding email address click save in the bottom right corner.
Now enter the product or services name you plan to provide for this prospect. click add If this is a new product or service that is not present into QuickBooks
Enter full information about the product or service that you want to provide for this prospect. Now select the name of the account in text box marked Income Acc. – remember, it isn't a bank account. It's a bookkeeping account. Click Save and Close after done.
Enter the total quantity, Amount, and Rate for the product or service you want to provide.
When you've got everything you need in your estimate click save and send to email it to your prospect.
Set Custom form style Estimates. Go to the gear menu option and beneath the setting, choose Custom Form Style.

Create An Estimate Method: CRM
Go to Customer > Estimates
Choose suitable customer from Customer: Job drop-down menu.
Now Choose the date for this estimate from the drop down list of Date.
Choose the items (In the Line Item grid) you plan to include this estimate by using the Item drop down menu. Now click New Line Item to produce further lines.
Click update.
Click Save.
Steps To Convert an Estimate into an invoice
Converting an estimate into an invoice in QuickBooks is so simple. Just follow given steps and get an invoice.

To this preference on:
Click the Gear icon > Company Setting
Select Advanced
Now, Click on the Automation section
Make sure that the Copy estimates to invoices option is checked.
Choose Either: Copy pending and accepted to estimates or Copy accepted estimates only from drop down list.
Click Save.
Convert an estimate into an invoice:
Click Transactions > Sales or Sales/Invoicing
Click Estimate/Quote
Change the status of customer's name to Accepted. Just click Save or Save and Send to change the status.
Next, Fill all details in the invoice and click Save or Save and Send.
Watch this QuickBooks tutorial which shows how to prepare an estimate for a customer.
Have any queries? Call our Expert team of QuickBooks Online Support Phone Number+1 855 441 4417 and get instant help. We are always ready to help users so feel free and call us.