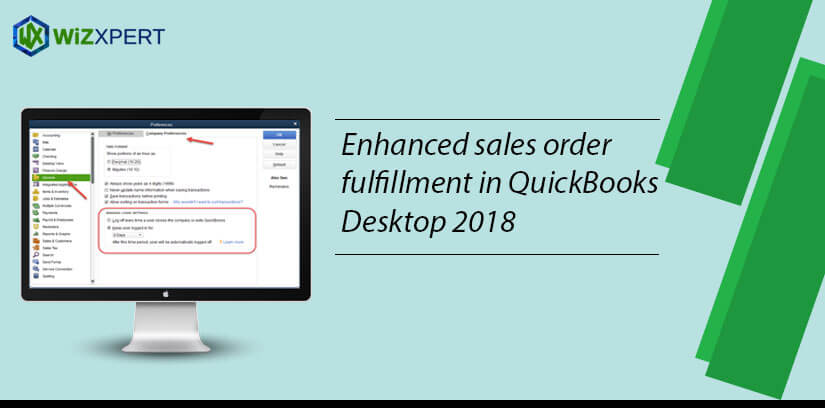 QuickBooks Desktop 2018  Enhanced Sales Order Fulfillment is the most important and powerful feature. Enhanced Sales Order Fulfillment Worksheet can now be used with scanners, android applications and even manually.
It also allows us to plan which sales order needs to be fulfilled by selected those orders to be picked in an updated version of the order fulfillment worksheet, as shown in the image below.
Generating a Pick List For Enhanced Sales Order
The QuickBooks 2018 Enhanced sales Order Fulfillment feature is based on sales orders. If you aren't using sales orders, this won't be useful to you. I like sales orders in QuickBooks, they are a key component to many important workflows.
You may also like: QuickBooks 2018 Desktop: Invoice Past Due Stamp
We'll start with a sales order
There are two new columns for the sales order, picked status and picked quantity. The column to pick is visible in the template but not active with this feature.
The information in this worksheet can be a bit confusing. There are several concepts to keep in mind here, and they overlap:

A sales order will have three "stages": creation, picking, pack & ship.
Sales orders have a status value, and the new system adds several values here.
We now have a separate pick list transaction, as far as I can tell.
Picklists to have their own status value, independent of the sales order.

You can open the sales order window by clicking on the sales order number in the first column.
Read also: Multi-Monitor Support features in QuickBooks 2018
To pick an order you can only select one order at a time for processing. Select one that has a Fulfillable status of Yes or Partial, then click the Next button to view the details of the order.
The detail lines are available here in alphabetical order, not in the sequence in which they are visible in the original sales order.
Related Article: Chart of Accounts Search – What's new in QuickBooks 2018 Desktop
The next step is to select the items for the picklist. You can remove items from the list by unchecking the box on the left, you can filter out some items using the Status and Fulfillable drop boxes at the top, and you can change the value in the To Fulfill Qty column if you don't want to ship all of the available items.
Click Next to send the picklist to the scanner.
You have options for Create & Send, which will send the picklist to the scanning device, or Create & also Print if you are not using a scanning device.
If you aren't using a mobile device for picking, you can print the picklist. And If you're using a registered mobile device you don't need to print this pick list, mobile device will receive information directly.
Picking With Android device
To request for an order fulfillment and to add notes also. The back office team will assign a "Picker".
Furthermore, Confirmation will be given by the picker about picking of order and its shipment as shown in the image.
Finally, Quickbooks will be updated with the most recent status.
Get technical support for QuickBooks: Dial +1-855-441-4417

Learn in detail about major features in QuickBooks Desktop 2018