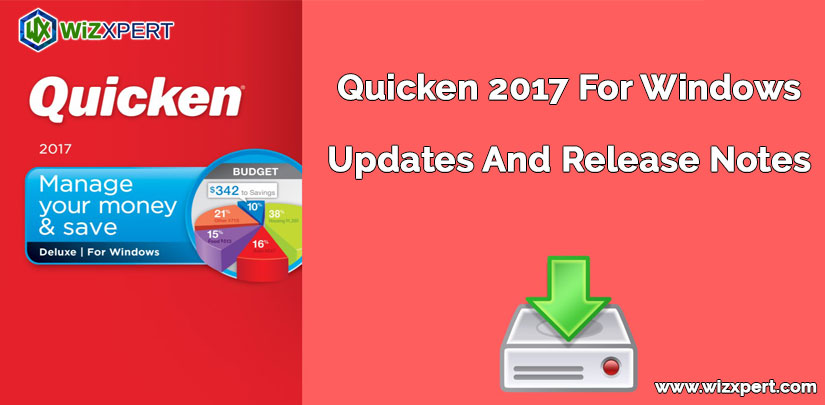 Quicken is a financial accounting software developed by Quicken Inc. which is formerly part of Intuit Inc. There are several version of Quicken available in the market which works on the different platform like Windows and Macintosh. The different version provided by quicken is Quicken Starter, Quicken Deluxe, Quicken Premier, Quicken Home & Business and Quicken for Mac.
The major market-domain of this accounting software in North America, but the most of the software sold especially in the United States and Canadian market. In the Singapore Quicken 50-50 joint venture with the AsiaOne to provide eFinance services for personal and small to medium business users.
Quicken Updates and Quicken Release Notes
The updates offered in this section can manually update the software if it supports the current version of Quicken to their latest release because the update may come to improve the functionality and remove or fix the bugs.
When you go for update Quicken, first you have to download the free patch release for the version of Quicken that you're currently being used and install it in your PC.
Following are former Quicken release notes for 2017 (Windows):
Release R2 In October 2016
Simplified Password Options:
They improved the Simplified File Password for local file password or no file password.
Zillow Home Value Estimation
They improved and make easy to locate the address from different data files.
Fixed an issue if any value entered in the apartment no. filed it couldn't be retrieved in Quicken.
They fixed an issue in which the Zillow banner couldn't be closed.
Mobile Sync
They added a new feature in this update, Now during the first sync, you can upload two years of transactions.
General
Fixed an issue in which you can not be categorized your account if you adding a new account.
They fixed an issue and show the Next button on the Product Registration screen when you entered all your required information.
They fixed an issue in which you can ask for entering the password if you sync your investment account.
Fixed an issue where minor cosmetic issues related to the new design are removed.
They fixed an issue where some toolbar icons were not working properly.
They fixed the display issue with the drop down "Category".
2. Release R3 In November 2016
General
They fixed issues to stop crash the Quicken when budgets were open in the Graph view.
They fixed issues to stop showing OOPs error while signing or sign up.
Fixed an issue where OSU does not perform any operation.
They fixed an issue now you can add transactions from the calendar.
They fixed an issue of Quicken not responsive on high-resolution settings.
3. Release R4 In January 2017
Important upgrade for Online Bills
After this upgradation Quicken now supports 8000+ billers.
Bug Fixes
They fixed an issue to make adjustable the report columns.
Fixed issues to make adjustable the investment register columns.
They fixed an issue to make the Budget columns adjustable in high-resolution displays
They fixed issues related to UI.
4. Release R5 In March 2017
Bug Fixes
Fixed an issue now Quicken open in full-screen mode.
Fixed issues now you can access your old bill even after reset the cloud account.
They fixed an issue where the taskbar hides the quicken menu.
Fixed an issue where OSU display a spinner forever.
They fixed issues where minor cosmetic issues related to the new design.
5. Release R10 In August 2017
General
They fixed an issue to stop the intermittent crashes for some customers.
Authentication
They fixed an issue now customer login without facing a crash issue.
They improved on the technology to show the content on the screen dynamically.
Bug Fixes
They fixed an issue now you can easily register for to get the free credit score report.
6. Release US version In Sep 2017
You can now sign in with your Quicken ID
You can change your Vault Password
Mobile Sync Updates
Third-party Tool Updates
7. Release R15.13 US Versions In Jan 2018
The fixed an issue now if you not set a password in a data file, they won't be asked to enter the password for the data file.
The fixed an issue now you able to add loan account.
They fixed a crashes issue.
Features that you have to check in Quicken 2017
Bill Reminder
Projected Balances
Budgets
Financial Planning
Mortgage & debt calculators
Reports
Linked transactions
Online account synchronization
Historical Investment Cost Basis
Consolidated stock data
Expense Categorization
I hope this will help you to understand Quicken Updates and Release Notes for 2017 Windows. If you still want more discussion on this topic or need any help related to your Quicken software, Dial our toll-free Quicken Support Number 888 883-9555.