While using the software you might face some issues that will definitely interrupt the performance of your business. In this case, if you need to repair QuickBooks Desktop, we have come with an article that will help you in diagnosing some QuickBooks common errors and a few QuickBooks installation errors. In this article, we are here with several methods to aid you to fix repair & installation errors. Read it and apply these methods to resolve the issue, stay connected with us to learn more. If you have any problem contact our QuickBooks ProAdvisor toll-free :+1-818-295-3510
Some of these errors may lead to blocking other important features and functions. Therefore, it is recommended that you should repair QuickBooks Desktop errors as soon as possible.
Methods to Repair QuickBooks or Installation Errors
Run the Repair Tool
Install Diagnostic Tool to repair QuickBooks
QuickBooks Connection Diagnostic Tools
QuickBooks File Doctor
QuickBooks Component Repair Tool
QuickBooks PDF Repair Tool
Don't worry as we will discuss some of the major issues and learn how to repair QuickBooks Desktop.
How to repair QuickBooks common installation Errors using tools
Run the Repair Tool
If you face any errors while using QB, then this is the easiest way you can try to solve issues. This is an in-built feature for QuickBooks Desktop windows that can repair QuickBooks quite easily.
The only thing you need to do is follow instructions step by step.
Restart your system, this will close all the programs that are affecting the performance of the software.
In the start menu, search for the 'Control Panel'. Then click on it.
In the Control Panel, select the 'Programs and Features' option.
Next, choose the 'Uninstall a program' option.
After that, you'll be able to see the list of programs choose 'QuickBooks' from that list.
Select 'Continue' and then 'Repair'.
Diagnosing will start as soon as you select 'repair'. This will take some of your time to complete the process.
Once the repair process is complete, you may have to restart your computer again.
NOTE: While repairing is in the process, you may encounter a pop-up message 'File in Use'. The only thing you need to do is select ignore or close. This might happen a few times, So don't worry.
Install Diagnostic Tool to repair QuickBooks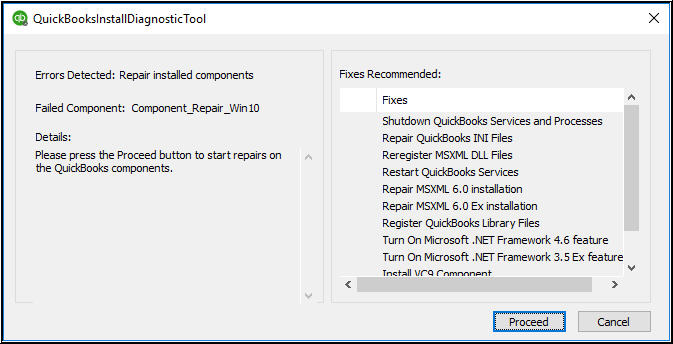 This tool comes very handily when you unexpectedly run into QuickBooks errors like Error 1935, 1903, 1722, 1603, 1402 or if messages like 'QuickBooks Stop working' frequently pop-ups.
Follow the below instructions on how to use QuickBooks Install Diagnostic Tool.
Close all the QuickBooks related programs.
From Intuit official site download and install the 'QuickBooks Tool Hub'.
Follow the installation steps, then read and agree to the terms and conditions.
After installation is complete, open the program by double-clicking on the icon from desktop or you can search for 'QuickBooks Tool Hub' in the Start button.
Now open the 'Installation Issues' tab in the Tool Hub.
Then, select the 'QuickBooks Install Diagnostic Tool'. This will take a short period of time to find and fix the issues.
Restart your computer, after the tool finished its troubleshooting process.
Let's hope that, your errors and issues will be fixed with the help of QuickBooks Install Diagnostic Tools.
QuickBooks Connection Diagnostic Tools
Quickbooks software is best optimized when used in Multi-users mode. But while using it some technical glitches affect the fluent performance of the software. You may face errors due to some QuickBooks corrupted company files, problems in sharing files across the network and some other related issues.
QuickBooks Connection Diagnostic Tool is a free tool provided by Intuit which you can download from their official website. This will help you to easily repair QuickBooks Desktop problems instantly on your own without any help from experts.
Here are the instructions on how you can download, install and use the Diagnostic Tool.
Before approaching further, Let's make sure you do not have an older version of the QB diagnostic tool is installed on your computer.
Close the antivirus or window firewall before downloading the tool.
Visit the official website and download the 'QuickBooks Connection Diagnostic Tool' file.
Now, install the QB connection Diagnostic Tool.
And then double-click on the QB Desktop software icon and open it.
Close all the company files before start the troubleshooting process.
Select the 'Utilities' option and then click on 'Repair File and Network Problem'.
Now the tool will ask for permission to access the information and personnel data related to the Quickbooks. Allow the tool for collecting your data.
Select the company file you want to fix from the folder and then click on 'continue'.
Open the 'Show advance setting' option and from the drop-down menu select the issue which you think is most related to your error.
After that enter the QuickBooks Online Login ID and password to the respective boxes.
Open the QB Connection tool and run the diagnose process.
Wait for a while because this process might take some time depends on the size of the files.
Now you can open the repaired files to check whether repairing has done or not.
This is a powerful and versatile tool that can surely help you resolve number of errors and issues that affect the effectiveness of the tool.
QuickBooks File Doctor
QuickBooks File Doctor is a high-end repair software designed by the Intuit. It is a tool that offers features of both QuickBooks Network Diagnostic Tool as well as QuickBooks File Diagnostic Tool and resolves the errors instantly.
Built-in File Doctor is pre-installed only on the QuickBooks 2016 and the later versions of QuickBooks and for the older users, a stand-alone version is also available on the official website.
QuickBooks File Doctor can resolve all the issues like QuickBooks 6000 series errors, empty vendors or customer lists, Multi-user errors (H101, H202, H303, or H505), and repair some severely damaged files quite easily.
There are some things you should know before using QB File Doctor
You should have administrative authority i.e., Login ID and password.
A high-speed internet connection is necessary to upload files.
The size of the company files that need to be diagnosed should not exceed more than 2GB.
Only one QuickBook Software should installed on the system.
Update to the latest version of QuickBooks software.
And last QuickBook FD is only working with the Windows OS and is not available for the QuickBooks Desktop MAC users.
Follow the guidelines below to successfully fix errors using QB File Doctor.
Visit the official Intuit website and download the 'QuickBooks File Doctor' file.
Install the File Doctor by following the recommended steps.
After that run the QuickBooks File Doctor program.
Now search for the file you want to fix in the drop-down menu or you can also browse your file by going through folders.
Once you select the file select 'Check the damage' and then 'Diagnose File' option. (NOTE: Now two options will appear, First will ask if the problem is related to any 6000 series error or second Multi-user error. Select accordingly.)
After providing the QuickBooks admin Login ID and password tool will ask you to update the company file but we recommend you to skip that part and continue.
Now after all that file doctor will run it's diagnosing process. This might take some time depending upon the size of the file.
You can open your repaired file directly from the tool to check whether the issue is resolved or not.
QuickBooks Component Repair Tool
There are some Microsoft components like Framework, MSXML, MS Visual C++, and .NET Framework which are needed to operate perfectly for the best optimize of QuickBooks software but there are some conditions where these components don't perform well or cause problems in the swift working of QuickBooks software.
Therefore, Intuit comes up with a tool named QuickBooks Component Repair Tool that can be download free from their official website and help in repairing QuickBooks Desktop problems to a great extent.
Sometimes if Windows is not up to date to the latest version there will be some issues regarding the QuickBooks installation. But even after the updated window if you face the same issue then you need QuickBooks Component Repair Tool to do its work.
These are two easy steps through which the QB Component Repair Tool can fix problems.
Rebuild .NET Framework
Microsoft .NET framework is a program developed by Microsoft that helps Quickbooks to connect with other web applications. It is an integral part of the Windows operating system.
Therefore, it is necessary that it always works in its best condition.
First, download the QuickBooks Component Repair Tool file.
Save the file on your computer local disk.
Close all the programs running in the background for this, you can use Task Manager.
Open the file with the name of 'QBInstall_Tool_v2.exe'.
After the diagnosis of Microsoft.NET is finished. Restart your computer.
Reconstruct the Microsoft MSXML
QuickBooks will not give its optimum performance when any MSXML files are hampered. Therefore the first thing we should do is repair these files for this, you need to do the following things.
Register MSXML DLL files.
You can try Uninstall MSXML 6.0 file and then clean install it again.
Download and install MSXML 6.0 SP1
Repair MSXML 6.
QuickBooks PDF Repair Tool
QuickBooks PDF Repair Tool as its name suggests is used when any technical error arises during the printing of invoices, bills or any other problem related to printing documents.
It is easy to download, install and run the tool to diagnose the various QuickBooks Printing problems, simply just follow the given instruction and your tool will be ready to use.
Update your QuickBooks software to the latest version before installing the PDF Repair Tool.
From the Intuit site download the 'QuickBooks PDF Repair Tool' file.
Now you need to open the downloaded file and follow the installation steps.
Run the troubleshooting process to diagnose issues related to printing.
Once your error is fixed, try to print a receipt or invoice to check whether it worked or not.
There are some points you should also check if you face problems while printing.
Check the wire connections of the printer.
Restart your computer and look if the problem is solved or not.
Try to print using other programs and if it's not working even with others then your printer may be faulty.
---
Even after all the above-mentioned methods to repair QuickBooks Desktop cannot help you in resolving your issue then the only best way is left to ask for help from the QuickBooks experts ProAdvisor.
Our team consists of the number of experienced and certified Intuit experts who are capable of repair QuickBooks and fixing your any error in just a short span of time. You can contact them through their 24/7 toll-free number +1-818-295-3510 and get answers to your queries.