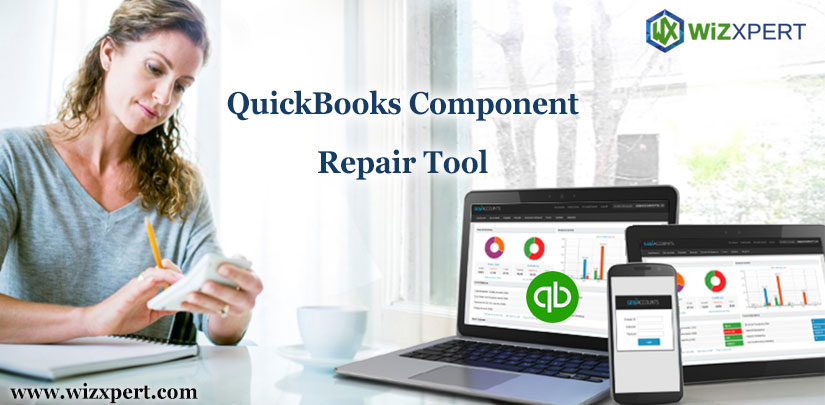 QuickBooks Component Repair Tool is a significant tool that you can freely download to resolve the issues with the Microsoft components used in QuickBooks, like Microsoft.NET, Framework, Microsoft MSXML, and Microsoft Visual C++.
During QuickBooks installation, at times you may occur different errors, like Error 1603, 1935, 1904, 1402 etc. These errors may be quite tricky and can leave with you bad QuickBooks experience at the very initial stage. But, Intuit provides many DIY tips and free tools which you can to resolve different QuickBooks error. 
Fix Common QuickBooks Installation Errors
Use QuickBooks Installation Diagnostic Tool
Download

QuickBooks Installation Diagnostic Tool.

After the Download is done, notified save the file to a local desktop.

Close all the executing programs and execute QuickBooks Installation Diagnostic tool.

Now, restart your system after running the tool.
Download Window Update
If your window is out of date then, you may not able to open or install QuickBooks on your desktop. Outdated Windows miss updates concerning to Visual C++, MSXML, and .NET Framework.
So, you need to update your window. You can update Windows on your desktop by pressing Windows key on your keyboard and now type "Windows Update". After Windows update, don't forget to restart or reboot your computer. And, then, try to install QuickBooks again. 
Manually fix errors with Microsoft Components
If QuickBooks Installation Diagnostic Tool doesn't resolve errors stopping QuickBooks installation then, you can go for these two options:
Manually Repair Microsoft MSXML.
But,  it is advisable to try these manual tasks under the guidance of an IT expert or advanced Windows professionals.
Option 1: Repair Microsoft.NET Framework
Microsoft.NET Framework is a Microsoft component. It is used by QuickBooks to connect with web applications.
You may occur many errors, like Error 1603, Error 1722, Error 1903 and Error 1904 due to issues in Microsoft.NET Framework.
To repair damaged Microsoft.NET Framework you need to follow these steps:
First of all, Download QuickBooks Repair Component Tool

When prompted, save a file on your local desktop

Shut-down all running programs and double click on  QBInstall_Tool_v2.exe

After the diagnosis process is done, you need to restart your computer.
After the completion of repair Microsoft.NET Framework, if you still occur errors then:
Now, Press Windows key of your keyboard.

In the search bar, type Windows Update.

Check for Updates.
Option 2: Manually repair Microsoft MSXML
QuickBooks may not execute because of a damaged Microsoft MSXML component. To repair a damaged MSXML component, you have to follow these steps:
Register MSXML DLL files

Uninstall and reinstall MSXML 6.0

Download and install MSXML 6.0 SP1

Repair MSXML 6.0
How to Download QuickBooks Component Repair Tool
To automatically scan and repair QuickBooks components, first of all, you have to Download the QuickBooks Component Tools. But the positive thing is that this tool it doesn't require any specific system configuration or requirement.
To download QuickBooks Component Tools you need to follow these steps:
Close all the open programs and restart your computer.

For execute the program, double-click on the recently downloaded file. Restart or reboot your computer after running the tool.
By following above listed steps you can easily download the QuickBooks Component Tool.
CONCLUSION
Quickbooks is one of the most elegant accounting software. But due to some technical defects in Window component, any time, it can leave you with a bad experience. QuickBooks Component Repair Tool provides proper error inspection and also repair of different Window components used in QuickBooks installation. But, to get an optimal QuickBooks installation it is advisable to install QuickBooks under the guidance of an IT and QuickBooks expert.
Hope this information will help you. If you still need help the call our expert at toll-free QuickBooks Help number +1-855-441-4417. Please like and share this information also with your peers!