Error: QuickBooks Unable To Verify Financial Institution
Last Updated on: January 25th, 2018
Posted by:

admin

Category:

Quickbooks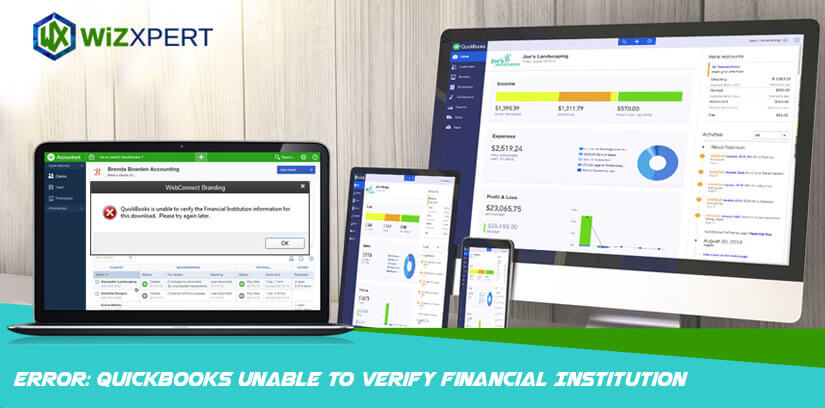 In this article, we will talk about how you can get rid of the error "QuickBooks Unable To Verify Financial Institution". It generally happens when QuickBooks does not accept a specific bank ID.
QuickBooks Unable To Verify Financial Institution for this download
This error occurs when QB does not accept any particular Bank ID. It is a serious issue because due to this one error an employee or employer can get stress in their work. So, it is recommend that fix this error as fast as possible. People use QuickBooks because it is very easy and simple to use and due to its top notch technology.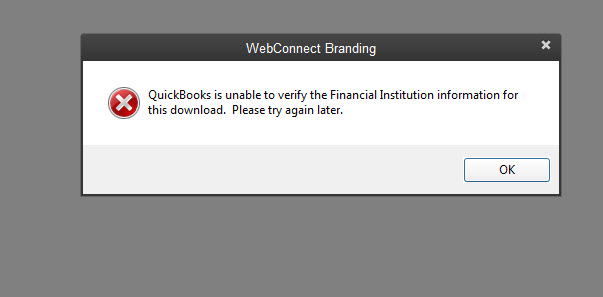 As we know that if any software has so much pro features it would also gather some cons in it. In QuickBooks, these cons are in the form Error which a user get while working on it. When you get this financial institution error it is recommended that initially, you should get in touch with QuickBooks Error Support Team so that they can guide you to fix the error. Until QB solve this issue the first solution is to change the affected Bank ID number in the QuickBooks Online file to another recognized QuickBooks Number.
Related article:How to Resolve QuickBooks Unable To Export To Excel Error
Note: Before importing the QBO into QuickBooks, the QBO file needs to be opened in Excel or notepad.
Open your file in Excel or Notepad.

Go to line 20 – <INTUIT.BID>2002.

The last 4 digits should be changed to 3000.

Save the File.

Upload file into QuickBooks.
If you had any problem when you are uploading the file into QuickBooks Online you can contact to QuickBooks Online Support Team who will in a very short period of time solve your each and every query regarding it.
Related article: QuickBooks Unable To Create Accountant's Copy
Temporary Fixing Of this Error
If in an emergency you want Quick resolving, so you can temporarily fix this error by following these steps:
Search for the fidir.txt which is available in the first Folder and open it with the notepad.
Note:
Windows 8, 7 or Vista:
C:\ProgramData\Intuit\QuickBooks20XX\Components\OLB\branding\filist
Windows XP:
C:\Documents and Settings\All Users\Application Data\Intuit\QuickBooks   20XX\Components\OLB\branding\filist
Then look for the bank's name  MB Financial, you will see  4 sets of number  Like this "XXXXX XXXXX XXXXX XXXXX" take note of the numbers.

With the Notepad open the file.QBO and search for <FID>, <BANKID> or <BID> and then change the number beside the characters with the number present in FIDIR. Now save the Changes as.QBO

Open your Company file and import it.
Hope these steps will help in your work If the error persists you can contact to QuickBooks Enterprise Support Team or you can dial our toll-free no. 1-855-441-4417.