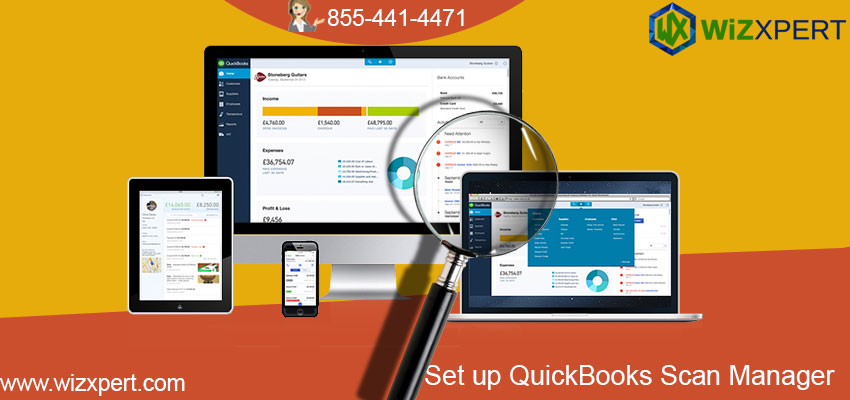 QuickBooks is the best accounting software used in the US or UK. In QB, if you have installed a new scanner or want to scan the document for the first time, you need to set up QuickBooks Scan Manager for QuickBooks Attached Documents.
QuickBooks Scan Manager is an advanced feature in QuickBooks that allows you to easily add files to your sales receipts, invoices, bills, and other transactions. It is very easy to use, you can easily use even you don't have good proficiency in accounting. Scan Manager automatically generates balance sheets updates, invoices, packing slip, and other online business-related documents.
Important: In the setup of QuickBooks scan manager you can scan TWAIN compliant scanner.
Steps to set up QuickBooks Scan Manager
1. Create your scan profile
Use the Quickbooks icon bar, select Docs to open the Doc center.
Select Scan a Document.
Choose the proper Scan profile or select New to set up a new profile.
Enter your name or Profile or if you do not want to give your info. Then click continue.
Manage the profile set as the proper way or leave them set to the default then click save.
Note: If you do not change the profile folder. your scanned file will always save the same folder where your company files are stored.
Related article: Install, Update, and Set up the QuickBooks Database Server Manager
2. Set up and test your scanner
Choose your profile, then click Select
In the Select Scanner window, click Scanner Setup Wizard.
in case your scanner not on the list, click the yes button then next to download the latest Scanner database from Nuance.
Select the appropriate mode. This will be Normal Mode. Check the Perform Tests box then click Next.
Click Next to start testing your Scanner.
Select the tests you want to run. Click Next, then Next again to start the scanner test.
when you see the test page that you scanned in place of "Your scanner document here." Check the Repeat this test in order to check all modes box, then click Next to continue testing in other available modes.
Select Next to perform the next test.
when you have tested all modes successfully, your scanner is ready to be used with QuickBooks.
Related article: QuickBooks Desktop 2018 – What's New & Improved Features in it
How To Troubleshooting QuickBooks Scan Manager not working Issue
If you have trouble setting up scan manage or scanning documents or it is not working, start by checking the following:
You are using the TWAIN compliant scanner.
Check your scanner outside the QuickBooks. if not a problem comes with the scanner itself.
If you are suffering error with 281,1 then tries these solutions in order:
Need to Repair the QuickBooks and try scanning again.
Need to Reinstall using a clean install, set up QuickBooks Scan Manager, try again.
If you need further assistance the talk to a QuickBooks ProAdvisor at our toll-free QuickBooks support number +1-855-441-4417 to get instant support anywhere any time all over the USA.
If you want advice from other business owners then you can visit our QuickBooks Community. You can post your queries if you are unable to find your query.
Some other article which you might find useful:
QuickBooks Scan Manager
Automatic update
Summary
QuickBooks Scan Manager automatically generates balance sheets updates, invoices, packing slip, and other online financial-related documents.