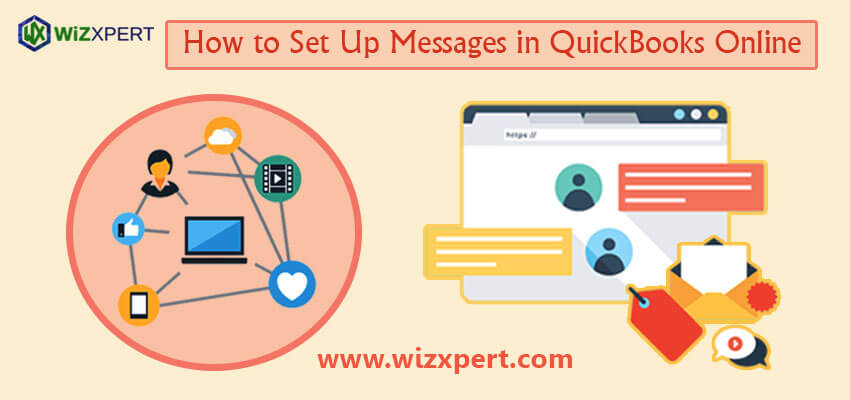 In today article we will discuss how to Set up messages in QuickBooks Online
First of all, we should know what is the importance of setting the message in QuickBooks Online. When we send sales or invoice reports to our customer then it takes some time to create a personalized message. That message will appear on the sales and invoice receipt that you send to customers. The main intention of creating a personalized message is just that to show your customers how much you appreciate them and you can also give them additional information about payments.
We have let you know the importance of setting up the message in QuickBooks Online. Now we will let you know what is the procedure to set up the message in QuickBooks.
Follow the steps in order to complete the process. However, you can also take advantage of our QuickBooks technical support services. Dial +1-844-770-0699 to directly call a certified ProAdvisor who will help you with QB or any other accounting stuff.
Change or Edit the message that is emailed with Sales Form
First, you need to sign in your QuickBooks account then go to the Gear Icon>Account and Setting>Company Setting.
On the left side of the menu select sales option.
Click on the edit option to the right of the message.
In QuickBooks, you have the option to select the salutation and to select to whom you want to address.
Select Sales form from the drop-down menu, select any of the following options.

Invoice
Estimates
Credit Notes
Sales Receipts
Statement
Refund Receipt

After that, you can type the email message you would like your customer to receive.
Select the check-box stated Email me a copy if you want to have a copy of all the emails sent to customers.
After that click saves and then done.
Set Up The Email Service
The QuickBooks Desktop, you can set up your email to send invoices, reports, and other transactions through Webmail or Outlook. we show you how.
Set Up Outlook
first of all, you get started, check the QuickBooks Desktop System Requirements to make sure your Outlook is compatible with your version of QuickBooks Desktop.
Make an Outlook email profile (if you don't have one.)
Contact your internet service provider for the information.

Username
Password
Incoming email address
Incoming email server type
Outgoing email server address

Set up Outlook. if you not seeing Outlook as an option in your QuickBooks Desktop, following the steps.

In the QuickBooks Edit menu, choose Preferences, and select send forms.
click Outlook, and OK
Set Up The Secure Webmail
Before you get started
The newer version of QuickBooks Desktop, we can use the secure webmail for an easier and safe connection in your email provider. The different webmail, secure webmail works by linking your Intuit account to your webmail account. Once you linked, you don't have to re-enter your password every time you send an email.
Different versions of QuickBooks Desktop for secure webmail
QuickBooks 2019: it is accessible for Gmail, Yahoo Email, Hotmail and Window Mail
QuickBooks 2018: Accessible for Gmail and Hotmail/Live users.
QuickBooks 2017R4 and older: Not a secure Webmail.
QuickBooks 2017R5 and newer: Accessible for Gmail user.
Update Message Global For Invoice, Sale Forms And Estimates
Here's the way to set up or change the message globally for invoice & sales form or estimates:
Click the Gear icon on Toolbar.
Pick up Account settings in your company.
Select Sales from the left menu.
Select the Edit symbol in the Message area.
Then, under Blind Copy (Bcc) New copy to address, click on the Sales Form drop-down menu and then select the Invoices and Other Sales Form or Estimates option and enter the default message for the customers.
Select Save and Done.
NOTE: For each sales form, you are allowed to create a different default email message. To change type of the sales form, click on the drop-down menu and select the appropriate one from (Invoices, Estimates, Sales Receipts, Credit Notes, Statements).
If you want to change the default email message for the individual customers then you will need to manually edit the message every time you create a sales form. You have to rewrite the default message on an individual customer basis, to do this click on the Message Displayed on.
Printing a message on the statement
Follow the instruction mentioned below carefully to learn how to print a message on the statement.
First of all, open a word processing software on your computer. For example Microsoft Word.
Then, scroll down until you reach the bottom of the page and after that start typing the message for your customer. (NOTE: You may also need to adjust the margins. It mainly depends upon the software you are using and printer you are using for printing.)
When you finish typing the message for your customer, print out the entire page with a message.
After that, you have to put back the paper with a message into the printer and print the statement on the same page. The statement part is supposed to be printed on the upper part whereas the message will be printed on the lower part of the paper. If you have typed the message low enough then there will be no overlapping.
This is a kind of hit and trial type of process to make sure that there is no overlapping between statement and message. We recommend you save the settings once you find the perfect alignment, it will save you time when next time you have to print statement.
NOTE: If you are using any other third-party programs for printing a message on a statement then you cannot have assistance from the QuickBooks support.
How to delete customer message in QuickBooks?
Follow the steps mentioned below to delete customer messages in QuickBooks.
First, click on the Lists menu and then select the Customer and Vendor Profile Lists option.
Then, choose a message from the Customer Message List.
In QuickBooks, there are 5 default customer messages already saved in it. Right-click on any of the message that you want to delete and then choose the Delete Customer Message option.
The Bottom Line
We hope you find this article on how to change and set up messages in QuickBooks Online useful. If you have any queries related to this or any other topic, you can call QuickBooks Online support Number +1-844-770-0699.
Watch this video to learn more about How to Set Up Messages in QuickBooks Online.