It happens sometimes that a user creates or issue two same invoices to the wrong customer and it is very important to delete the duplicate invoice in QuickBooks before it gets attached to the customer's bill. To do this you should be knowing how to delete an invoice in QuickBooks. Luckily, we've got a simple method by which you can learn how to delete invoice in QuickBooks as well as void a bill or payment check. For any kind of expert help, you can also dial our toll-free number +1-855-441-4417.
Difference between Delete and Void Invoice in QuickBooks?
Before knowing how to delete invoice in QuickBooks, it is important for you to know the difference between deleting and voiding invoices.
Deleting an invoice means you wipe out all related information too like invoice number and customer's name on the other hand by voiding an invoice you only change the invoice amount to zero other information like invoice number and customer's name will remain in records for future references.
These two activities will make a difference in the way your books are arranged and presented within the QB. Clear invoices must be removed directly unless they are needed for a later date. By deleting an invoice, users will permanently delete it from their company's file. On the other hand, zero cancels a particular payment or invoice. To prevent a particular payment being realized by the QB, select void. To remove a receipt from QB, choose Delete.
If you want to perform both of these actions then you need to first void the transaction and then click on delete. It will terminate the payment process as well as remove the receipt from your documents. QB Online and QB hosting users will be capable to recover invoices after deleting them but this will not be a possibility for QB desktop or QB Mac users. Hence, make sure to backup your data before making any substantial changes.
How to Delete Invoice in QuickBooks
It is recommended for you to delete only those invoices that have not printed or distributed to customers. Otherwise, you'll not have any prior record of the invoice in QuickBooks.
Follow the below steps to delete the duplicate or wrong invoice.
Open QuickBooks Online and go to 'Transactions' in the left side navigational panel.
In 'Transaction' and then select 'Sales'.
From the list of all transactions open the invoice you want to delete.
Click on the 'More' button at the bottom after the invoice is open.
In 'More' click on the 'Delete' option.
At last, a pop-up window will appear asking if you want to confirm your action.
How to Void Invoice in QuickBooks
You can void invoices if you want to keep the record like the invoice or reference number and vendor's name in the QuickBooks. To void an invoice follow the below procedure.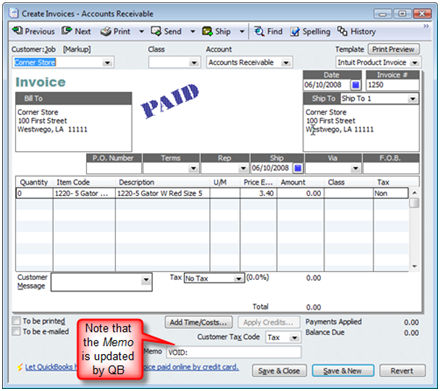 Open QuickBooks, then go to the homepage and click on the 'Create Invoice' icon.
Here from the list select the invoice you want to void.
After you find the desired invoice, click 'Edit' from the menu bar.
In the edit menu, you'll find the option to Void or Delete Invoice.
Click on the void invoice button, then Save and Close to apply changes.
Void Invoice from the previous year in QuickBooks
If you directly void the invoice from the last year then the income generated will be removed on the date of invoice i.e. last year. To remove income from the current year, you need to create a credit memo first and then void the invoice.
Go to the '+' icon and then click on the 'Credit memo' option.
Here, choose the same customer whom invoice you want to void.
Then, Enter the customer or vendor details and the amount you want to void.
Save and close to create a credit memo.
Now you can simply void the invoice.
Void or delete transactions in QuickBooks Online
Follow these steps to void or delete transactions in QuickBooks Online
Step 1: Decide whether to void or delete the transaction
When to void a transaction
In most circumstances, it is most beneficial to void the transaction rather than deleting it. In this way, the transaction does not change your account balance or report, but you must have a record of it. It is an important part of good accounting.
Note: If you want to void an invoice then QuickBooks has not to void any payment you have entered for the invoice. You can apply the payment to a separate invoice.
QuickBooks contains some transactions that you cannot void: estimates, deposits, supplier credits, purchase orders, late fees, or delayed credits. You cannot void bills, but you can able to void bill payments.
When to delete a transaction
Only delete a transaction if you are sure that you do not want its records in the future. When you delete a transaction, it means you fully eliminate it from your books. It will not appear anywhere in your report or your accounts. You can use your audit log to retrieve some items, but you cannot recover transactions. You are capable of delete any type of transaction in QuickBooks.
Note: If you are still not sure when to void or delete a transaction then we recommend you contact your accountant.
Step 2: Void or delete the transaction
After you select to void or delete a transaction, here's how to do it:
Open QuickBooks and go to the Sales or Expense menu.
Navigate and open the transaction.
Examine the transaction. Be sure what you want to void or delete it.
If you desire to enter the void or delete date then attach a note to the Memo or Message section.
Choose More in the footer. Then click on Void or Delete.
Choose Yes to approve.
Frequently Asked Questions
How to view Voided/Deleted Invoices?
To review your invoices that you recently voided/deleted, go to Reports<Accountant and Taxes<Voided/Deleted transactions Summary.
Should I void or delete the invoice in QuickBooks?
If you want that QuickBooks keeps the record of the transaction but cancel the payment amount to zero you can void invoice and if you want to remove all traces of transaction then you can delete an invoice in QuickBooks. We recommended you to void first and then delete the invoice.
How to delete multiple Invoices in QuickBooks?
Currently, QuickBooks doesn't provide any feature or option to delete multiple invoices at the same time. You need to view and then delete the invoice one by one.
---
Conclusion
We hope that now you've learned how to delete an invoice in QuickBooks but before doing this you should know when to delete and void an invoice in QuickBooks.
If you are still finding difficulties in understanding the concept of QuickBooks and some accounting aspects, then you can have assistance from our team of QuickBooks ProAdvisor. Our professionals are Intuit's certified and possess years of experience. To know more about the accounting services we provide contact us via our 24*7 toll-free customer support number +1-855-441-4417.