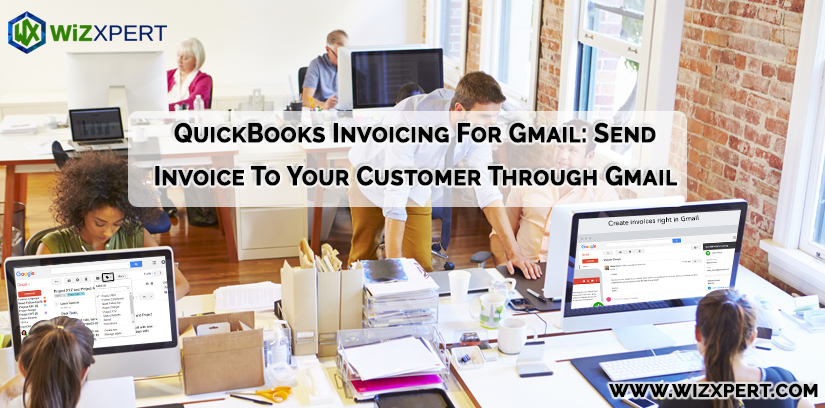 QuickBooks Invoicing for Gmail is simply mean that way to invoice your customers from within your Gmail inbox. QB Invoicing for Gmail, this app launching by Intuit. This is easy to handle and use. You directly connected with QuickBooks online invoice to your Gmail dashboard, so it is very convenient to use. QuickBooks Online account easily to connect with it and get free invoicing. The main target of this app is a very small business.
How to Connect With Gmail?
Now one question arises in your mind Do I have to currently use QuickBooks Online to send an invoice?
Firstly you logging your Gmail account then go to the G Suite Marketplace.
Establish the QuickBooks Invoicing for Gmail app, select it and click the Install link. You carefully establish this app because there are many other QuickBooks app here, you choose the right one.
Next Step, return to your Gmail dashboard and open email messages and check the "QB" icon on the right.
Now click that "QB" icon and then click the Authorize Access link.
Now you need to allow the app to access your account.
You have to see the option to connect an existing account or to sign up for a new account.
For example, you connect to your existing QuickBooks Online Accountant account.
When we use multiple accounts or any other client account I would click the Add app to firm link.
Now you connect this app to your firm for testing.
Click the Confirm button, now we are connected and ready to create the invoice from Gmail.
Finally, you open an email message to create an invoice and when you create an invoice you viewing an invoice, click the "QB" icon and new invoice window opens on the right.
How do I add my logo to an invoice?
From Gmail: Go to the Gmail menu and select settings.
Next to colour and logo, select Edit.
Add your logo in the new tab.
Go back to Gmail and refresh the page.
From QuickBooks invoicing.
Click on the Gear icon at the top, then Custom from styles.
Find the template you want to customize and select Edit.
How do i send an invoice?
Open the email thread for the client you want to send an invoice to
At the point when add-on shows up on the right, select the QuickBooks logo.
Fill out your invoice.
Select send to email the invoice to your client.
If you have any other screen within the add-on select menu > Create a new invoice.
When a new invoice is open looking into the detail:
Mostly user say that How do I add my logo to an invoice? its answer is very simple.
Your company logo was automatically added to the top, and it will show on invoices. You also can add this in the app settings.
When the customer receives a mail from Gmail such as I've opened here, if this matches an existing customer name in my QuickBooks online support list then the invoice is added to that account. It doesn't match the list then a new customer will be added to QuickBooks online list, any time search it with the customer name.
The customer email address is taken from a Gmail message.
You easily to click the link to Add a product or services or add a new item here
This sets the due date for the invoice
You can compose a message for the invoice, there is a default entered for you to start with
Add Product services:
When you start a typing a name of product or service line, you have seen some matching list are available of typing name, this automatically comes from QuickBooks Online product/service list. If you find other names from matching list you easily added the item to your list.
Subscription fees for QuickBooks Invoicing for Gmail
QB invoicing does not have a monthly subscription fee. If your customers pay invoices online so transaction fees apply.
Bank : Transfer cost $1.50/transaction
Credit Cards: cost 2.9%+ 25 cents/transaction
The rate field shows the options of Flat rate, By Hour, or By Quantity.
By Hour: If you select this option the screen changes to ask you for the hours or quantity.
You can edit the Description and Price field.
Taxable Switch: It determines when sales tax is to be applied to this item if the item is marked as being taxable, it shows as being taxable here.
Now clicking Add button to add this to the invoice, returning to the invoice. You can easily see that the item and a sales tax line has been added.
If sales tax default to the settings you have in your existing QuickBooks Online account, so you easily edit this setting.
The term field has these options:
Due today
In 7 days
15 days
30 days Custom due date
If you select Custom due date you can enter a specific date.
How To Disconnect your Gmail address
QuickBooks uses the default email to send invoices, When you remove the Gmail address.
Generate a new invoice or open an existing one.
Now, you have to fill all the necessary fields, and click on Save and send.
You can see above the customer's email, click on the email ▼ dropdown.
Click on Remove Gmail address.
After completing the QuickBooks Invoicing for Gmail you have many doubts and questions, but you don't afraid of this because we clarify your doubts.
Ans: You can only send an invoice to one recipient.
How do I add or edit my bank account?
Ans: Its very simple you go on Gmail add-on, go to the menu > Settings. Select Manage, now you add or edit your bank information in the new tab.
What are the different ways I can accept payments from my customers with my account?
Ans: Firstly you Email an invoice that your customer can pay online and second is take a credit card in QuickBooks invoicing using a Receive Payment
Is there a fee to process a refund?
How can I change the information on my account?
Ans: Select the Gear icon at the top, then Accountant Settings
Company tab-Customer facing information
Payments tab-payment account information
I hope that you have all your answers now related to QuickBooks invoicing for Gmail. For additional support or discussion please call us at our toll-free QuickBooks support number +1-855-441-4417
QuickBooks Invoicing For Gmail
Send Invoice To Your Customer Through Gmail