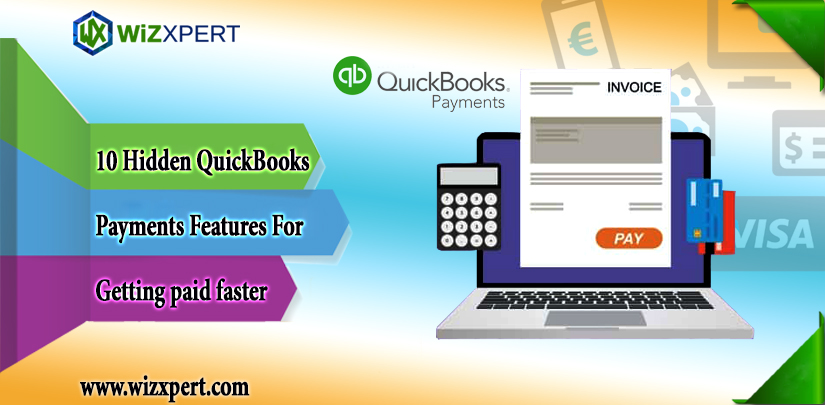 What do you know about QuickBooks Payments feature? It makes the life for Payment processing easy. Several years ago price model for service rates was very simple. There are now only two types rates with QB payments, the keyed rate or swipe rate.
QuickBooks Payments now including three types of item bundling in your account which include the merchant service account go payment and invoice. When you go make a deposit this item is bundling together in Quickbooks software now making deposit easier to process. Quickbooks what do for your business.
Ten feathers in that QuickBooks Payments offer to make your business run smoothly and get paid you faster
1. Simple,  pricing:
The two pricing plane are kept your fees minimum. If you are just starting now so you can choose pay as you go plan with no monthly fees or contract and only pay when you are accepting if you have needed more low monthly fee option allows you to save even more rates only choose what is best for you.
2. Get paid faster:
People who use QuickBooks software with payment get paid on average twice as fast as those as who don't. It's simple as you can make email invoice with pay now link and accept online payment via credits card, debit cards, and ACH bank transfers. You can also accept payment to pay your android, ios etc.,
3. Keep track your all invoice easy:
You can easy sent the invoice to your customers with QuickBooks. This always allows tracking all type invoice in one place to ensure they don't go past due and your customers get it with pay.
4. Email invoices with a Pay Now Link:
This feather is free and called e-invoice customers can make instant payment on online or mobile payment. Receive you a notification when they when they when they pay it and open the invoice.
5. Invoices and payments are automatically reconciled:
Quickbooks auto updated and when you get paid. The reconciling done for you eliminating most time-consuming task for manually matchings payments with an invoice. This feather saves your thousands of dollars a year.
6. Payments go straight to the bank:
Quickbook automatically deposits your payment 2-3 days. This avoid go to bank make a deposit and there are no manual transfers.
7. Accept mobile payments anywhere your business takes you:
A credit card is a piece of key information on your mobile device. And also swipe card using your free card reader. Credit card processed charges instantly and every payment, of course, syncs seamlessly in QuickBooks.
8. All major credit cards and debit cards accepted:
Accept MasterCard, Visa, AMEX, discover, and rewards card without complicated pricing. All are the same rate with QuickBooks payments.
9. You are always supported:
Live phone supports the payment team expert.
10. Safe, secure and risk-free:
This payment gives you safe and also secure payment option processing with bank label security.
Many clients interested but not believe their bank or other merchant service company. If you believe that your current rate lower than what your QuickBooks Payments offer? Our Payments team can offer a complimentary analysis to evaluate your 3 last time payment. It will make sense for you to make your current merchant's service account. We want you to have the lowest rates to save your money.
What is the cash conversion period?
Cash conversion period is the length of time it takes from selling your products or services to collecting on the sale.
You will minimize the cash conversion period if you streamline:
The client's requesting system

Credit choices – Evaluate clients dependent on creditworthiness and the present or anticipated deals relationship.

Satisfaction, sending and dealing with – The quicker you produce and convey, the sooner you'll get paid.

Bill the client – Invoice rapidly. Make certain you know your client's installment strategies. Give all the data they require, for example, buy request number and the right Accounts Payable contact).

Gathering period

Installment and store of the reserve – Remember to store checks rapidly. Utilize electronic installment techniques.
AS You Know…
You get Go-Payment, e-invoicing with your QB Payments represent no additional expense. Go installment can use the lower swipe rate, improving it a much arrangement than Square. It is less expensive and a lot simpler to accommodate.
I hope this will help you to understand these important features of QuickBooks Payments. If you want more discussion on this topic, please call us at our QuickBooks Support number and talk to a QuickBooks ProAdvisor today.
Visit our QuickBooks Community and post your questions, if you want advice from other business owners.