Looking For the best field service scheduling software compatible with QuickBooks? Don't wander any more, here is an article to suggest to you and provide all the details related to your query. The article contains the details related to a service scheduling software, benefits, and pictorial representation of process and steps taken to offer you a better understanding. For More Info. Contact our QuickBooks ProAdvisor Through Toll-Free No:+1-844-405-0904
As technology makes our work-life very simple by reducing our workload. In the same manner, field service scheduling software for QuickBooks software eliminates the need for double entry. It syncs with QuickBooks quickly while entering a job in a field service management software program.
So herewith the field service scheduling software, it's time to goodbye to double data entry and save your precious time in a busy work-life.
Billing and invoicing are an essential part of most field service interactions. This gives agents and technicians the ability to pricing and charging customers for quoted parts and services. It is useful in any industry, where customers pay for a one-service trip — lawn care, HVAC, plumbing, pest control, breaker services, and utilities are all common examples.
But many businesses do not have the infrastructure to do this efficiently. They either can't collect payments at all, or they can, but every transaction has to be re-keyed in a separate system on EOD, which can lead to stacks of paper invoices in the office and a sloppy, mistake-ridden audit trail.
Benefits of Field Service Scheduling Software
There are plenty of benefits to using a field service scheduling software that integrates with your back-office accounting system:
Create invoices in fields: The invoices that you create by the Mobile Field Services app will instantly sync with QuickBooks data. It gives you accurate, real-time price quotes for parts and services (especially if you have cataloged your parts in the QuickBooks inventory module) and updates the quantity as soon as you take the item from the truck.
Accept cash-on-delivery payment: When you are still a billed customer on the site, immediately deposit the money in the bank, and automatically update your company ledger. Some solutions also create a digital record of the transaction so that you can email the receipt to the customer.
Eliminate manual entry / re-keying: Instead of assembling a stack of invoices that have to be re-keyed into QuickBooks at the end of the day, or using FSM tools that require manual synchronization, An integrated solution sends new charge and billable items automatically to appropriate accounts. Cutting the extra step reduces errors and unnecessary data entry.
Stay up-to-date on customer accounts: An FSM-accounting integration gives the customer access to field service agents for balances, overdue flags, and payment history. This helps them serve better and customers may have to answer questions about their account.
Manage Your Employee Payroll Better: Your technicians can use field service scheduling software to provide hours already worked and to complete work. With accounting integration, you can approve time-sheet data and send it directly to payroll (again, instead of re-entering or manually importing data).
List of Field Service Scheduling Software that Integrates with Quickbooks
Field Service Lightning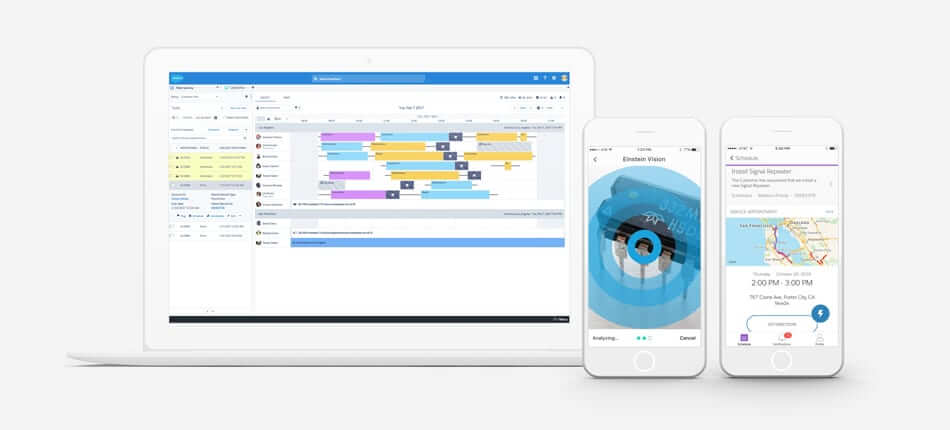 Field Service Lightning (FSL) is a part of the Salesforce Service Cloud Suite, a management tool that enhances field service management by automation and integration of tasks for agents, dispatchers, and mobile employees. Therefore provides a streamlined service experience with an intelligent and productive workforce.
It is easily integrated with QuickBooks Online and QuickBooks Desktop versions. It is easy to use but some of the users face many difficulties in learning to use this software. Other customers find that entering the job and other information involves too many stages and mobile integration causes difficulty to manage the application on smartphones and tablets.
Intuit Field Service Management ES
Intuit's field service management is a web-based application that operates seamlessly with QuickBooks Desktop Enterprise and mobile devices also. It is designed to support service companies to handle people, customers, and costs without needless paperwork or late, hand-operated processes. Intuit's product performs this by work orders and scheduling, built-in GPS mapping, and a central repository of equipment/job reports.
Field Service Management can also offer customers the following facilities like instant invoices, mobile payments, and email receipts. If you use Intuit's enterprise platform, the field service app will also update the inventory count by truck. Time-card and payroll functions and scheduled maintenance billing are purchased separately add-ons.
Smart Service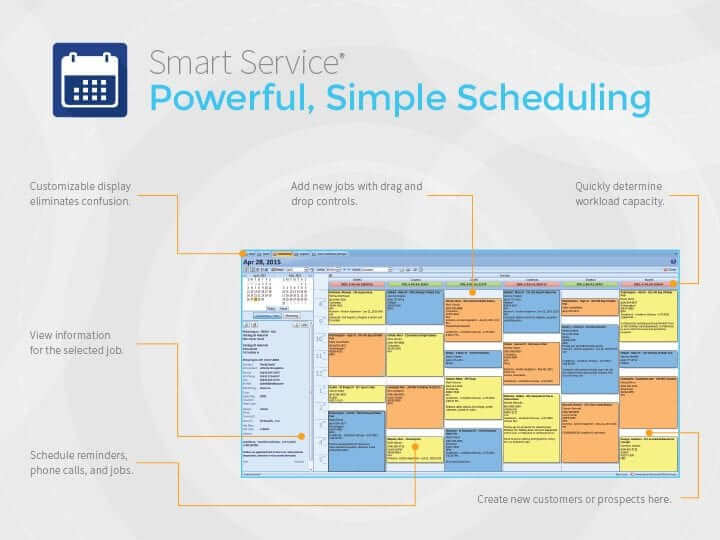 Smart Service is basically an add-on application for QuickBooks but acts as scheduling and dispatches software for plumbing, HVAC, roofing, pest control, and several verticals. This software allows mobile service companies to add essential field service tools to their existing QuickBooks software. Extra add-ons are also available for mobile access, inventory, lead management, and service agreements.
Smart Services is also a two-way synced application for QuickBooks. It supports businesses streamline the billing method and also manage payroll like track labor hours. Users can able to build judgments based on actual pricing data and drag in sales transactions and estimations from QuickBooks data.
FieldEdge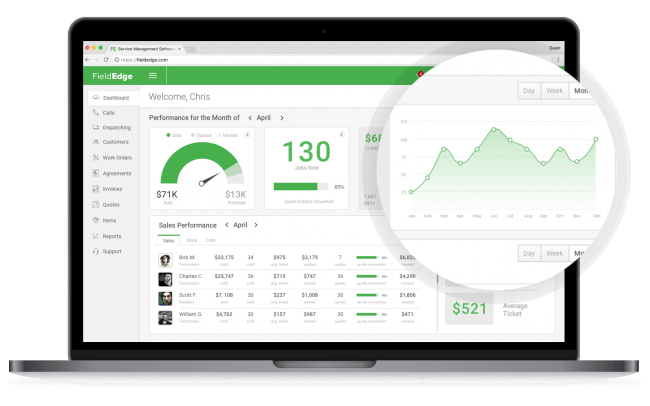 FieldEdge is a tool that concentrates on payments, customer account management, and service agreements management. The software also has a performance dashboard, which provides other analytics and mobile CRM features to connect everyone to the back office or field. The software allows area agents to operate almost exclusively from their mobile apps, including taking payments, invoicing, and quoting.
This software is a platinum partner that gives real-time data sync with QuickBooks so that you never lose data due to a time delay. The accounting product also offers inventory management and the capacity to update accounts in a single location, which eliminates invoice updates and double-entry.
Jobber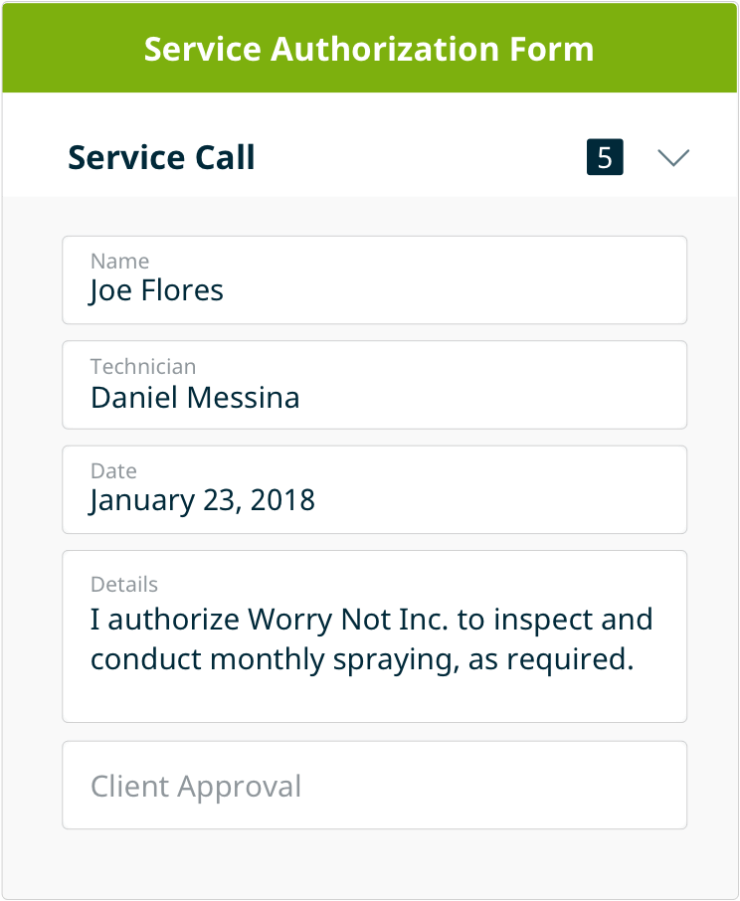 This is a software-as-a-service (SaaS) solution that is advertised as "service scheduling software". It is designed for technicians to manage, move to schedule, quoting, invoicing, and billing. Jobber operates properly for cleaning services, general contractors, landscaping/lawn care, and HVAC companies, but you can also customize to meet any mobile service business.
Jobber challenges "the best QuickBooks integration in the industry", which follows a simple, automated set up, two-way syncing, payroll tracking, and invoicing. Jobber has its built-in Customer Relationship Management (CRM) module that offers you benefits over rivals with more job-focused outcomes.
Kickserv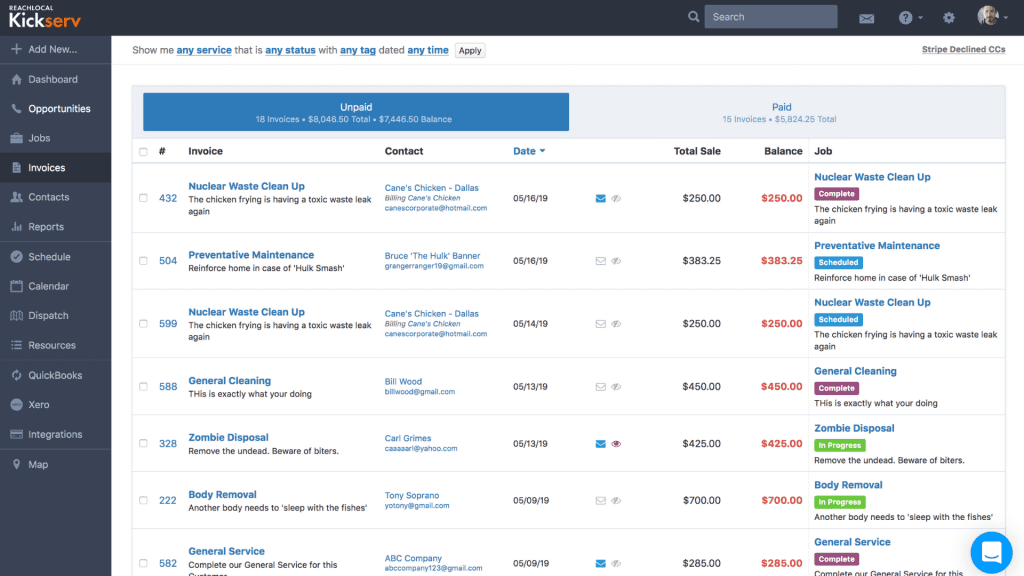 Kickserv is a web-based tool that manages standard FSM fares like job scheduling, invoicing, payment, time tracking, and GPS ( its route adaptability is limited).
One thing that sets Kickserv apart is its secondary focus on sales. Managers can track forecasts and maintain leads and opportunities immediately from within the system. Kickserv has a self-service portal that allows customers to check the jobs and create new requests, which can be overshadowed by the level of customer satisfaction. This software offers two-way syncing with both QuickBooks Online and QuickBooks desktops.
Service Pro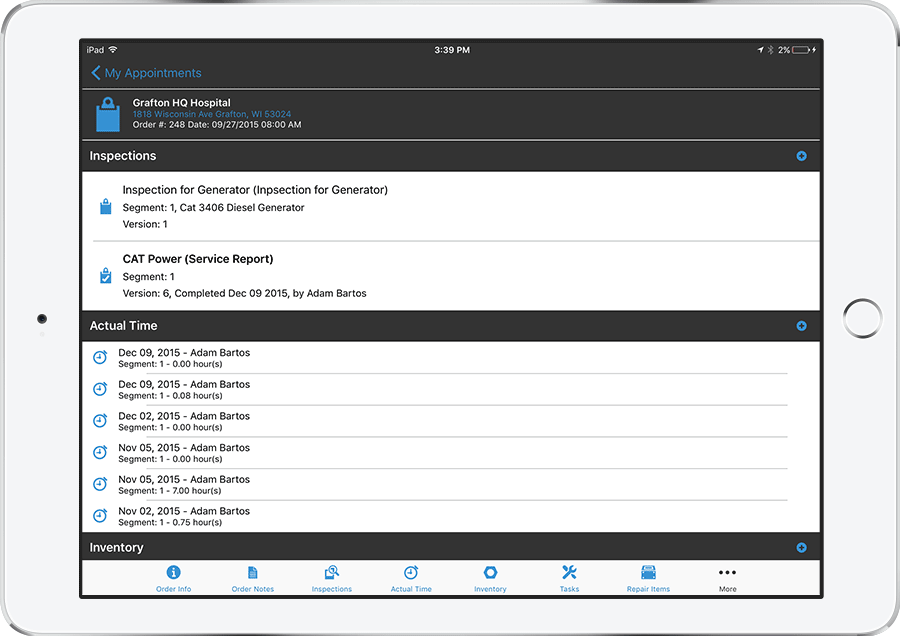 The QuickBooks Work Order App always has real-time information available to your customer-facing service representative, giving them the tools they need to keep customers satisfied. Service Pro is the software that is best known these companies i.e. medical devices, construction, HVAC, and production.
Service Pro has a comprehensive, cloud-based feature set for QuickBooks users. The innovative solution reduces time to resolution, automates field service scheduling, converts incoming calls to work orders, and offers mobile field service all in one active system. Your office and field team will save time on data entry, import/export, and data reconciliation.
HouseCall Pro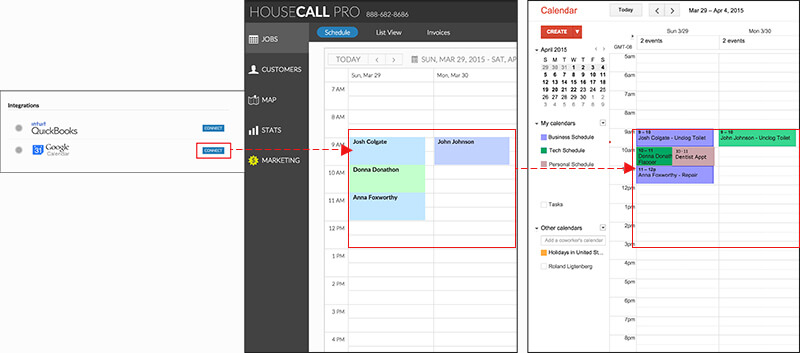 Housecall Pro is also a cloud-based field service management application for service professionals to automate their workflows. The solution involves a basic mobile app and corresponding web portal and offers a broad field of enterprises like cleaning, plumbing, electrical, HVAC, and more.
It only integrates with QuickBooks Online. The two cons of reviewing HouseCall Pro relate to the calendar and scheduling of the program and difficulty tracking contracts and service contracts.
Ending Words
At last, Field Service Management /accounting integration is about increasing the worth of your software. Field service management is valuable in itself, but when you combine FSM and accounting, you reduce cycle time and increase the capacity to deliver fast, effective service.
With this, we come to an end to this article and will be wrapping up this great list of top field service scheduling software for QuickBooks that will help you to grow your business with wasting time. If you want further assistance with QuickBooks accounting software, then call us +1-844-405-0904 and get instant support from our Intuit certified ProAdvisor at any point of time.