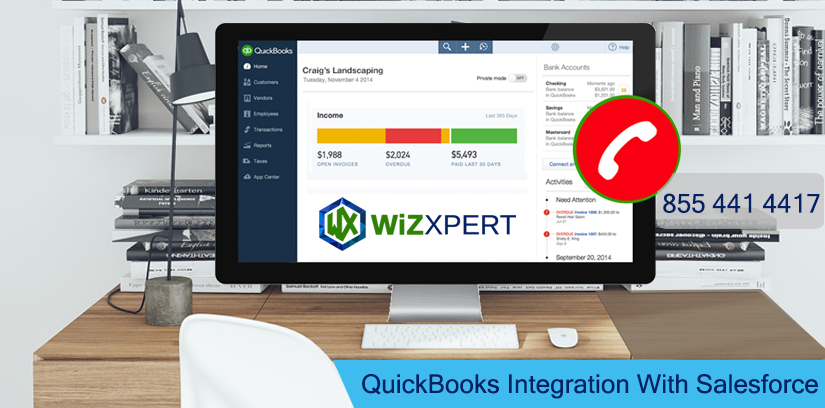 Salesforce and QuickBooks both are one of the most used cloud-based software by small and medium-sized companies or businesses. QuickBooks Integration With Salesforce can save hours in manual data migration. Your accounting will be easier and also faster if you are going to combine these two powerful software.
Your sales and customer team can access QuickBooks Financial data through Salesforce after combining these two systems. Contact our professional QuickBooks Online Support team and get more information.
See also: Microsoft Outlook Email Integration with QuickBooks

Steps: QuickBooks Integration with Salesforce
The App way:
Salesforce QuickBooks is mainly integrated with the help of third-party apps. Its Appexchange contains a large collection of App for integration But here are some of the best app to integrate Salesforce.
Intuit- Salesforce Integration
It is provided by Intuit Inc. The plus point of this is that it is very cheap, everyone can also afford it easily. There are so many bugs in the early stage but now it is now a competitor for other systems.
Link-https://appexchange.salesforce.com/listingDetail?listingId=a0N30000009wTghEAE

Price– $28/$70 per user per month and some additional charges.
Avankia- DBsync QuickBooks Integration
One of the most used solution for QuickBooks and Salesforce Integration. It has also custom mapping support.
Link- https://appexchange.salesforce.com/listingDetail?listingId=a0N300000016bTHEAY

Price– free/$795/$1495 annually.
It is the most powerful and expensive third-party App for integration. This can handle a lot of integration tasks, not just Salesforce and QuickBooks. Better for those companies that have lots of third-party applications to connect with Salesforce.
Link– http://www.boomi.com/products/editions/pricing

Price– $2000/$4000/$8000/$12000 per month.
Pros

:

A l

arge number of a

consultant are available.

You can control whole integration.

Cons

:

You need highly skilled or expert consultants to maintain

Annual costs are high.
Custom Integration (Contracted development)
Intuit has released its own SDK (collection of a protocol) for Integration. This way is best for those who are heavily dependent on Salesforce and QuickBooks.
Link for sdk– https://developer.intuit.com/docs/0100_quickbooks_online/0400_tools/0000_overview
Breadwinner For QuickBooks Online
A breadwinner provides integration between Salesforce and QuickBooks Online but not available for QuickBooks Desktop)
Price: $39 to $300 per month and higher. Price also depend on your Invoice Volume features.

Link: https://breadwinnerhq.com/quickbooks-online-salesforce/
Like Breadwinner, Workato also focuses on just QuickBooks. You can also sync up to 100 different SaaS platform into Salesforce with the help of Workato.
Price: $99 for Salesforce Professional, $499 per month for those who also have Salesforce Enterprise.

Link: https://www.workato.com/
Important Steps to consider before Salesforce Integration with QuickBooks
Before you begin there are many things that you need to keep in mind.
What is the final motto of integrating? Do you want a one-way or two-way integration? I.e Do you want a system that can allow users to change the value in both system or a system that only recover information from one product to another product.

Do you need a system that has to update on a specific period or real-time updating?
What type of trigger do you prefer to move your record from one system to another or upgrade a record?
At the time of transaction update into your QuickBooks software, also keep in mind what type of approvals a customer or user would need.?
After reading this, we hope you understand Salesforce Integration With QuickBooks. Still, have any queries? Dial Our expert team of QuickBooks Support Phone Number +1-855-441-4417. We are 24/7 available for QB users so feel free and call us.
Read article: