Accounting is one of the most important aspects of any business organization which can't be taken lightly. For hassle-free accounting, Organizations require the right tools to fulfill the objective of accounting and taxation. The best CRM for QuickBooks can be considered such kinds of tools that are used after the integration with QuickBooks.
Quickbooks, at present, is one of the leading accounting software which is being used for accounting purposes across different industries. Generally, QuickBooks is utilized by organizations to manage their financial information and to save time. But QuickBooks also has its limitation as it doesn't provide any channel to keep the information associated with contacts well-organized. For this purpose, CRM tools are useful and handy and have become essential for every industry.
Customer is the most critical factor for any business as most of the services of the organization are consumer based so it becomes essential for any organization to have coherence between accounting software and CRM system. Both must work seamlessly. With the integration between QuickBooks and CRM, an organization is able to manage its customer demands besides tracking their financial information effectively.
After integrating CRM tools with Quickbooks, there is no need to switch between both tools as all the features can be used from the QuickBooks platform along with all the benefits provided by these tools.
Importance of integration between CRM and QuickBooks
Before discussing best CRM for QuickBooks in detail let's learn a few advantages that this integration can provide to its user.
If an organization is utilizing QuickBooks for its finance management, it can increase its productivity and manage its financial aspect effectively by integrating a number of CRM available in the market with QuickBooks software.
CRM after connecting with QuickBooks makes things easy for any organization as it can smoothly track finances and maintain good relationships with customers. These CRM( Customer relationship management tools) are equipped with all essential tools that help organizations store all the necessary information associated with existing and potential customers along with future strategies in one place.
Using QuickBooks with this database, you can easily handle invoices and other financial statistics. Using this kind of integration, businessmen can save time for the things they can do adroitly.
In addition to these benefits, there are other advantages that this integration is able to offer such as:
The integration of CRM and QuickBooks can decrease the duration of the sales process by providing an easier way to deliver invoices and reminders to clients.
With the help of this tool, you can cater to your existing clients efficiently by sharing a personalized experience with them, focusing on their potential clients.
This integration provides you with the essential data in one place by synchronizing two platforms automatically.
It provides the company's accountant and sales teams with a common platform where they can communicate and share information more efficiently leading to boosting business growth and profit.
You can get this integration to track the client's outstanding payments and notify them about the payment updates in real time.
Last but not least, it helps you make decisions judiciously for your company's future.
Several best CRMs for QuickBooks integration:
Let's discuss without further ado several Best QuickBooks CRM Software, that can be seamlessly integrated with QuickBooks.
1. HubSpot CRM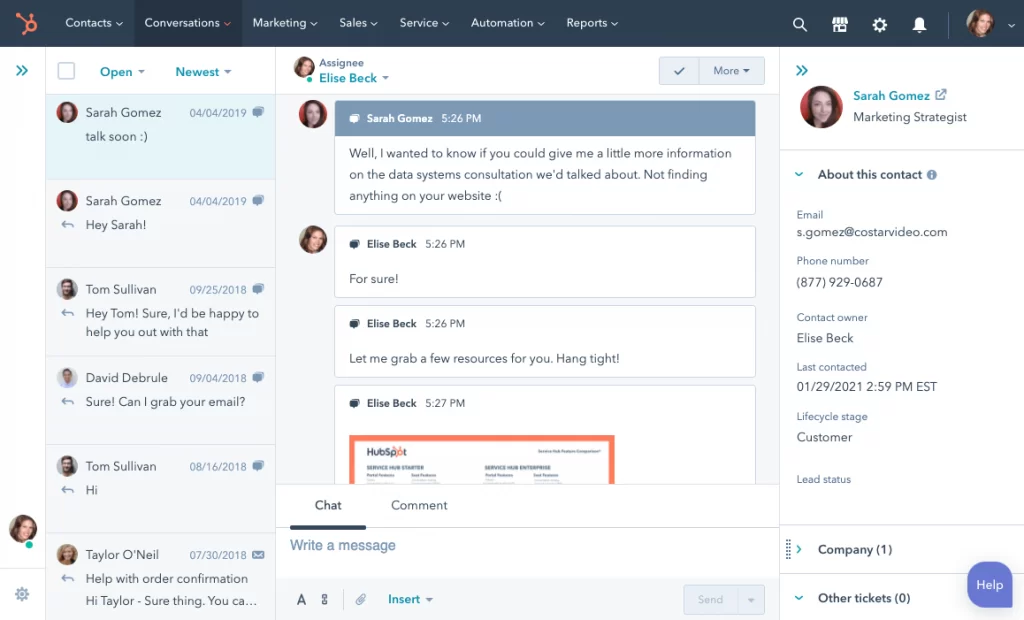 Hubspot CRM helps organizations to check all sorts of QuickBooks transactions such as payments, invoices, and estimates. With the help of HubSpot CRM with QuickBooks, you can reduce your member of the sales team used for viewing these details. Moreover, it helps you generate as many new records as you want for your clients, vendors, and buy and sale orders.
HubSpot CRM is equipped with an automated data-sync option so you need not worry about generating entries. All the information and data created in Hubspot are synced with QuickBooks and vice versa. Using this two-way sync, you can manage your data seamlessly.
Before choosing a plan, you can use it for 14 days as a free trial.
2. BIGContacts CRM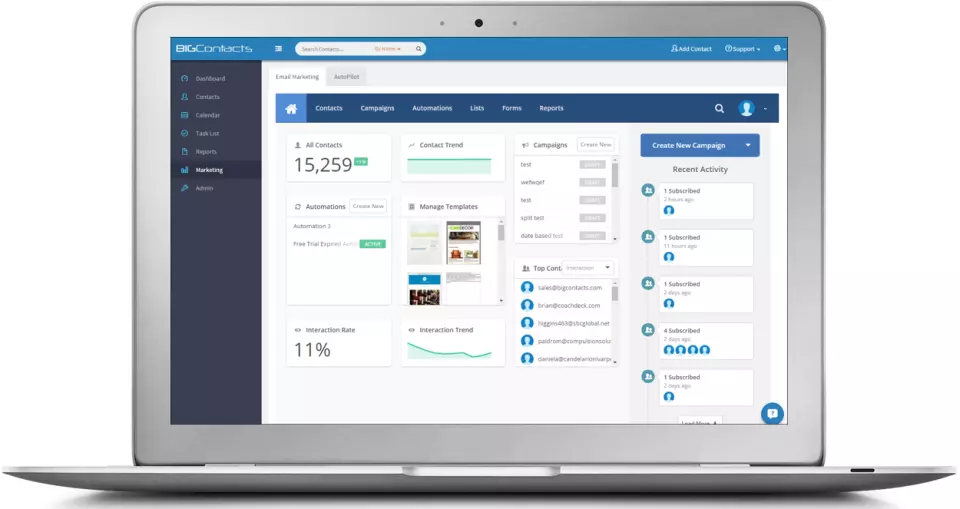 BIGContacts is also known as one of the best CRM for QuickBooks. It allows you to track all your earlier transactions in its contact records, making the process seamless. You don't need to sync the data manually as in BigContact the data synchronize in QuickBooks and BIGContacts automatically.
With this tool, you get automated reminders along with instant alerts that help you be updated about all the transactions. In addition, it also enhances your insight into your business by providing you with smart reports. With the help of BIGContacts, you can handle a number of operations from a single place such as tracking all calls, emails, transactions, and other interactions.
3. Zoho CRM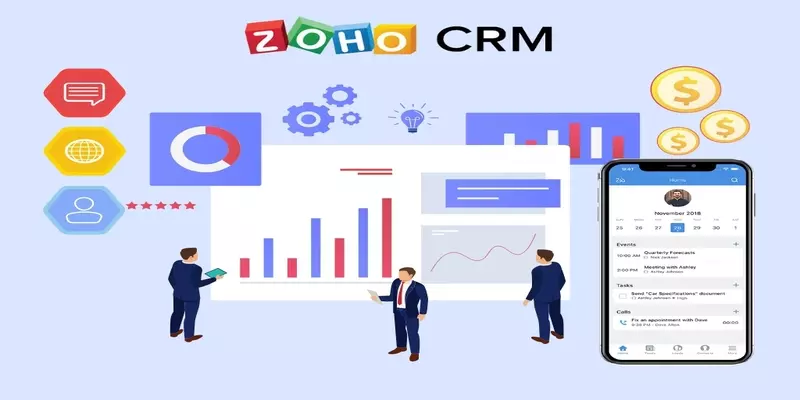 Zoho CRM one of the best CRM for QuickBooks helps organizations maintain updated data between QuickBooks and CRM. Using your client history, you with the help of Triggered integration can take the most suitable action and relevant automation for the growth of your business. Allow you to create a detailed contact record by importing information from QuickBooks into the CRM system.
The integration between Zoho CRM and QuickBooks helps you keep contact, vendors, orders, and records. It makes all your business processes automate resulting in saving time as well as boosting efficiency.
4. Freshsales CRM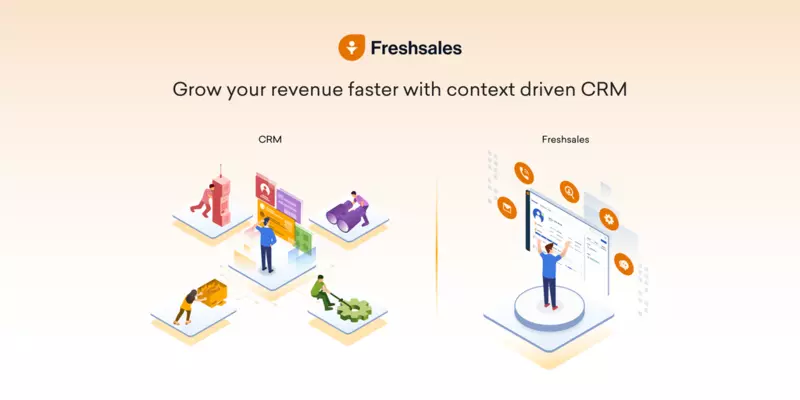 After connecting Freshsales CRM with QuickBooks, you can manage your payment and monitor invoices directly. Help you Track all your contact invoices and provide you with thorough contact detail, which involves their transactions and other relevant details. It facilitates instant notification in terms of payment.
You can appraise your business performance which helps you take future accurate business decisions. Using its mobile application, you can easily view and monitor your data on the mobile. The information about your earlier email and outstanding as well as done payment at one palace.
5. Nutshell CRM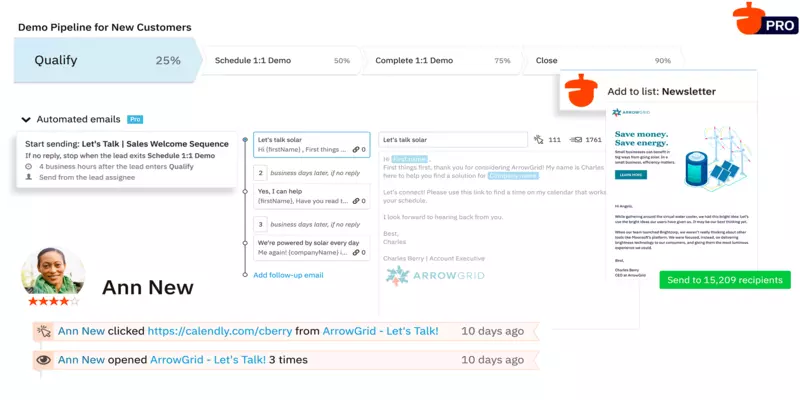 Nutshell CRM and QuickBooks in collaboration enable you to handle every part of your business from a single place. You can utilize it to track your managed expenses, and customer relationships, and accept payments. By offering your clients a new offer, you can foster and nurture your clients after taking help from their previous transactions and interaction. Allow you to transfer your contact from QuickBooks to CRM and vice versa.
It helps you create reports of revenue and sales from QuickBooks data. View the client's previous history of transactions and communication which helps you deal with clients effectively. Use the CRM system to create QuickBooks invoices for your clients.
6. Pipedrive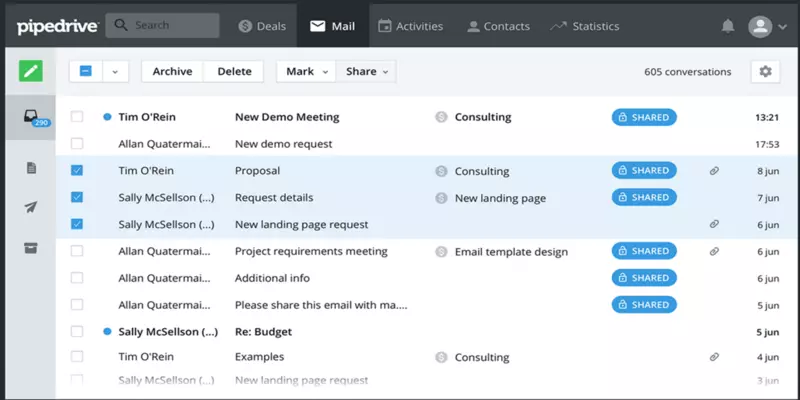 Pipedrive is a well-known CRM that works well with all QuickBooks products. This product assists businessmen to handle deals and generate invoices using the records. You can handle all the invoices of a client from one place. All the invoices can be filtered as per their frame time.
It provides you with updates on your invoice status and payments due dates. Using this tool you can mail invoices to your clients and generate invoices from your QuickBooks account. Help you enhance the performance of your business by providing you with insightful reports.
7. Insightly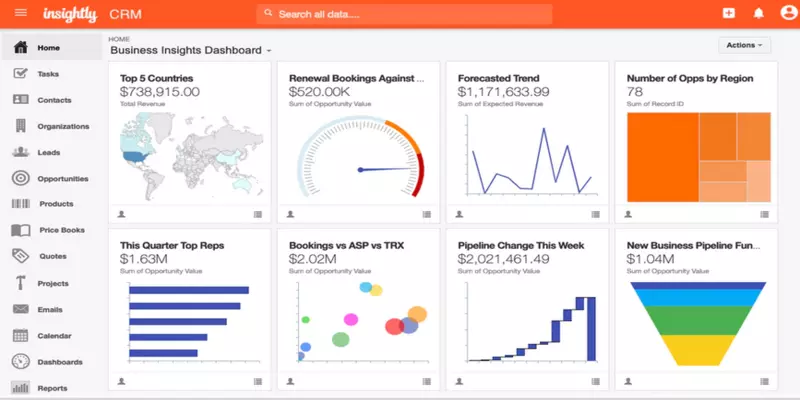 Insightly CRM is compatible with Quickbooks. Due to this tool, you don't require to switch between several platforms to see the information of contact and transaction history. Assist you track every pending payment by showing you detailed contact records having all the related invoices. Being a customizable tool, It can be tailored to your client's requirements. In contact records, you can view all invoices such as pending and overdue. It will make you aware of the status of the payment. Help businessmen boost productivity by generating and deploying automated work operations.
8. Salesforce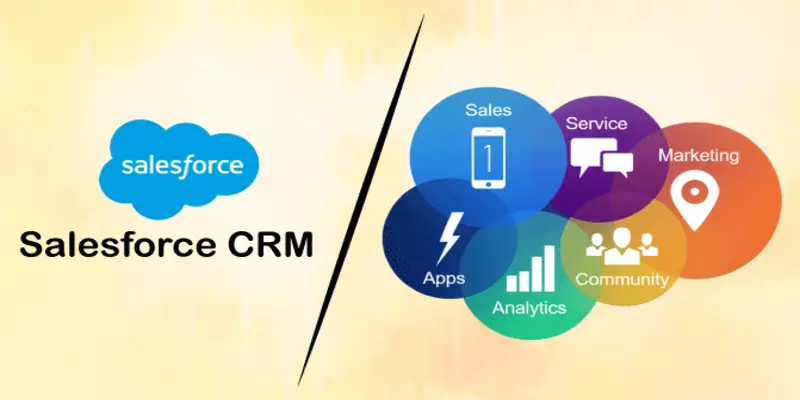 Salesforce CRM and QuickBooks integration assists you to connect your business accounts and CRM data together. This process completely enables you to check the performance of your business regarding the company's finance and measure the satisfaction level of your clients. You can help your employee to take the best decisions for the company in real-time by sharing the relevant information from QuickBooks. Other advantages of this integration:
You can track your employee payments, revenue, invoices, and expenses using this CRM system.
Get updates regarding due Payments and view sales orders, payment history customer information, and previous interactions form one place.
Manage your CRM and financial data in one place.
Help you take your business decisions and forecasts meticulously.
9. iEnterprise CRM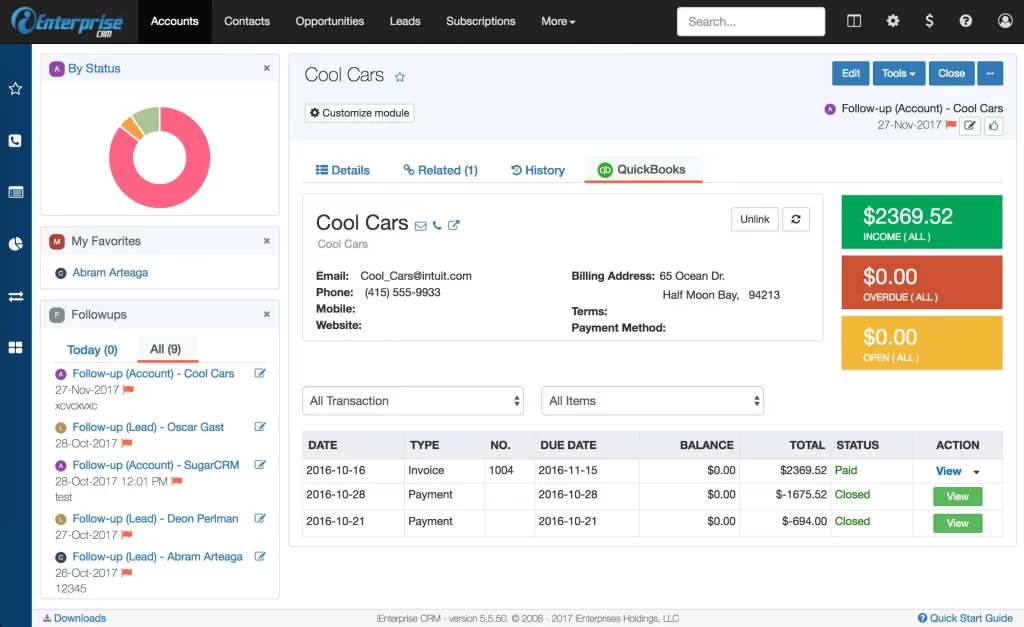 A company can have iEnterprise CRM view clear sales visibility and make a strategy as per its requirement. Using the integration of iEnterprise CRM and QuickBooks, you can forecast things after seeing the performance of your company in real-time and can create a strategy to boost the company's sales. This integration provides you the opportunity to avoid dual data entry because it connects the mobile clients as well as email in one place thus make you save lots of time.
In addition to these, it helps you pinpoint the reasons for the company's poor sale performance by showing you all the missed steps taken during the making of the sales strategy. You can increase your company's customer retention by viewing all the previous complaints available in one spot, improving your business sales by amending the strategies.
iEnterprise CRM is available for free for QuickBooks desktops up to 2 users for businesses purpose.
10. EngageBay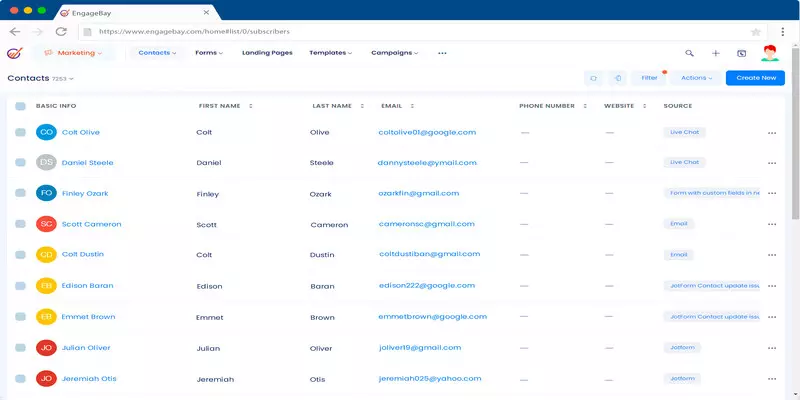 EngageBay CRM is compatible with QuickBooks which helps you manage the payments directly from the contact record. This data integration of two platforms helps you get updated information on the transaction history and contact information. It provides you with a way to improve your business growth by tracking your expenses as well as managing your clients' payments.
Using this integration, you can have an automated workflow helping you increase productivity. You can analyze customer behavior and transaction histories in one place. Its push notification helps you get to your potential customer at the right time.
11. Monday.com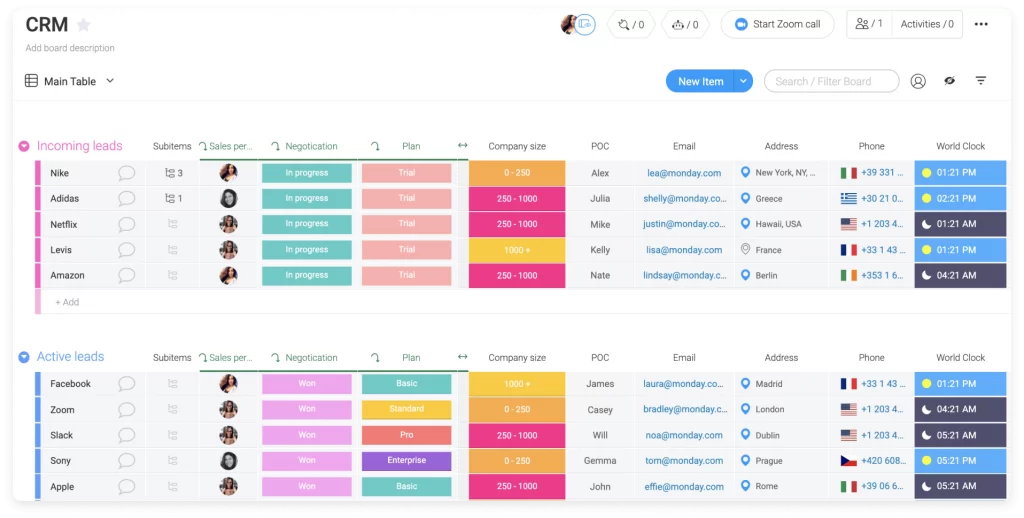 Monday.com significantly helps you grow your business by automating the company's accounting operations and workflow. Having done this integration of Monday.com and QuickBooks, you can save your time given to accounting and devote your important time to other important issues of the company.
Additionally, it gives you the opportunity for tracking your financial data and managing relationships with your clients from a single platform. With the help of this tool, you can track and manage the invoices for your clients. A company can create a tailored workflow, automation, and pipelines. Its automatic payment process allows you to save time for your company.
12. GreenRope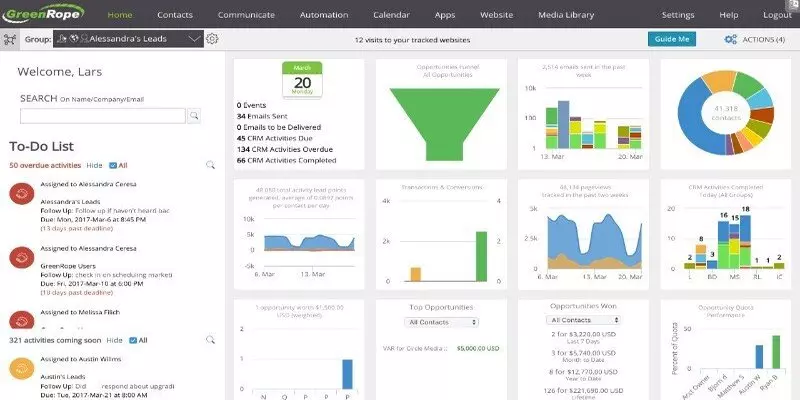 GreenRope CRM can be integrated directly into QuickBooks. This integration provides you with a number of features as you can easily move your invoices across platforms, and import customers as new contact. It allows you to attach your client data using QuickBooks and then help the system update automatically from the same data center.
Additionally, it will equip you with a number of valuable insights that can be used to improve your company's productivity along with financial performance providing satisfaction to your customers.
Conclusion
With the best CRM for Quickbooks, you can increase the output of QuickBooks efficiently as it allows you to automate your operations and strengthen your contact management.
As it is not easy to find the most appropriate CRM tool for QuickBooks to use in your company. You must purchase such a tool that helps you grow your business by removing complexities and adding automation to your important business operation. The tool must be compatible with QuickBooks and should cater to all the essential requirements of your organization.
Frequently Asked Question
What is the difference between QuickBooks and a CRM?
No, they are not the same things as CRMs are created to handle predominantly sales data and clients while QuickBooks is created to maintain and arrange the detail of customer transactions including invoicing and purchasing information. But, after integration between QuickBooks and CRM, they provide organizations with full information related to customers including their history, and also help them make strategies for their companies.
What about CRM software?
CRM(Customer relationship management) is a data management software technology that is able to assist you in managing, accumulating, and tracking information regarding present and potential customers. Apart from this, this tool also allows an organization to sync and automate all the interactions of the customers with the company.
Does QuickBooks have an inbuilt CRM module?
QuickBooks doesn't come with a CRM module and only deals with payroll management, invoicing, and sale tracking along with payment processing. In order to get the functionality of CRM from QuickBooks, you need to integrate both the software with each other.