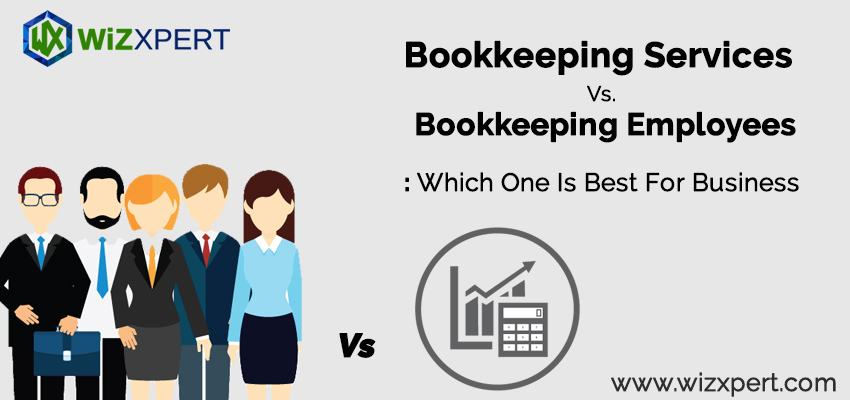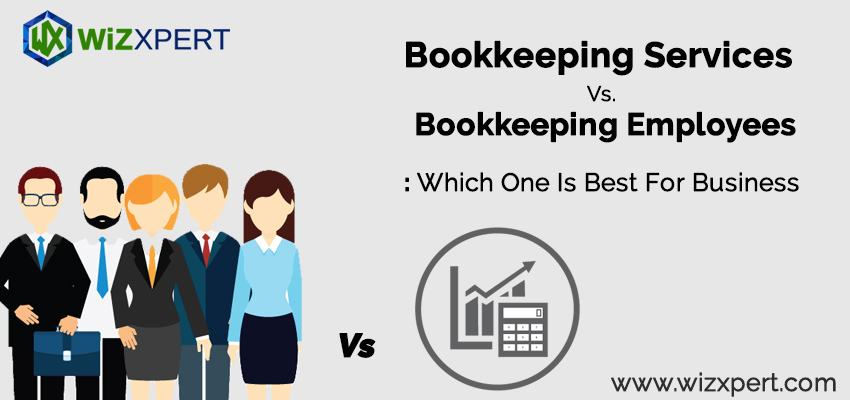 Bookkeeping Services Vs Bookkeeping Employees: A business administration gives various sets of eyes to analyze your work. You can consider things like budget, practicality, and flexibility before you consider which option gives the best results. Small business accounting is an especially tricky problem. Close tracking of cash flow and expenses and cash flow is important for businesses. The business owners need to ensure proper processing or assessing of data, expert handling of the finances, and recording of transactions. However, it may seem an easy task, but altogether it's a time-consuming and tedious task.
Related article: Bookkeeping vs Accounting: Whom to Hire Bookkeeper or an Accountant?
Business houses have two options for finance-related endeavors Bookkeeping Services and Bookkeeping Employees. It is crucial to understand the two in order to make a fair choice. Bookkeeping service providers boast expertise in verification and analyses of data while Bookkeeping employees handle day-to-day transactions of the company. Read on to know the pros and cons of each before settling.
Bookkeeping Services Vs Bookkeeping Employees
Bookkeeping Services – Pros
Cover diverse aspects of financial management: Professionals offering Bookkeeping Services conduct verification of the available data, perform audits, analyze the accounts and then generate financial reports accordingly. Plus, they also prepare income statements, balance sheets and tax returns records. The analyses provided by them are used for determining business trends, growth opportunities and strategizing cash flow management.
Related article: 8 Things You Should Know Before Hiring An Accountant
Less risk of errors: On considering the service providers you may expect them to handle rebates, net sale amount, the gross amount of sale and various other transactions of financial nature. To sum up, they decide how to handle the transactions and carry out bookkeeping efficiently. You can't rely on your full-time Bookkeeping employees completely. Having an expert handle worker classification and tax withholdings reduces the possibilities of bookkeeping errors.
Cost-effective: Overhead costs are one of the main concerns, especially for small business owners. Besides base salary, many additional costs are to borne by employers on hiring an employee. This includes payroll taxes, retirement plans, medical benefits, sick days, screening interviews, placing ads, training, and testing of employees. These overheads are cut-off on considering Bookkeeping Services. The average cost of outsourcing accounting services ranges around $60,000 per annum. It costs around $45,000 to hire an employee. Considering the advantages and the range of services offered, outsourcing proves out to be the best bet comparatively.
Related article: Things You Should Consider Before Choosing Online Accounting Software
Bookkeeping Employees – Pros
Day-to-day recording of transactions: A bookkeeping employee records the financial transactions on a daily basis. He maintains a general ledger for recording receipts, purchases, payments, and sales. However, they also have the option of using certain software for keeping track of the credits and debits. They prepare a trial balance to culminate their efforts. Tracking cash flow becomes much easier this way.
Easy data generation of organization's financial activities: In-house bookkeepers generate data of the company's financial activities on a day-to-day basis. This data eventually turns into information, which can be used for sorting out various financial issues of the company. Moreover, this information is useful in shelling the unnecessary expenditures that stack up against the company's budget otherwise. Also, there are fewer chances of missing important bills/payments.
Easy follow-up: It is easy to track the performance of bookkeeping employees. Plus, follow-up is much easier with them comparatively. This means there are high chances of getting the work done according to your needs and preferences.
Related article: QuickBooks ProAdvisor: Benefits and Services
Bookkeeping Services – Cons.
Chances of inaccurate/late financial reporting: There are high chances of meaningless or inaccurate accounting/bookkeeping on outsourcing your requirements. However, you have the wide range options out there, but chances of settling with a faulty one are higher. In-house bookkeepers need to work with dedication necessarily.
Extra efforts needed for follow-up: Even if you hire the best service provider, it is difficult to maintain a balanced tune with them. Reason? They aren't accessible in-person. You need to employ extra efforts in order to keep track of the work and ensure proper follow-up. In case you fail to do so, you are likely to end up with disappointment/dissatisfaction.
Related article: 10 Things to Look for when Hiring an Accountant
Bookkeeping Employees – Cons
In the Bookkeeping Employees, there are two biggest drawbacks of employees are errors and expenses. Even the largest packages from a bookkeeping service the cost is less than hiring employees for bookkeeping works. Keep in mind, additional time-based compensations or pay, you should be paying for advantages, handle extra administrative work, and manage excursion time.
Comes with certain limitations: In-house bookkeepers may be efficient in handling diverse aspects of aspects, but they may lack expertise in one or the other area. Bookkeeping Service providers have an in-house team of professionals, each boasting expertise in their niche. Hence, it may not be a good idea to expect cutthroat perfection from the employees.
Chances of distraction from core duty: Most of the times bookkeeping employees are awarded other responsibilities, like human resources. This makes it hard for them to concentrate solely on accounting, which eventually affects the end-result. Say for example- delay in financial reporting due to prioritization of bill payment, data entry, etc.
Related article: How an accounting professional help grow your business?
Finalize Bookkeeping Services Vs Bookkeeping Employees
Making a choice between bookkeeping services and bookkeeping employees should have become much easier for you now. Define your preferences and weigh the pros and cons accordingly. In-house bookkeeping might be a perfect option for some business houses, but outsourcing financial needs are right for the ones on a tight budget. However, be considerate enough when making a choice. Irrespective of the option you choose, make sure to check out the portfolios of service providers and employees before finalizing the deal.
Thanks for giving your valuable time to read this. You are always welcome to visit us anytime soon if you have any questions. In order to know more discussion on this topic or further queries, talk to our Certified ProAdvisors at toll-free +1-855-441-4417.
You may also like: