Want to fix overflow error in QuickBooks Desktop? Nothing to worry about, here is an article to provide you a full guide to troubleshoot this error and offer you a better understanding of the error. Read the article to understand the causes behind the error along with the different solutions to fix it. Go through the article and learn to resolve the issue in simple steps. If the problem continues contact our QuickBooks ProAdvisor toll-free: +1-844-405-0904
QuickBooks Desktop is a one-time purchase accounting software program. After install, you can use it for your small and mid-sized business. We will discuss in detail how and why overflow error in QuickBooks comes out in this article. There are some reasons behind it, why it pops up to the users while working on company reports and files.
What is Overflow Error in QuickBooks Desktop?
This is a specific type of data error in which all the measurements unit combines with each other to exceed the limits of a specific field. Here are some of the general cases where you may get overflow errors in QuickBooks.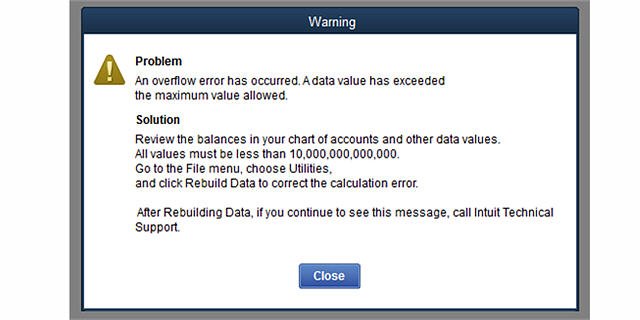 While opening any report and one or more fields of any column display overflow text.

This overflow error also gets displayed while running the Verify Data utility. The error message may be like:

Problem: An overflow error has occurred, one of your accounts has exceeded the maximum value allowed.

This occurs generally with

the chart of accounts. In this case, one or more of a balance sheets display overflow

in the place of an amount.
Causes of QuickBooks Desktop Overflow Error
If your company account balance and other fields greater than $ 9,999,999,999,999.99 it cause to overflow error.

Either your company data file has corrupted transaction data.

Suppose you converted one large quantity on a group item to another large quantity. overflow error can be displayed next to the group's component items.

In case the inventory item with a value that is

larger than the number of items. e.g. a quantity of 1 and a value of $ 18,000,000.

Sometimes the

format

matter for overflow errors. For example, the format you are copying from an Excel spreadsheet, in some cases, mismatches the format that is accepted by the QuickBooks.
Intuit Inc prefer so many solutions for this problem, for best result, perform the solutions in the order shown. Also getting QuickBooks support from WizXpert can save your time in the case you are not willing to do it own.
Important: Before performing any of the solutions, to check that your system meets the QuickBooks Desktop 2018,2017,2016,2015 system requirements, things to check in specifically are Regional Settings, Disk Space, and available RAM.
How to Fix Overflow Error in QuickBooks Desktop?
How to QuickBooks rebuild your data files
Solution:
Go to the

File menu, then click Utilities

>

Rebuild

Data.

After that, click

OK if you receive a warning message to back up your company file to secure your data.

Click

OK

when you get the message Rebuild is complete.
In the case of format issue (export your files in Microsoft Excel to find overflow)
Solution:
In format mismatch situation, Overflow rows may not display on the report. Display the columns by year or month.

Export your lists to your desktop.

Minimize QuickBooks.

Right-click the export file and choose

Open With

>

Microsoft Excel

.

Press

Ctrl

+

F

.

Enter

*overflow*

and click

Find Next

.

Switch back to QuickBooks and correct the data for the field in the Account, Name or Item that contains it.
Switch back to Excel and continue this process until there are no more results.
A group item is overflowing
Solution:
Set the

Group Item Quantity

to zero.

Tab out of the field.

Re-enter the correct Group Item quantity.
If only one item is overflowing
Solution:
Some time in your Quickbooks account showing only one item is overflowing, mostly the overflowing item is newly added. There is an exceptional case also the already existing Item in the list also showing such case of error.
If it is a newly added item, then delete it from the

Item

list and recreate it.

If it is not a new item:
Audit the item and correct the transaction that is causing an overflow. For example, a Bill with an amount of $1,000,000 and an amount of 1 instead of 1,000,000, will change the average cost from $1.00 to $1,000,000.

If you cannot find such a transaction, enter an Adjust

Quantity/Value on Hand

document to adjust the average cost.
The account balance or other fields is too large
Solution:
For some unknown reason, the account balance and other fields are exceeding its limitations.in QuickBooks software is fixed a limitation of the maximum account balance in USD $9,999,999,999,999.99 if any account balance exceeds the maximum limit the field automatically shows the overflowing error. The solution for such cases error given below.
Create a portable company file and restore it to a new working file.

Check your

Chart of Accounts

From the Lists menu, click Chart of Accounts.
Find the account with a balance of 10,000,000,000,000 or more.
Reduce the balance of that account because it never reaches the amount of 10,000,000,000,000.
If the issue persists, continue to the next step.

Memorized Reports

If the overflow appears on a memorized report, run the report from the Reports Menu.
If the new report does not show overflow, delete and recreate the Memorized Report.
If the new report includes overflow, proceed to the next steps.

Search all lists for all fields that hold an amount or total.

You may need to include the inactive items as you go through your lists.

Under the Lists > Add/Edit Multiple List Entries.
Click Customize Columns and select any field that holds an amount (such as Credit Limit, Cost, and Price). Look for Overflow then edit, change, or delete that amount.
Check all lists.
In newer versions of QuickBooks under Edit > Search look for *overflow*, search for list elements first, then search for transactions.
Continue running verifies after editing the amounts in the company file until the message no longer appears.
In the case of a corrupted transaction
Solution:
If the corrupted transactions are the root cause of your issue, they should be easy to find.

Run various reports (

Financial Statements, Custom Transaction Detail, Sales by Customer, Sales by Item, etc

.) until you see overflow.

QuickZoom on overflow until you get to the transaction level.

Then fix the transactions.
Get QuickBooks Assistance
We hope your query with Overflow Error in QuickBooks Desktop has been solved. If you are still getting issues, you can dial our QuickBooks phone number +1-844-405-0904 to get instant help from our team of Intuit Certified QuickBooks ProAdvisors.