If you are using QuickBooks on an old bulky computer system for a long time and want to transfer the license to a new computer or a laptop so that you can easily carry it around for business purposes. So to do this, it is very important to know the right procedure of how to move QuickBooks to a new computer. So, in this article, we are going to tell you the process of easy transfer & reinstall in computer. Read the complete article for better learning. For more info contact our QuickBooks ProAdvisor by dialing our toll-free number +1-844-405-0904
Transferring QuickBooks to a new computer can be done easily if you follow all the steps correctly as mentioned in this article. After moving the company files, you can either install the latest version or the current version into the new computer.
NOTE: If you are using QuickBooks Online accounting software then you don't need to move your company files to the new computer because it is a cloud-based software. To use QBO you can simply log in to any computer.
Requirements to Transfer QuickBooks to a New Computer
There are a few things that you will need while transferring QuickBooks to another computer.
Another system on which you are thinking to install QuickBooks Desktop must have a proper internet connection.
You need to delete QB from the computer having the software before "transferring QuickBooks to new computer".
You'll be going to need your QuickBooks products and license information.
You'll need a USB flash drive with enough space to store all your backup of company files or you can also use cloud storage. Migrator Tool will tell you how much space you need. Mostly it needs space between 150-250 MB.
You'll need to create a backup of your Company files.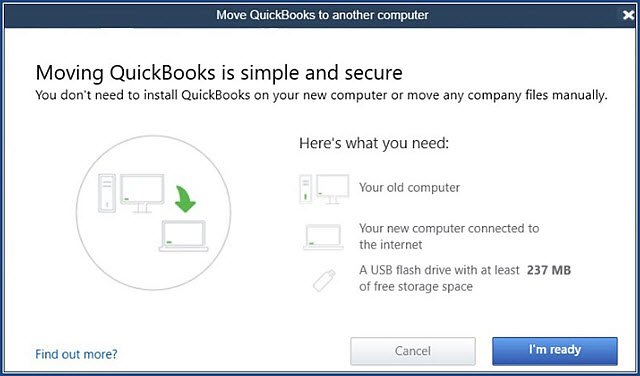 A high-speed internet connection for both the old and new computers.
If you're using the Migrator tool to move QuickBooks to a new computer, then you need to remember that the tool will only copy up to the last 3 company files to the new computer.
You need a USB that contains files from 64-bit. It may stop running in a 32-bit Windows system.
Move QuickBooks to a New Computer Using Migrator Tool
The migrator tool is only compatible with the QuickBooks Desktop 2018 or newer versions.
For using the migrator tool for moving and reinstalling QuickBooks to another computer, you'll need to be the company admin.
How to Setup and Use QuickBooks Migrator Tool
On the Old Computer
First, you need to download and save the QuickBooks Migrator Tools on the USB flash drive. You can easily download it from the official Intuit Website.
Then, Plug-in the USB drive to the old computer.
After this, Open QuickBooks go to Files<Utilities<Move QuickBooks to another computer and then select the I'm Ready option.
Then, QuickBooks will ask you to create a complex password to secure the company files in the USB flash drive. This is a one-time password and you'll need this password when you plug-in USB to the new computer. It's recommended to write the password down.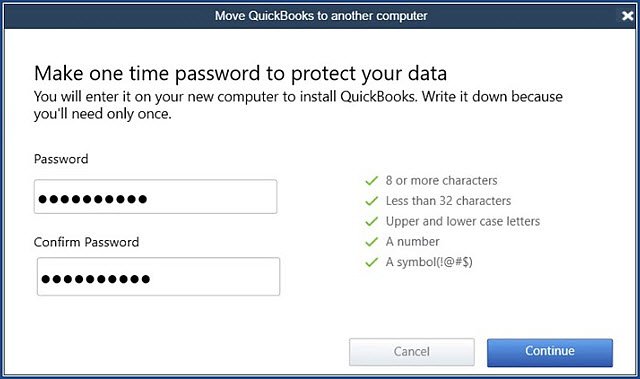 After following the further on-screen instructions, QuickBooks will start copying the files.
This process might take some time depending upon the size of the company files.
On the New Computer
When you insert the USB drive, the migrator tool will not run automatically due to the Windows Security Protocols and that's why we need to manually run it.
To start the Migrator Tool, open the flash drive and search the Move_QuickBooks.bat file and then run it.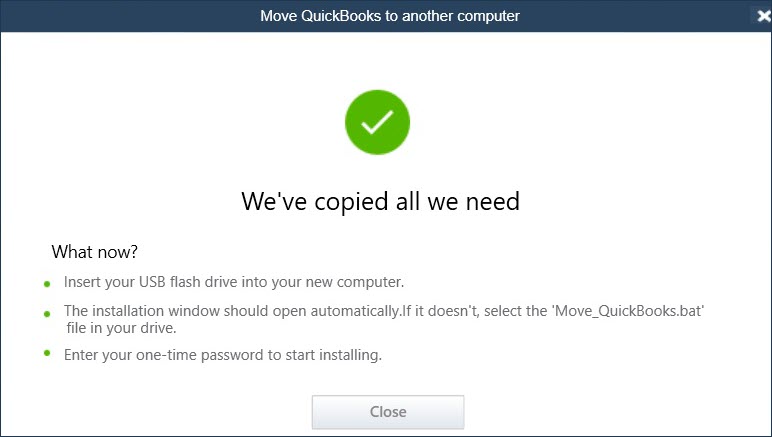 Then, Enter the one-time password you previously created and click on the option Let's go.
Wait for the tool to finish the procedure.
After selecting and running the file, if the migrator doesn't open, you may need to update your Windows version. 
After the process completes, the migrator tool will automatically delete the QuickBooks file from the USB flash drive. 
NOTE: As the QuickBooks file will still remain on your old system, we recommend you rename the company files so it won't create any confusion in the future.
What Data Gets Copied
When you use the Migrator Tool to move QuickBooks to a new computer, it doesn't transfer all the data to the new computer. But no data gets deleted from the old system.
The Migrator Tool will Copy
Have a look at the information given below about what data migrator tool will copy. 
QuickBooks Desktop version and other important data needed to install QuickBooks on your new system.
Copy up to three files including sample files recently opened on the old computer.
QuickBooks letter, templates, custom templates, forms, and related files
Scheduled and memorized reports
Local attachments
Spell checker (spell.ini and UserDictionary.tlx)
Financial statement designer (FSD data)
Cash Flow Projector (.cfp)
Business Planner (.bpw)
Loan manager (.lmr)
Statement writer (for QuickBooks Accountant)
Advanced reports (for QuickBooks Enterprise)
The Migrator Tool won't Copy
 There is some data that the tool won't copy to the new system so you may need to move them manually.
Multi-User Setup: If you use the multi-User Setup, the configuration won't be transferred to the new computer.
QuickBooks Payroll and Payment setup: QuickBooks protect your data, so it doesn't copy the payroll and payment setup. 
Intuit Data Protect (IDP):  You need to uninstall it on the old computer and then sign in again in the new system.
Old company files: QuickBooks only copy three recently opened files. You need to copy the rest of the files manually. 
Backup files: If you've created a manual backup then it won't be copied.
Manually Transfer QuickBooks to a New Computer
By manually moving QuickBooks to a new computer you can transfer most of the QuickBooks data at once. Follow the below procedure step by step so that you don't do any mistakes or lost your financial data in this process.
Create Backup of Company Files and QuickBooks License
First, create a Backup of company files and QuickBooks Product License to the external storage device.
Install the latest or current QuickBooks version to the new computer.
Then, download and restore the backup files to the new computer.
After transferring all the data you need from the old computer, now you can uninstall the QuickBooks.
Restore Backup of Company Files on a New Computer
Firstly, install QuickBooks on the new computer.
Insert the storage device.
Open QuickBooks, then go to the File menu and select the Open and Restore Company option.
After that, click on the Restore a Backup Copy and then Next.
To restore the backup from the external device click on the Local Backup option and navigate the backup file you created on the old computer.
After locating the backup file, double-click on it and then select the Save option.
Select a location on your new computer to save the backup file and then finally, click on Save.
What's Next After Moving QuickBooks to Another Computer
As we already discussed the tool doesn't copy all data to the new system. After moving the QuickBooks Company files to a different computer you need to take some other steps depending on you what you have in your system. Check the following: 
You need to sign in to the QuickBooks Payroll and other payment services.
Sign in to the Intuit Data Protect and you again set up your backup schedule.
If you have more than three company files, move them to your new computer.
Rename your company files on the Older computer to avoid confusion in the future.
You should also create a backup of company files that you recently moved to the new computer.
And finally, after performing all the steps correctly now you are ready to use QuickBooks on a new computer.
Frequently Asked Questions
Here we are going to discuss some most frequently asked questions by the QuickBooks users. Have a look at this and find the solutions to your query.
How do I restore QuickBooks to a new computer?
When you restore the file, QuickBooks uses the backup company file (.qbb) to create a new company file (.qbw). 
If you backup company files on external devices like USB or hosting services, you need to move them to your local hard drive first. After that follow the given steps.
1. Open QuickBooks and select the File menu and then choose Open and Restore company.
2. Click Restore a backup copy and then Next.
3. Choose Local Backup and then Next.
4. Browse your computer for your backup company file.
5. Select a folder and save your restored company file. Then select Open.
6. When you're done, select Save.
Will I lose data if I reinstall QuickBooks?
Clean installation of QuickBooks is done because windows fix company file issues. Reinstallation of QuickBooks didn't affect or harm the data. You can reinstall it without any data loss.
Can I uninstall QuickBooks and reinstall it again?
Yes, you can reinstall QuickBooks after uninstallation. You can reinstall the QuickBooks by inserting the disk into the system or without inserting it as well.
Download the file and save it to your desired location. When you complete, install the file and follow the on-screen instructions.
Conclusion
The above mentioned are the two best methods if you want to move QuickBooks to a new computer. You can use any method you find suitable but remember to do it carefully because even a slight mistake can lead to the loss of financial data which could lead to no good.
Therefore, Our QuickBooks ProAdvisor is here to provide you assistance if you ever hit a roadblock in the process. Just give us a call on our customer service toll-free number +1-844-405-0904 whenever you are stuck with QuickBooks.