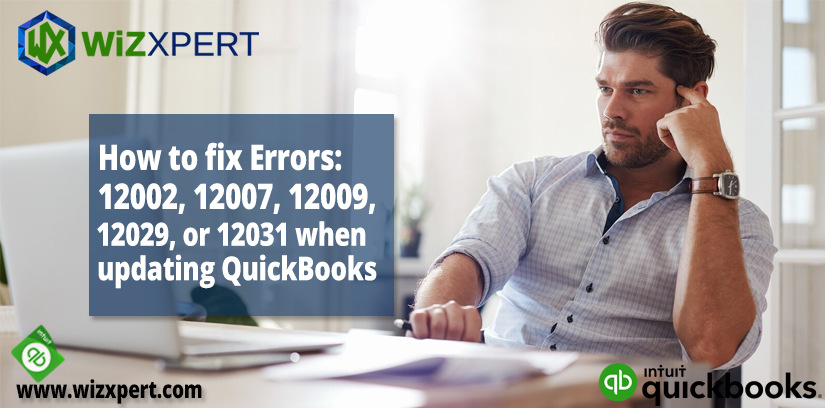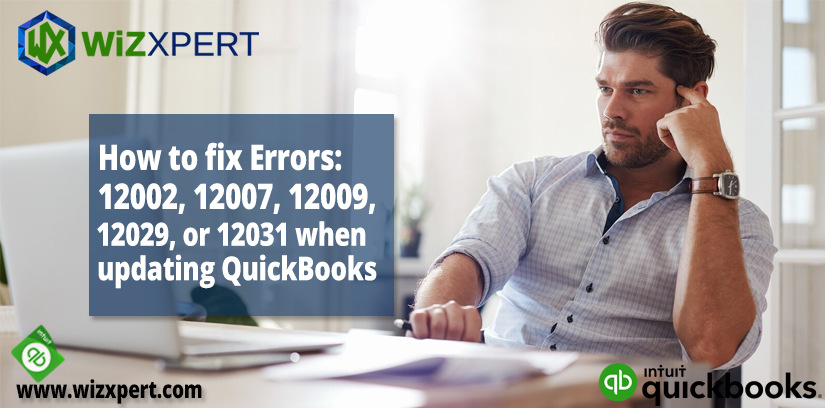 Have you ever encountered errors while updating QuickBooks or QuickBooks not Working? Most of the users encountered with following errors while updating QuickBooks or downloading a payroll :
QuickBooks Error 12002

QuickBooks Error 12007

QB Error 12009

QuickBooks Error 12029

QuickBooks Error 12031
Related article: What is QuickBooks online sync error?
Cause of these Errors
Network timeout is a possible cause of occurring these errors which prevent QuickBooks from accessing the server. The Internet connection breaks or internet security and firewall settings can be the possible cause for Network timeout.
If QuickBooks is not utilizing the internet connection on your machine, then it displayed the above-mentioned error. One of the reasons is – Not able to recognize the internet connection by QuickBooks.
The compatibility of installed applications like antivirus, firewall, etc. While downloading the QuickBooks can be this internet failure. Clear your default browser or Secure Socket Layer(SSL) check-in Internet Explorer Options.
How to resolve the Errors: 12002, 12007, 12009, 12029, or 12031
Make sure that you are able to access a secure site i.e. site with SSL having URL start with https:// such as a sign-in page of your bank site. If you have an issue to do that, connect with your system network engineer.

Check out the SSL i.e. Secure Socket Layer of your system.

Make sure that Internet Explorer is your default browser if you are using any other web browser.
Article to read: What is QuickBooks Error 6209 and how to fix it?
Follow the steps for restoring the Internet Explorer settings : –
First of all, you need to close running QuickBooks software.

Then, open your Internet Explorer on your machine

Go to "Tools – Internet Explorer".
Under the Security section, click on the Global icon and make sure the security setting is set to Medium-High.
Go to under the Content tab and make sure that the button the content advisor is Enable. If you see it disable and make it enable explicitly.
Now, go to the Connection tab –

Select "Never Dial a Connection" if you don't use a dial-up node on the system.
Then select the correct ISP, if you use a dial-up node.
Check out the LAN Settings button and Ensure that you checked out the automatically detect setting.
Checked the "Use a Proxy Server". Note down the address and port with Use the proxy server. Do not Uncheck "Use a Proxy", If the port is other than port 80, you can deselect the use proxy box for testing purposes.

Go to Under Advanced Tab

Go to Restore Advanced Setting button

In the setting section, locate Use TLS 1.0, Use TLS 1.1, and Use TLS 1.2 option.

Then checked the Use TLS 1.0 option
Deselect the Use TLS 1.1 and Use TLS 1.2                                                                   

Close the Internet Explorer and then restart your machine.

Now Open QuickBooks and update it again :

Now you need to update QuickBooks 2008 or later version. Just to Help – Update QuickBooks and then click and update the Now tab.
To update QuickBooks 2006 and earlier- Click on File – update QuickBooks and then click on update now.

You need to re-configure your firewall to access to certain ports and configure internet security and parent control applications for QuickBooks update.

If you don't see any result, then start Windows in safe mode with networking and download the updates one more time.

Restart your machine and reset QuickBooks update and download & install the QuickBooks Update. Make sure your company file is in single-user mode.

Now you are required to repair Internet Explorer.

Conduct a complete scan & clean of QuickBooks in selective startup.
After running the above-mentioned process, we hope you will get update QuickBooks successfully. If still not, contact 24/7 QuickBooks Helpline Number to get instant resolution with best service.