If you are searching for solutions to turn on advanced inventory in QuickBooks, then here is the guide for you. This article is to provide you the details of what advanced inventory enterprise means, features, and tips for Advanced Inventory and later we'll teach how you can turn on QuickBooks Advanced Inventory."Advanced Inventory in QuickBooks Enterprise is an add-on option for tracking inventory. By this, you can track inventory at multiple sites, and is available with QuickBooks enterprises only. Go through the article and get all answer your queries resolved. For more information contact us: +1-844-405-0904
What is Advanced Inventory In QuickBooks Enterprise
Intuit integrated the advanced inventory system directly with your QuickBooks Account which saves the time of users. This in-built tool can easily compete with other inventory management software for small businesses. An overview of the most efficient way to manage your business right in QuickBooks.
QuickBooks Enterprises is the most renowned accounting software application. It is packed up with some great features and functionality. Advanced Inventory is such a feature being introduced in this accounting solution.
New Features Of QuickBooks Enterprise For Advanced Inventory:
You can purchase or subscribe to Advanced Inventory which enables you to use it if you are using QuickBooks Desktop Enterprise.
Managing inventories of any size is a simple task if you use the Advanced Inventory functionality. If you manage inventory using bar codes you'll notice the complete integration with QuickBooks right away. Once you scan the inventory and serial number, data will automatically feed incorrect fields and if your inventory items don't have barcodes, QuickBooks can create them for you.
Mobile Inventory Barcode Scanning:
Mobile inventory barcode scanning speeds up the picking process and reduces data entry errors. You can work anywhere that has an internet connection. When you send sales orders to workers on the floor and scan inventory within a warehouse, transfer data wirelessly.
Multiple Location Inventory
You can easily track the inventory in multiple locations where you can see how many items are on hand, on the sales order, on the purchase order, and your reorder point, and QuickBooks will automatically calculate which items you need to restock so its helps to manage your work efficiently.
Customizable Inventory Reports
Newly customizable inventory reports provide flexibility for your business, you add the following with reports
Inventory Valuation Summary,
Inventory Stock by Item
Assembly Shortage by Item
And plus additional fields
It allows you to better track your inventory, so you collect the knowledge of your reports easily.
Bin Location Tracking
Track inventory by bin location inside one or more warehouses and, when filling out forms, automatically see quantities and serial or lot numbers for each bin by this you easily track. Sort pick lists and item receipts for efficient picking and stocking by location.
Real-Time Inventory Picking
When the picker receives the picklist from On the mobile inventory scanner or Android receive the picklist and the picking process is started. You can easily get all information related to inventory in QuickBooks in real-time such as While the items are being picked, the status of the picking process, Picked, Pick in Progress, and Partially Picked.
Barcode Scanning
Once you scan the barcode you can get the all information within a second without touching the keyboard and the type of typing QB automatically puts the information into the right field. And also QuickBooks creates the barcode for you if you do not have the barcode and prints barcode labels from inside QuickBooks.
Use FIFO Costing
To switch between the two methods at any time by using FIFO costing or average costing and get the flexibility to track inventory.
Serial Or Lot Numbers
Enter serial numbers and lots When you purchase or sell the items, which helps to more reliable tracking. You can track any defective lots between the lots easily through assemblies.
Transfer Inventory From One Location To Another
For your better business, you can transfer stock from another location to meet demand without delay, If one location is running low on inventory.
Tips For Using Advanced Inventory
You can easily sync your account to enable your advanced inventory option.
By using serial or lot numbers you track inventory.
More space is required, make sure you have at least 2.5 GB of hard drive space available.
Some of the advanced functionality to meet your QuickBooks flexibility
The user can easily track the items to the specific bins in warehouses.
Scan barcodes of advanced inventory to enter the data quickly.
There is an option to manage the items either by lot numbers or serial numbers.
You can assign the inventory value to different locations or multiple locations of your warehouses.
There is a feature to transfer the items between inventory sites.
How To Turn On Advanced Inventory In QuickBooks Enterprise?
An advanced inventory feature is an amazing tool in QuickBooks. You can purchase or subscribe to it for your QuickBooks Desktop Enterprise software. Advanced Inventory allows you to use it.
FIFO costing
Multiple location inventory
Barcode scanning
The bin or lot tracking
Serial or lot numbers
Steps To Turn On Advanced Inventory:
Go to the Edit menu and select Preferences.
Now you can see Items & Inventory on the left side of the menu list click on that.
Now you have to choose the company Preference tab.
Now tick-mark on the checkbox of Inventory and Purchase Orders are Active.
Then click on the Advanced Inventory Settings button. If the advanced inventory option is grey, the user has already acquired the functionality and needs to sync the user licensing data with QuickBooks in order for it to be reorganized.
After doing the above-mentioned steps, you have to go to the QuickBooks Desktop, Click on the Help button then click on Manage my License and then click on Sync License Data Online.
Now you can see that Advanced Inventory Settings is no longer grayed out.
You have to Shut-Down and Restart it.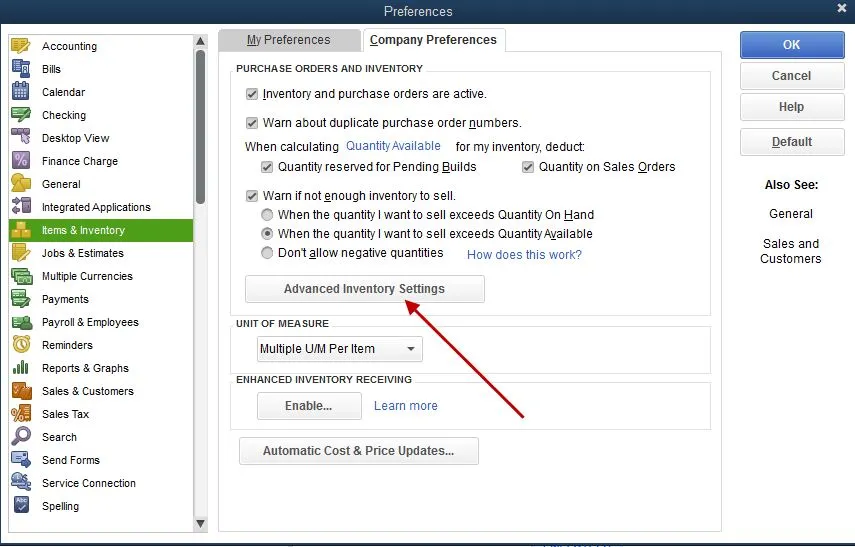 Steps to Turn off Advanced Inventory in QuickBooks Enterprise
If it is no longer needed for any of the features of the advanced inventory then you have the option of turning off the advanced inventory at any time. You can choose the features that you want to turn off, you can also turn off every feature that you are using so follow the steps to how to turn off the features.
Very first, you have to go to the edit menu.
Then select Preference.
After that, from the left side of the list, you have to select Items & Inventory.
Now you can see the Company Preference tab click on that.
Then the Advanced Inventory Settings button appears, you have to select it.
Now you have the option to turn off each feature that you don't need anymore.
You have the option to unmark the checkbox to clear Multiple Location inventory that allows QuickBooks:

To maintain all the data you have entered but it doesn't allow you to see it.
It hides all the data from the QuickBooks Interface like reports, fields, and columns.
It also restricts to assigning of any transactions that are related to inventory.
If you turn on the preference back then:
It allows all inventory-related transactions to be assigned to temporary sites but since you turned the preference off.
It allows transferring the inventory to the actual sites from the temporary sites after that you can track the inventory at multiple locations like before.
Serial/Lot numbers
You have the option to select the Serial/Lot number and then unmark the checkbox.
You can select the FIFO tab and then you can unmark the checkbox Use FIFO starting.
Select the barcode tab and clear the Enable Barcode Scanning by unmarking the checkbox.
7. Now the next step, is to click on the Ok in the Advanced Inventory setting window.
8. Now select ok in the preference window and then again select ok in the warning window.
If You Are Unable To Sync:
If you are facing syncing fails on some computers, it is a system-specific issue. Try these steps to get rid of this problem. Note: make sure that the below-discussed steps are for the Windows operating system. If any failures happen while repairing or uninstalling the .NET Framework they might be complicated. We recommend consulting the manufacturer/ IT professional of your computer if you are not comfortable doing these steps on your own.
Step 1: Download And Install The QuickBooks Tools Hub
The QuickBooks tool hub tool assists you in resolving QuickBooks errors.
Quit QuickBooks and download the QuickBooks Tool Hub tool from the internet and save the .exe file someplace where you can find it easily, i.e. your downloads and desktop location.
Open QuickBooksToolHub.exe (the file you downloaded)
Go with all the on-screen options to install and accept all the terms and conditions.
When your installation is completed, open the Tool Hub application by double-clicking on it.
Note: If you are unable to find the icon then go to the Windows search bar do a direct search for QuickBooks Tool Hub and choose the program.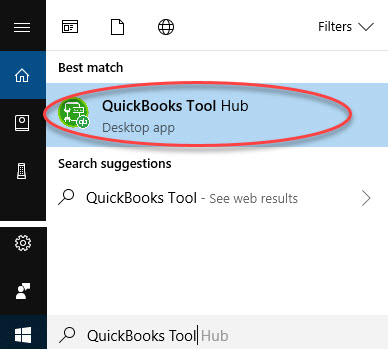 Step 2: From The Tools Hub, Run The Quick Fix My Program
A quick fix will stop any QuickBooks background process if any. This will run a quick repair of your program.
Note: If you faced any problem during repairing or uninstalling .Net Framework or you are not comfortable applying troubleshooting steps then I strongly recommend getting help from your IT person to solve these issues. Because these steps can become more complex.
Works Right Inside QuickBooks Enterprise
In the Advanced inventory, our exclusive Add-On works right in QuickBooks with the same user interface. Separate data integration or separate software is not required. Below are the features that you can save time.
Track the serial numbers or lot numbers.
It also helps to track the inventory in multiple locations.
Also, it tracks all the inventory data in one place.
There is flexibility to set up the various types of locations or warehouses.
Track the 'Bin Location'.
Barcode Scanning.
Wrapping Up
We have covered all possible subtopics to set up the advanced inventory in QuickBooks Enterprise. Hope you find it informative, and now you are able to set it up yourself. Still, if you have any confusion regarding this topic then you can get our Expert's help from our Wizxpert platform. The experts will give you the best QuickBooks Enterprise support in a short time.