Looking for how to install multiple editions or versions of QuickBooks Desktop on one computer? Then you are no more a seeker, here is an article to provide you with all the details and stuff that matches your query. Read the article and get to know that Different versions can be opened at the same time, whereas different editions must be opened one at a time so users' work will be easier. Go through the article and get all your Queries resolved, keep in touch with us to learn new and more. For any assistance or help contact our QuickBooks ProAdvisor toll-free: +1-844-405-0904
Popularly known as QuickBooks accounting software is fascinating because its working features are more flexible. QuickBooks provides various facility types as you can run and install multiple QuickBooks desktop versions of the QuickBooks Desktop and editions of QuickBooks on the same desktop.
Terminologies
Version: A version is the numeric notation of the product's release. Examples are QuickBooks Desktop 2018 and QuickBooks Desktop Enterprise 18.0.
Edition: An edition refers to the set of features included in a product. Examples are Pro, Premier, and Enterprise.
Flavor: A Flavor refers to an industry-specific set of sub-features of a product. Examples are Contractor, Non-Profit, and Retail.
Region: A region refers to a specific location. Eg., the United States, Canada, and the United Kingdom.
Points to Remember: Before installing multiple QuickBooks desktop versions
The following point should keep in mind when you install the product,
Multiple versions of QuickBooks Desktop can reside on the same computer.
Only one flavor can install per Premier or Enterprise version of QuickBooks Desktop.

Note: You can assume the QuickBooks Desktop Edition is a flavor of Premier Desktop.  And also you can adjust the Accountant Edition to any other flavor of Premier or Pro desktop.

Multiple versions such as QuickBooks Desktop 2017 and 2018 can be used at the same time. If you are using QuickBooks Premier 2018 and need to open QuickBooks Premier 2017, you don't need to close Premier 2018 before you open Premier 2017.
Only one QuickBooks edition like QuickBooks Premier & Enterprise can be used simultaneously. When you work in QuickBooks Premier 2018 and need to open QuickBooks Enterprise 18.0, you must close QuickBooks Premier before you open QB
You should not install multiple regions of a QuickBooks Desktop on the same desktop.

Note: It is recommended that you use a virtual system or web hosting service to house an environment for each part of QuickBooks Desktop you wish to run, as compared to your own region.

Data files are impossible to share between QuickBooks Desktop Enterprise and other QuickBooks Desktop versions, or between different years' versions.

Examples
If you normally use Premier and want to try out Desktop Enterprise, opening the Premier data file in Desktop Enterprise will be irreversible. In that case, you cannot use the premier. If you want to try a different edition, you must open a sample file in the edition of your interest, instead of opening your company file.
If you open a QuickBooks Premier 2017 data file in QuickBooks Premier 2018, QuickBooks updates the data file so that it cannot be used in Premier 2017.
The steps to install the manual update are different. If you update QuickBooks with the help of manual updates. You will be prompted to select the edition for an update if more than one edition is installed.
Easy steps on how to fix and install multiple versions of QuickBooks
Install multiple QuickBooks Desktop versions on one Computer by using different installation folders,
Firstly, launch the downloaded version of QuickBooks Desktop, in case you didn't download yet then download first and install it.
You have to install the downloaded QuickBooks.exe file, For this, you have to click on that .exe file.
Change the installation location:

Select Custom and Network Options and click Next.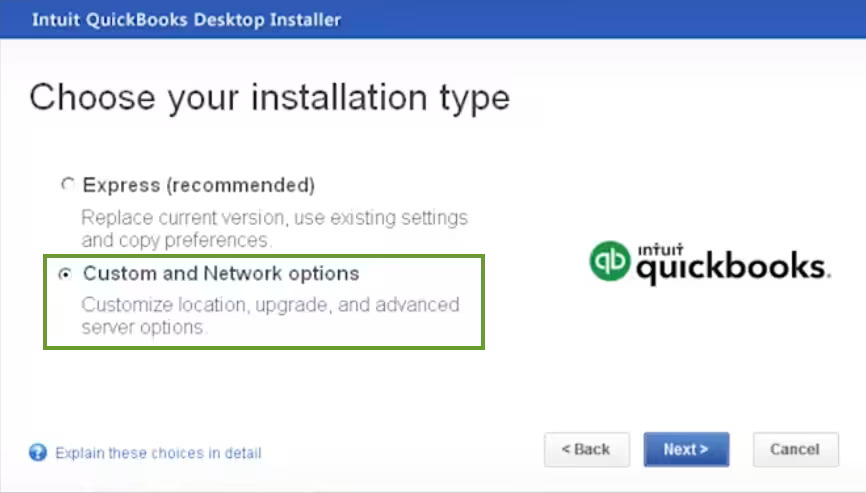 Choose the installation option you prefer and click Next.
When the Upgrade or Change Installation Location window appears, select the first option to change the install location.
(Optional) Click Browse or Change if you want to manually select a different installation folder.
Click Next to continue.
Follow the instructions to complete the installation.
You can use the desktop shortcut created for the version you installed to open that version.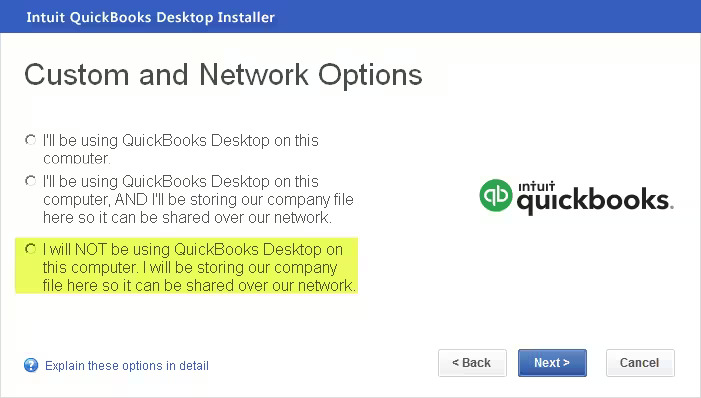 Note* you have to always select the custom network option. Here you can see the other options also, so if you don't want to share files then you have to choose the first option or else the second Choose according to your requirement.
After installing Quickbooks you can get the latest release by running for updates. For this, you have to follow the given steps.
Firstly you have to go to the Help menu.
After that, you have to follow the onscreen instructions after choosing Update QuickBooks.
Keep Remembering that QuickBooks never updates automatically if you have multiple editions for the same year for this you have to update each version manually.
Our Customer Help
We have tried to provide a clean and easy representation of all steps. However, If you are unable to perform any action or need support; you can call on our QuickBooks Customer Support helpline Number +1-844-405-0904.