QuickBooks offers a lot of powerful tools for Chase banking transactions for customers for managing their business. One of these tools is the software's ability to track income and expenses and keep accounts by integrating with the bank's software system over an Internet connection. If you are a customer of Chase bank, you can easily download account transactions to an external file and import them into QuickBooks at no cost.
You can also build a personal connection to Chase from within QuickBooks and automatically receive transactions for a monthly fee. Once a transaction is available, you can use the information to consolidate accounts and simplify your financial bookkeeping. So, let's discuss the different methods of how to download & import Chase banking transactions into QuickBooks.
Things needed to Complete this Task: Chase Bank Username and password.
Steps to Download & Import Chase Banking Transactions Into QuickBooks
Method 1: Using Web Connect
At very first, you need to log in to the Chase Online Banking portal. In case if you are not using Chase Online then go to Manage your accounts, click on the "Enroll Now" option to join for an online user account.
When logging into Chase Online, go to the "Customer Center" tab. Next, go to the "Reference Center" and click on the link "Activate Money, Accelerate, etc.
To generate a QuickBooks OFX-formatted file on your desktop, click "Download now (no charge)" and then go with the "Continue".
Next, go to the account from which to download the transaction, and after, click on the date range for the transactions.
Look for the "QuickBooks" radio button and click on the version of QuickBooks that you are using from the drop-down list. Next, click on the "Export" alternatively.
When asked, go to the"Save" button and click on the destination folder to save the file. Intuit always advised you to save the file on the desktop.
Now, go to the destination folder that contains the OFX-formatted file and find OFX-formatted files and rename it "Filename.qbo", where the filename is your downloaded file. This step is very important because QuickBooks Web Connect only supports QBO-formatted files.
Open QuickBooks accounting software and open the "File" menu and access "Utilities," "Import" and "Web Connect Files". After navigating to the desktop and locate the OFX-formatted file downloaded from Chase Online. Click "Open" to continue.
When prompted in the "Select a bank account" dialog, select "Use an existing QuickBooks account" and select your account from the drop-down list. If your account is not listed, select "Create a new QuickBooks account" and type a name. Click "Continue".
For this account to review and match the transactions you have downloaded, go to "Online Banking" under "My Shortcuts".
Method 2: Using QuickBooks Direct Connect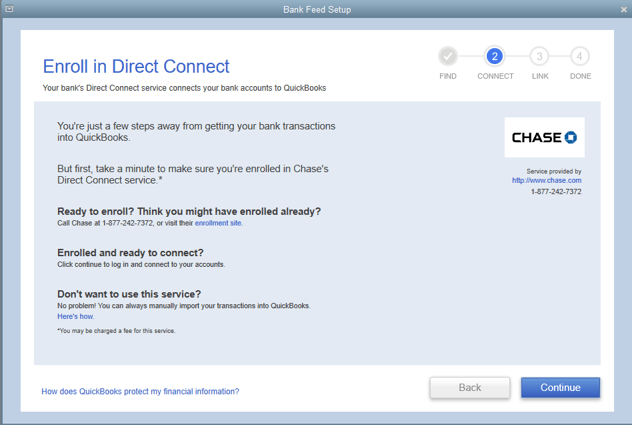 Now, look for the "Customer Center" option and next click on the "Reference Center." go to the link for "Activate Money, Quicken, etc.
Click on "Activate Direct Access by the PFM service that is $9.95/month" and next select "Continue." Now, go with all the on-screen instructions and completed the setup for direct access.
Now, launch the QuickBooks software and click on the "Banking" menu. Click on "Online Banking" and select the "Set Up Account from Online Services".
After selecting the online services, choose the company account from the drop-down list or if you don't find your company name in the drop-down then enter the name of a new account. Then click "Next" to proceed.
Find "Chase" from the Financial Institutions drop-down list or simply type "Chase" in the box. Then select "Next" to proceed with account settings.
Now here choose "Direct Connect" and click to "Next." and mark the box beside "Yes, my account has been activated for QuickBooks Online Services." Choose "Next" to proceed with the setup.
When asked, Insert your credentials, Chase online username, and password. Click on the online account to use and download.
Click on "Download online accounts" and "Receive transactions". Choose "Finish" to end the linking process.
Steps To Process to Reconnect the Chase Account with QuickBooks
These steps help you to solve errors if the user is incapable of Download Chase credit card transactions to QuickBooks.
Open the online Banking page, and then select Add account.
Search for the Chase Bank in dropdowns.
Follow all the login prompts that you received on your screen.
Assure that all the accounts are checked and after continue with the window that opens up.
When you go to the window where QBO is asking you to map your bank accounts, close this window.
Steps to solve error if Chase Bank account transaction can't download to QuickBooks Desktop
Go to the Banking menu and select Add Account.
Select your bank and pick it to get its URL.
After login into your bank with your username and password. ( make sure to use the sign-in URL as listed in QuickBooks)
Review the account page to examine any sign-in issues. Such an issue may be the main cause that the Chase bank account transaction will not download to the QuickBooks desktop.
Is Chase Bank charge for QuickBooks Direct Connect?
If you are a customer of Chase, you can download transactions to an external file and import them into QuickBooks at no charge.
How to link Chase account to QuickBooks?
Log in to the Chase online banking portal.
Next, go to the Customer Center tab and look for the Reference Center.
Choose the link "Activate Money, Hurry Up, etc." Pick the download option to create and continue the QuickBooks OFX-formatted file.
Finally, click on Continue.
Hope, the above steps will help you to easily download & import Chase banking transactions into QuickBooks. In case if you are still getting an error or issue while downloading and importing Chase banking transactions then feel free to call our toll-free +1-855-441-4417 and get instant from our Intuit certified ProAdvisor for your queries.