In this article, learn to set up Emails in QuickBooks Pro. If you don't know how to configure and integrate email configuration in QuickBooks, then this article will help you with the step-by-step process. Read this article, to know how to configure and set up email in QuickBooks. Read the article to know the email options in QuickBooks Pro and different methods to perform this task. Go through the article to get your solution to set up emails, in easy steps. Still, having an issue then contact our QuickBooks ProAdvisor toll-free:+1-888-202-8743
QuickBooks Pro is entry-level accounting software for mid-size businesses and its working capacity is very efficient. QuickBooks Pro is compatible with more than 100 other products and provides many services. While you are working with your QuickBooks Desktop Products you have many options to integrate your email with Outlook, Web-mail, QuickBooks mail. If you are using Google mail and wanna choose the webmail option but can not get it to work with Google mail. Here is the best way to configure your QuickBooks Pro Email Set up with QuickBooks and QB Desktop.
Configure Your Email Service With Quickbooks
When you work with QuickBooks Desktop products, you usually have several options for Email integration such as WebMail, Outlook, and QB E-mail. If you use Google Gmail and you want to select the WebMail option, but some people can't get it to work with Gmail.
Related article: New Features in QuickBooks Pro 2020
QuickBooks Email Options
You might not always see all three options for Email in your QuickBooks Desktop preferences. Several versions of QuickBooks do not provide all three, and even if you have a version that supports all three versions you might not see all of the options on some particular computer installations.
Outlook: Outlook support is only available if you have already installed Microsoft Outlook on your computer. It is preferred email integration, as it provides you with the greatest degree of control.
QuickBooks E-mail: It is the least favorite. It depends on Intuit mail servers and they do not offer the best features.
WebMail: It was introduced in QuickBooks 2011 and it lets you connect through Gmail, Yahoo email, or your own web-based email service.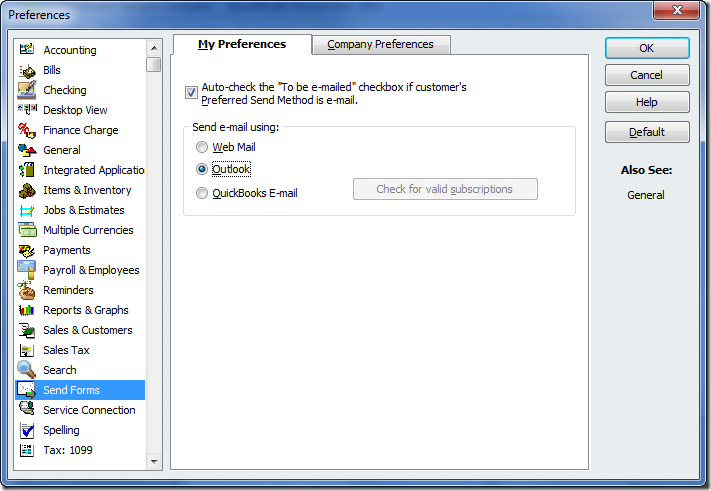 See: QuickBooks Desktop 2018 – What's new & improved features in it
Set Up Your Email Service In Quickbooks Desktop
You can configure your QuickBooks to Email invoices, reports, and other transactions using webmail, outlook or Gmail, etc. Ensure that your Outlook is compatible with your version by checking QuickBooks Desktop system requirements.
Method 1: Set up "QuickBooks Outlook Integration"
At first, you need to create a new Outlook email profile.
If you already have an Outlook account, proceed to the next step.
Collect the information to set up Outlook as your Email client.
Quick tips: You may contact your ISP for the following information:

Username
Password
Incoming email server address
Incoming email server type
Outgoing email server address

Set up Outlook in QuickBooks.
Quick tips: See Outlook is missing in QB Desktop Send Forms preferences if Outlook is unavailable in your QuickBooks.

Choose Preferences and select Send Forms, from the QuickBooks Edit menu.
Then select Outlook and click OK.
Method 2: Set Up Secure WebMail with QuickBooks
In the latest versions of QuickBooks, you can use Secure Webmail for an easier connection to your Email provider, and Depending on your QuickBooks Desktop version, it's only available for certain providers.
QuickBooks 2019: Available for Gmail, Yahoo Email, Windows Mail, Hotmail, and AOL (i.e. Mozilla Thunderbird Email Client*)
Note: Supports plain text version in Mozilla.
QuickBooks 2018: Available for Gmail and Hotmail/Live users in the US, UK, and Canada. QuickBooks 2017 R5 and newer: It's available for Gmail users in the US only.
QuickBooks 2017 R4 and older: Secure Webmail not available for this version.
Before you start setting up Web Mail
First, you need to connect your Intuit account with the WebMail account, so that Secure WebMail can work without interruptions.
By linking the Intuit account, you don't have to enter the password every time you send an email.
Make sure to create a strong and complex password while you link secure webmail to your company file.
There are some hosting services like (Right Networks) that require you to provide login credentials of Webmail whenever you want to send an email.
Set Up Secure Web Mail in QuickBooks Desktop
At first, choose Preferences and then click Send Forms from the QuickBooks Edit menu.
Again select the WebMail option and then click on Add button.
After that choose your provider from the drop-down list and enter your email address.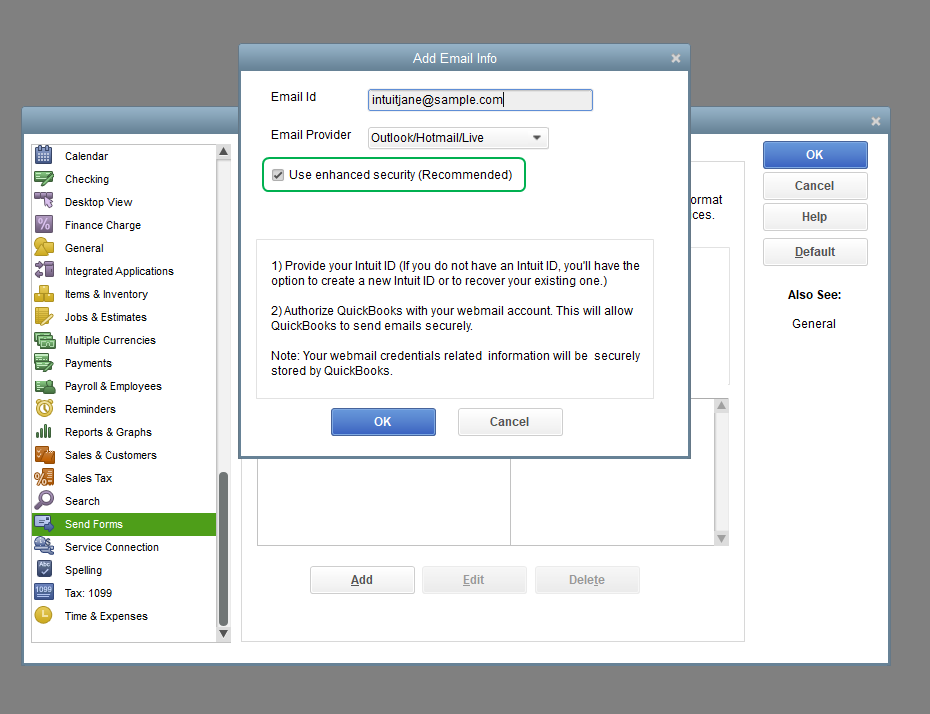 Ensure that the Enhanced Security checkbox is checked.
Then click OK.
When it is prompted, Sign in to the Intuit account. The username or email address you use may not be the same as the one you are connecting to QuickBooks.
Your webmail provider's login page will display on the screen.
You need to Sign in and choose to grant Intuit access.
Method 3: Set Up QuickBooks Email
First, select the "QuickBooks Email" option in the Send email using section.
Now you need to check if you have a valid subscription or not. Because QuickBooks Email feature only works if you have an active subscription of Intuit services like QuickBooks Payroll, IMS (Intuit Merchant Service), Accountant's Copy File Transfer, QuickBooks Enterprise Full service, or QuickBooks Billing Solution.
After that, you can follow the on-screen instructions to set up the QuickBooks Email service.
Then, you need to fill in some mandatory details like Username, password, email address, server details, incoming & outgoing email settings, and then you are done.
NOTE: Make sure to note down the email address to which you have send forms because QuickBooks does not save any copy of the email id.
If you are using QuickBooks Desktop in the United States:
ISP (Internet Service Provider)
SMTP Server
SMTP Port
1AND1.com
smtp.1and1.com
587 (SSL enabled, with password)
ADELPHIA
mail.adelphia.net
110
AOL
smtp.aol.com
465 or 587* (SSL enabled for incoming and outgoing mail server)
BELL SOUTH
mail.bellsouth.net
110
COMCAST
smtp.comcast.net
587
COMPUSERV
smtp.compuserve.com
smtp.aol.com
110 or 587
COX Business
smarthost.coxmail.com
25
COX CENTRAL
smtp.central.cox.net
25
COX EAST
smtp.east.cox.net
25
COX WEST
smtp.west.cox.net
25
EARTHLINK
smtpauth.earthlink.net
25 (with password)
GODADDY
smtpout.secureserver.net
80
LYCOS
smtp.mail.lycos.com
25
MICROSOFT OUTLOOK 365
outlook.office365.com
587 (SSL enabled)
NETSCAPE
smtp.isp.netscape.com
25 (SSL enabled)
PRODIGY
smtp.prodigy.net
25 (SSL enabled)
ROADRUNNER
smtp-server.sc.rr.com
587
SPRINT PCS
smtp.sprintpcs.com
25
VERIZON
outgoing.verizon.net
465
VERIZON YAHOO
outgoing.yahoo.verizon.net
465
If you are using QuickBooks Desktop in Canada:
| ISP (Internet Service Provider) | SMTP Server | SMTP Port |
| --- | --- | --- |
| MICROSOFT OUTLOOK 365 | outlook.office365.com | 587 (SSL enabled) |
| BELL MAIL | smtphm.sympatico.ca | 25 (or 587 if port 25 does not work) |
| BELLNET | smtpa.bellnet.ca | 25 |
| CLUB INTERNET | smtp.club-internet.fr | 25 |
| COGECO | smtp.cogeco.ca | 465 |
| COMCAST | smtp.comcast.net | 465 |
| EARTHLINK | smtpauth.earthlink.net | 587 |
| GMAIL | smtp.gmail.com | 587 |
| HOTMAIL | smtp.live.com | 587 |
| LAPOSTE | smtp.lineone.net | 25 |
| MAIL | smtp.aol.com | 587 |
| MSN | smtp.live.com | 25 |
| MTS | smtp.mts.net | 25 |
| NETSCAPE | smtp.isp.netscape.com | 25 |
| NETZERO | smtp.netzero.com | 25 |
| NEUF | smtp.neuf.fr | 25 |
| ROGERS | smtp.broadband.rogers.com | 25 |
| SASKTEL | mail.sasktel.net | 25 |
| SHAW | shawmail.cg.shawcable.net | 25 |
| SKYNET | smtp.skynet.be | 25 |
| SYMPATICO | smtphm.sympatico.ca | 25 |
| TELUS | smtp.telus.net | 25 |
| VIDEOTRON | relais.videotron.ca | 25 |
| YAHOO | smtp.mail.yahoo.com | 465 |
Method 4: To set up a regular Webmail:
Internet Service Provider controls the WebMail servers. QuickBooks automatically fill out the information for the most common service providers, such as Gmail, Yahoo, and Hotmail, etc.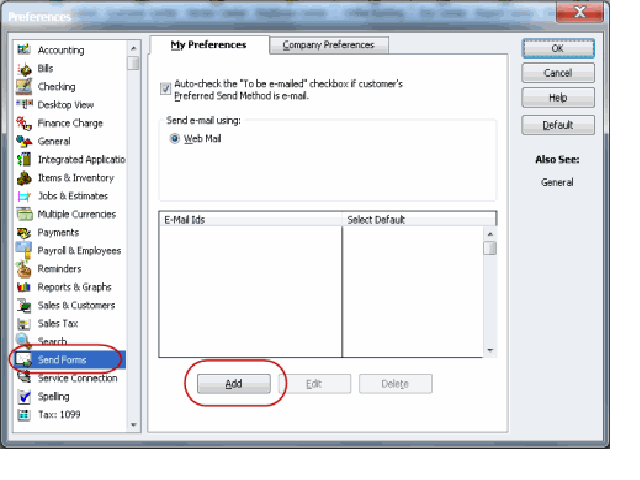 Choose Preferences and click Send Forms from the QuickBooks Edit menu.
Then select WebMail and click on the Add button.
After that choose your provider from the drop-down list and enter your email address.
Then click OK.
Important:
QuickBooks Desktop will prompt you to enter your webmail password the first time you send an email using regular webmail, Unlike with Secure Webmail.
If you have a problem in opening an account by password in QuickBooks Desktop, note that webmail providers (Gmail, Yahoo, etc.) require users to check the account setting for two-step verification.
For Cox users: When sending emails The standard SMTP setting of Cox is not to use SSL or login information. QuickBooks requires login information and prefers SSL connections and therefore, using port 25 and no SSL connection with SMTP does not work with QuickBooks Desktop. Use SSL with these alternatives port 587 or 465.
For CableOne users: Use the following credentials since CableOne uses Google servers.
Email Address: Your Email
Email Provider: Gmail
Port: 587 or 465
SSL: Yes
The Bottom Line
We hope you've got your solution regarding QuickBooks Pro Email Set up. But if you still have some doubt then no need to worry. Please feel free to call our QuickBooks Support Phone number+1-888-202-8743 to find out a ProAdvisor that will help you resolve your issue.
You may also like: