An invoice is a document that provides customers with a detailed description. Here customers find the details about the products or services and how much they cost.
In the invoice, if customers do not pay you at the time of the sale then you need to keep track of what they owe you so that you can ensure you receive payment in the future. In this article, we will discuss the procedure to create and email an invoice on mobile.
Related article: Mobile Inventory Scanner Support: QuickBooks Desktop 2018
How to Create and Email an Invoice in Mobile
If you are on the road and you need to send your customer an invoice here is how to do it in QuickBooks via your Android or iOS devices. Follow the below-mentioned steps carefully to create and send unlimited, professional style invoices to your customers from anywhere.
For the iOS application user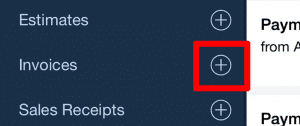 First open QuickBooks app and then tap on the Invoices option at the bottom of the screen.
Then, the invoice page will open. Here, to create a new invoice tap on the Create Invoice or (+) icon at the upper right corner of the screen.
In the Recipient field, add the name of the customer to whom you are invoicing and then tap on the Add at the upper right corner. If you want to select any customer from the contact list then select on the Access Contact option.
Then, you need to add the recipient's email address, phone number, and physical address (Not Mandatory).
After filling all the information correctly, tap on the Save at the upper right corner.
If you need to add any item then click on the (+) icon. You can add as many items as you want.
Next, you'll need to add a description.
After that, tap on the Next on the upper-right corner and then you can add an amount. You can either select a flat rate or hourly rate or per unit rate according to your product or service. After adding amount, tap on the Add at the upper right corner.
Then, you need to add the contact detail that you want to appear on the invoice, a due date, and an optional brief message for the customer.
You can either save as draft for sending later or just tap on the Send Invoice to send it right away.
NOTE: In the Invoices tab, you can tap on the drop-down menu to filter invoices by All, Unpaid, Paid, Overdue, and Drafts. You can also resend the unpaid invoice and mark them as paid from there.
For the Android application users
First, tap on the Menu option.
Then, scroll down until you see the invoices option and then select it.
For creating a new invoice, tap on the (+) icon.
After that, you need to add a customer.
You can either add an existing customer or add a new customer.

Just tap on the customer's name to change or remove them.

After that, you need to add products or services.
You can either select an existing product or add a new Product and Service. You can either choose an hourly rate or flat rate or per quantity rate.

The products or services that are frequently used are saved for quick save. If you don't want to use them, simply just press and hold over the product and remove them from the list.

Once you added the product, tap on Add.
Then, edit the invoice details (Optional).
You can customize the way your invoice looks in QuickBooks Online on the web. You can edit the invoice and you can create a note or attach an existing one. When you create a note you can even attach a photo to it. So if you are at the customer site and you did a beautiful job for them just snap a photo and attach it to the invoice. When you're ready you can email the invoice to your customer.
Your Work info: Like name of the company, company's logo, contact information, etc.
Invoice details: Like invoice date, invoice due date, and invoice number, etc.
Invoice Message: You can add an optional message of up to 255 characters for your customers.
If you want to send invoice later then you can choose Save as draft or tap on the Send Invoice to send it right away.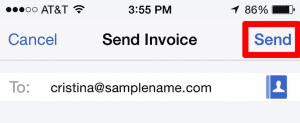 The Invoice section shows the invoices you have sent after sending them. From here we can perform various task such as:
From here you can mark an invoice as paid.
You can also review an invoice.
If you usually bill the same client or the same type of services then you can duplicate the bill from here.
A bill can be exported as a PDF from here.
You can take a print out of the invoice from here.
Option for deleting a bill is available here.
You can also resend the invoice if you want.
You may also like: How to print checks from the Quickbooks App on an iPhone or iPad?
How do you invoice clients?
Establish clear connections

Ask for a deposit

Include project specifics

Include late payment terms

Deliver the invoice promptly

Use retainer contracts with recurring billing

Invoice client online

Use invoice software

How to invoice the international client

Build a strong relationship with clients
The Bottom Line
Above we have described methods to create and email an invoice with QuickBooks mobile apps for Andorid and iOS devices. If you still need any help dial QuickBooks Support number "+1-855-441-4417".
For more detail see this video