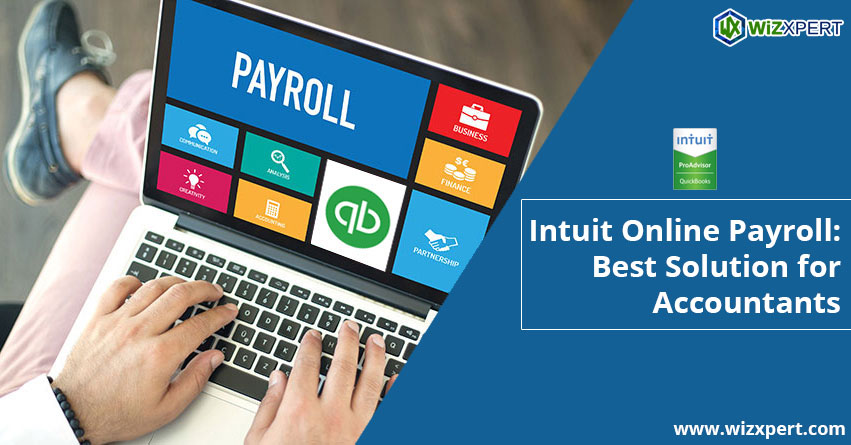 Intuit has designed the highly flexible and easy to help product for Accounting Professionals, that is Online Payroll. Intuit better understand the needs of small businesses and your clients.
Most trust-able company for small business clients and users widely used the Intuit product and software.
You don't afraid with payroll because Intuit Online Payroll provides the full support and you easy to manage all payroll tasks or set up clients to share payroll responsibilities with you.
Intuit Online Payroll for Accountants is a platform for the firm or accountant, they will use it. A firm wants to provide the best payroll services for their clients and better understanding with software.
Intuit Online Payroll is different from other QuickBooks Software but this software integrated with QBMac, QBD, and QVBO.
QuickBooks Online Payroll Vs Intuit Online Payroll
One main thing in this is data from Intuit Online Payroll for Accountants imports into the QuickBooks ecosystem as regular checks, so all your financial reports reflect the payroll data.
But QuickBooks Online payroll features differ, this QuickBooks online payroll clients lives inside the QuickBooks Online file because it is integrated with QB Online.
In Any Software, features play an important role in processing. Do many people think about which Online payroll is best between Intuit Online Payroll and QuickBooks Online Payroll? So we say don't be confused with this term, we describe all points related to both features.
If you plan on providing payroll solutions to more than 1 clients so you easy to choose Intuit Online Payroll because QuickBooks online file takes time to turn on. You choose the QuickBooks Online Payroll for one of your clients.
Intuit offer for pricing, particularly for those who plan on doing payroll for lots of clients. When the firm gets a free payroll subscription is called Your Payroll.
1 Clients- $35.00 per month + $2 monthly fee per employee
2-5 clients- $19.99 per month (per client) + $0.50 monthly fee per employee
6-20 Clients- $15.99 per month (per client)+ $0.50 monthly fee per employee
21-50 Clients – $11.99 per month (per client)+ $0.50 monthly fee per employee
51 plus Clients – $9.99per month (per client)+ $0.50 monthly fee per employee
Above shows, the pricing of the Intuit Online Payroll for Accountants depends on clients.
Really I am happy to share my experience with you when any company wants the popularity of your own product so he makes the product user-friendly and easy to understand or he knows the needs of clients.
You use the QuickBooks online in your iPhone and operate it, You will see the ere some perceived comfort in clicking Employee in the left-hand panel of QuickBooks Online and seeing payroll right here.
Intuit Online Payroll for Accountants allows the work outside of QBO and QBD to do client payroll.
Check the client's file by log into Intuit Online Payroll for Accountants and this is related to QuickBooks Online Accountants to manage their clients Quickbooks Online Files and invite their staff, choose what clients they want them to work on, and see when they login to QBOA, right?
Select Access Level
Below give some level of access for clients
Full

Setup and

Payroll

Payroll Only

When you click in full you have full access to their account, from setting up and running payroll top paying and filing taxes

In this, clients can set up their account, run payroll, and view reports but one problem in this is clients cannot process any tax-related tasks.

Clients cannot process any tax-related tasks or change the setup of the account and clients can run payroll and view reports.
Difference Between Main Features of QBOP Vs IOP
We share some main features of Intuit Online Payroll for Accountants that QuickBooks Online Payroll does not.
Paying 1099 contractors and Household employees
To-Do/Tasklist
Export to other Software: This feature is inside of QuickBooks online so QBOP does not have it.
Job Costing: A paycheck of Intuit Online Payroll is nice and it has the ability to assign a customer or a class to a paycheck.
Paycheck records: An employee can view their paystubs and W2s
Intuit Online Time Tracking: Intuit payroll has a time clock solution for employees, so employees can clock in and out at some workstations. And QBO provides the time QBOP from its own time-tracking.
Convenient and Easy to Use: you have internet so you easy to use payroll anywhere and at any time.
Guaranteed Accurate: work with intuit you feel good because he pays the state taxes by calculated using the latest tax rates.
Workers' Compensation payment service.
Employees: QuickBooks Online Payroll does not support the savings for paying contractors.
Overview:
Employees Go to contractors add an Employee
Last Name First Name Pay Rate Pay Schedule Pay Method Status
Barnes Romy $75,0000.00?/year Twice a Month Check Active
Lee Tim $35.00/hr Twice a Month Check Active
Add an Employee
Bob Barnes's Overview
Basic
Edit
Name Rony Barnes
Address 1234 street Ct.
Thousands of Oaks, CA
91360
Gender M
Birth Date
Email
Employment
Edit
Employee ID
Work Location 1014 E Alguien Rd
Schaumburg, IL 60173
Employment Status Active
Hire Date 9/14/2015
I-9 Form Filed
New Hire Report Filed
Workers' Comp Class
Pay
Edit
Salary $75000.00 Year
Additional Pay Salary
Bonus
Commission
Method Check
Schedule Twice a Month
Taxes & Exemptions
Edit
Social Security # …..4852
Federal Filing Status Single
Allowances 1
Additional $0.00
Withholdings
CA Filing Status Single or married (with two or more incomes)
CA Allowances 1
Additional $0.00
Withholdings
IL Filing status Regular
IL Allowances 1
Additional $0.00
Withholdings
Tax Exemptions Currently no exemptions
Advance Earned No
Income Credit (EIC)
Deductions & Contributions
Edit
Deductions none
Garnishments none
Contributions none
Vacation & Sick Pay
Edit
You have not told us about vacation or sick pay yet
Employee Site Access Edit

Paycheck Records No Access

User ID
Additional ways do you pay Bob?
Overtime Pay
Double Overtime Pay
Holiday Pay
Bonus
Commissions? Add/edit types?
Compared to what it looks like for an employee in QuickBooks Online Payroll…
Add employee
Name
Pay Rate
Pay Method
Status
Heckman jane $17.00 / hour Check Active
Fisher Duncan $20.00 / hour Check active
Difference Between QBOP and IOP Creating Paycheck
Intuit Online payroll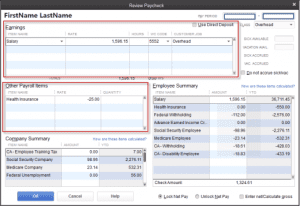 Creating single paycheck QuickBooks Online Payroll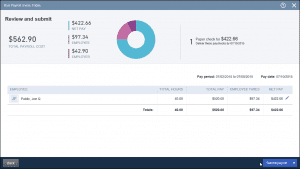 QuickBooks Online Payroll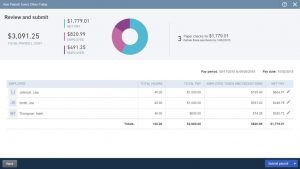 Conclusion
Intuit Online Payroll is a great platform for accountants and firms. Intuit Online payroll is different from QuickBooks' Online Payroll. I hope you must have learned about intuit Online Payroll through this article. for more information and queries you can contact to wizxpert team of QuickBooks proadvisor.