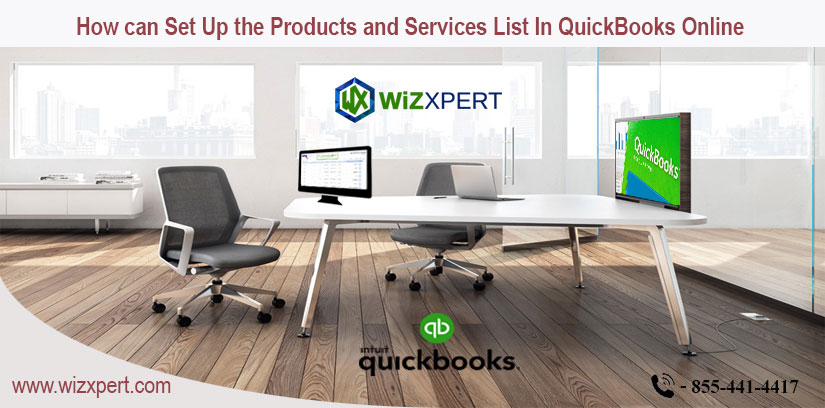 Last Updated on by Editorial Team
In Today's article, We will discuss How you can set up the Products and Service list in QuickBooks Online. We all know that Setting up of products and services helps you to create invoices that will automatically populate the Quantity, description, and price of the product or service fields on the invoice and It also help to keep track of your sales by product or service.
Importance of setting up your product and service list in Quickbooks online.
It becomes very important for you to set up product and service list in Quickbooks online if you are billing your customers for products and services sold. It is also very important if you need to monitor inventory cost and quantities.
You may also like: How to Run QuickBooks Online Faster
By setting up your services and product list in Quickbooks you will be allowed to do the following things.
You will be able to track your sales by services or by-products. By this feature, you will get complete knowledge about what product is in demand and what product is not selling at all.
The time required to create an invoice will decrease a lot as Quantity, Description, and price for product or service will be filled automatically in your invoice.
Now, let's move on to the steps you should follow to set up your product and service list.
Steps to set up the product and service list in QuickBooks Online.
First of all, Click on the Gear icon to the left of your company name. Now click on Products and Services is listed below the All Lists columns.
After that, From the Products and Service list, click on Blue Button in the upper right to create a new product or service item.
Then, Select the Item type like Inventory, Non-inventory, Service.
After that, click on an Inventory and in an Inventory you will get so many fill up boxes. Then you have to fill each box and then save.
Now, click on Non-inventory and in Non-inventory you will get so many fill up boxes like inventory. Then you have to fill each box and then save.
Click on the Service and you will get so many fill up boxes. You have to fill each box and then save.
After that, you can run a report and you can see the entire list from the products and services screen.
Delete a service or product from your list:
If an invoice is created of any service or product then you can not delete that product or service from Quickbooks. It cannot delete as invoice link to the financial statements. We can inactivate any item from our service or product list if we no longer require them. That means they will appear on the financial reports if used but no longer be visible in product and services list.
Related Article: How to Prepare QuickBooks Online Budget
Steps to inactivate an item.
First of all, go to your service and product list.
Tap the drop-down arrow near edit option.
Select "Make Inactive"
Now the item will no longer visible in services and product list.
How to Run Product and Service reports
Following some steps:
Click on

Report

, from the left menu.

Enter the report and type in Product and Service.

Select a specific report the customize it as needed.
Now you know how to turn the products and services preference on, create a products and services list, edit item details as needed, and run various product/services reports.
I hope you find this article useful. If you have any query related to this or any other topic, you can call QuickBooks Online Support Number +1-855-441-4417.
Watch this video to learn more about How can Set Up the Products and Services List In QuickBooks Online.

More Articles to read: