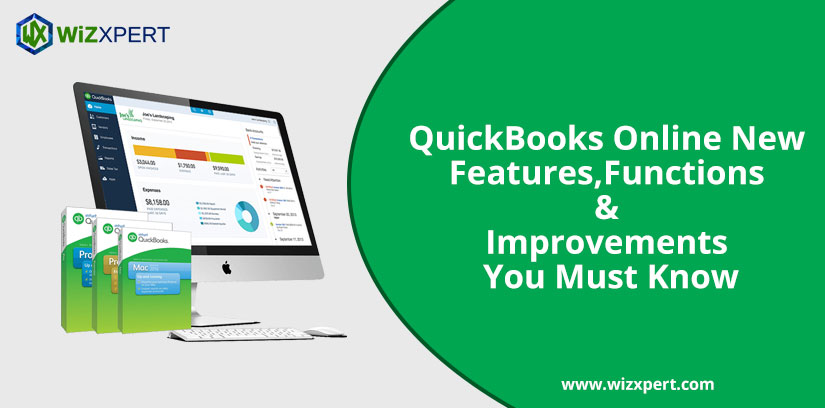 QuickBooks is a small business accounting software that offers many features and functions to manage sales and expenses and also keep track of daily transactions. You can also use it to invoice statements, customers pay bills, generate reports for planning, tax filing, and more. So use QuickBooks Online New Features and boost up your business.
It has been designed for small businesses, startups, freelancers, bookkeepers, and independent accounting firms. QuickBooks Online offers a wide variety of features and functionality you can use and cut down the time you spend on complex accounting tasks and focus more on the attention-demanding responsibilities of your business.
QuickBooks can perform real-time finance monitoring and generate reports based on your data. Hence, it makes it easier to get insights into your sales performance, expenditures, and other crucial financial data. To make the platform better QuickBooks online was built for compatibility with both desktop and mobile devices, allowing you to access your data and manage your finances even you are not at your office.
Read also: QuickBooks Online Review Pricing, Features And System Requirement
QuickBooks Online 2021 delivers both fresh and enhanced features to help you pay faster while creating data that makes your employees more effective for their role in your company. Here's what is involved in the QuickBooks Online 2021 release and using QuickBooks Online will benefit your business.
Features of QuickBooks Online 2021
QuickBooks Online is a 1-year subscription This product is intended for customers who are new to QuickBooks Online and do not currently have a QuickBooks Online account
Easy to set up, learn & use – no software to install and personalized for your business
QuickBooks Plus includes all QuickBooks Essential features and provides Bill Management& Payment, Smart reporting powered by Fathom, Accelerated invoicing, Custom user permissions, Includes up to 5 users
Manage your business on the go – Access your data anytime, anywhere – on your PC, Mac or mobile devices
Make a great impression – Create and send professional invoices straight from QuickBooks
Need expert support? Our agents are ready & available to answer all of your questions at no additional cost
Save time and reduce data entry errors – QuickBooks Online automatically pulls in data from your bank and credit card
Get instant insights into the health of your business – Track income, expenses, and profit information all in one place
Expand your QuickBooks Online functionality – Easily sync with popular apps like TSheets, Method CRM, Fundbox and 350+ more
Automatic data back up & product updates
Various features and functions that QuickBooks online offers are:
Invoices and sales forms
Processing the transaction
Payments and online banking.
Items and lists.
Financial reports.
Employees
Stay organized.
Invoices sales forms
A customized invoice, even semi-stylized ones, is an opportunity to enhance the understanding of your business. You can edit the layout, design, and data fields that appear on your invoices through the Custom Form Styles module.
QuickBooks offers you allow to create and change the look and feel of your sales forms in QuickBooks that reflect your brands. You can also create a custom template for some specific transactions or customize a standard template for all transaction types with some effort. A custom template has advanced customization features available for invoices, estimates, and sales receipts only.
Processing transactions
Quickbooks offers a different type of transaction such as customer transaction, bill payment or a bank transfer. You can create, setup and record your transaction in QuickBooks.
The users must know how many customers owe them, develop clear policies, and plan accordingly especially for sustaining your business.
The accounting software also offers some tools and simple review techniques that you can incorporate into you that will help you professionally manage open and overdue payments.
Payments and online banking
The Banking page in QuickBooks is where you can connect your accounts and download your transactions, which are also known as the "bank feed". Setting up a bank feed in QuickBooks will help save your time as it can reduce and sometimes eliminate data entry.
By online banking or connecting your bank accounts to QuickBooks Online, you can automatically import transactions recorded by your bank to save a lot of time. Using online banking feature you can improve your efforts and make ensures that all your income and expenses will get into QuickBooks so you have financial reports and hence a perspective of your business performance.
Items and lists
In QuickBooks item is anything that a company purchase, sell or resell in business, such as products, shipping, handling charges, discounts and sales tax (if applicable). It shows up as a line on an invoice or in the form of other sales forms.
Lists are very important in QuickBooks so users must know how to create, setup, and use the list in QB. The list is used to recording the items so you can calculate depreciation further. If you do not make any list, then you need to collect the information when you calculate loss or gain from the sale.
Financial reports
In QuickBooks, you can generate a financial statement from your business records with no manual calculations. You can adjust financial report columns and its contents to show only the specific information you require. You can customize all your financial reports in this way. You can also create statements for every individual customer listing their transactions.
Employees
In QuickBooks, you can manage your company's employee list and payroll information easily. You can keep a record of everything using the employee center. It's very simple to add new employees to your database and help keep track of multiple employees with the same name. Other detailed information about the employee such as name, address, will show on employees' paychecks and W-2 forms.
Stay organized
It is important that the finances of your business must be organized and Quickbooks help you to do that. If the record of your transactions is not maintained then business owners can face problems while filing for taxes. Quickbooks help you to stay organized by recording transactions with proper categorization, creating effective reports and budgets and prepare year-end transactions to avoid tax issues.
QuickBooks Online New Features, Functions & Improvements
IN NUTSHELL: This feature is one of the most demanding features among accounting pros. In the latest version of Quickbooks online, you can handle multiple clients' files at once. There is no sifting for different browsers signing in and out of multiple accounts. In a single place, you just log in once to access all your Quickbooks online clients.
How does it work?
Here are some steps to show how it works:
Step 1: First, tap the drop-down (on the top right corner) and select the clients you want to work for.
Step 2: Here, a new tab will open for your client, and now you're ready to work.
With your convenience, open as many tabs and windows as you immediately jump between clients and tasks.
To keep your workflow fully organized, you will easily shuffle your clients from one tab to another.
You can drag or drop window even across the screen.
Besides multi-client support, all time-shaving functions saved with this updated app which you already love like:
Sign in
Keyboard shortcuts and
Auto-updates.
That's all for now. We'll be there with the latest features and functions when added on the QuickBooks online app. Hopefully, this post proves to be informative to you. Before taking any action, we must discuss with Quickbooks ProAdvisor or an expert because maybe this will save you time but one mistake can damage all your information. So, don't take the risk.
QuickBooks Online Improvements
Payments & Online Banking
Invoicing & Financial Reports
Summary
QuickBooks Online offers a wide variety of features and functionality you can use and cut down the time you spend on complex accounting tasks and focus more on the attention-demanding responsibilities of your business.