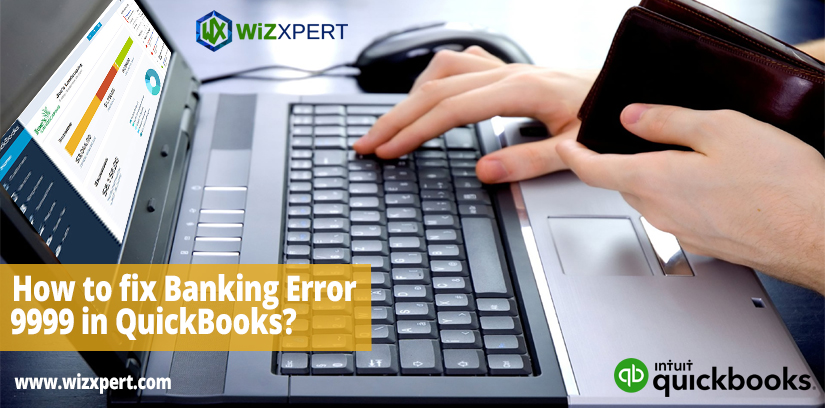 The online version of QuickBooks allows users to manage their business accounts in a more easy and efficient manner. But, in some cases, Banking Error 9999 may be encountered by users while searching online. In such cases, your system hung or may stop working or respond slower. When QuickBooks users try to update their Bank Information, sometimes they get following error messages :
"Sorry, we can't update your account. Please try updating again later (9999)"
This is Banking Error 9999 in QuickBooks. The moment you encounter error 9999, you will be allowed to report about the error by yourself or you can take advice from our ProAdvisors.
Related Article: QuickBooks Online Banking Error 106, 168 or 324
To report regarding the Banking Error 9999, you have the following options:
On the displayed Banking Transaction Screen, you need to click on Report Issue mentioned in the error message.

You need to enter your registered name and registered email address and then click the Submit button.

You should get the response within 10 business days.
If you would like to heal the Banking Error 9999 it by yourself, we recommend to run the following process :
First of all, click on updates – you need to run this three times and monitor the results. Sometimes it is effective and clears the issue but the issue may still exist in some cases, then follow the further process.

Clear your system cache – To clear your system Cache will work. In some cases when you have an error related to Bank Feed or other broken feed. Do this and monitor the result.
Disconnect and reconnect the Feed – Most of the time, it does fix the error. You need to make sure that the "For Review" list is completely clear. There should be no transaction listed in the list as when you disconnect the feed. To do that, you need to go under the Bank & Credit Card Checking option which is connected mistakenly and then click on "Edit Account Info", then check the option of "Disconnect this Account and Save", then click on "Save and Close" button.

Note: You need to check all the feeds related to that account and make sure you download them first before you disconnect the account otherwise you will never get them. To reconnect the account, you need to go to the home screen then click on "Connect the Account", then login to your bank site with information.
Sometimes, it requires logging into your Bank's site directly in different tab or windows. It will heal the problem sometimes. In some cases, the security setting was updated by the bank or in some cases you are required to update your personal account security settings or require just a reconnecting with your bank.
We hope that you will be able to resolve these errors after reading this blog but still if you are facing any such errors or any other problem regarding Quickbooks then please contact our QuickBooks Helpline Number. : +1-855-441-4417.