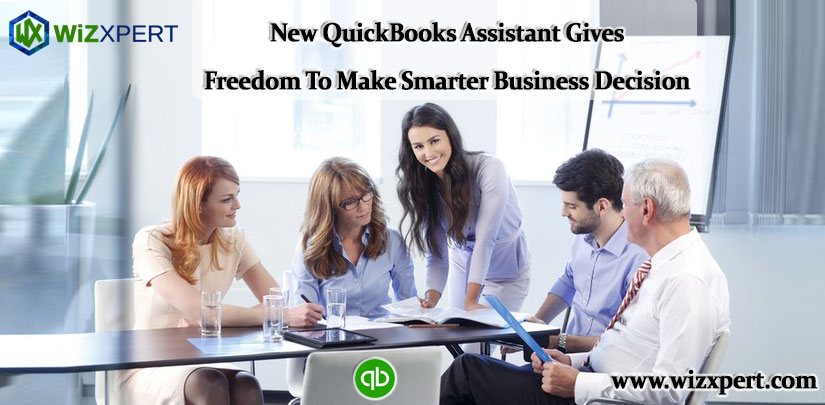 This latest innovative design combined with Intuit to make a better understanding and navigate their own finances.
QuickBooks Assistant make the use of resources, easy to access, fast decision, and reliable. It also provides instant chat experience, group discussion. It has more interesting features that help you in quickly and easily maintain the Finance.
Those who are in finance has different activities that always flow in their mind. Due to this, sometimes they make the wrong decision which is not beneficial for their company.
To resolve this kind of problem, you can use QuickBooks Assistant feature. Here, anyone can simply tap and ask the query as well as analyze the reports easily and quickly.
The assistant provides a virtual environment, where a client freely asks a question and find the relevant answers. The assistant has all the authorized permission and can access all data on behalf of these data. It takes an effective decision and provides the smartest answers.
Intuit always try to make innovations that helpful for the customers. These innovations are mainly focused on the client's problems and provide better options to solve. The example of Intuit is QuickBooks assistant. The latest assistant is more intelligent and has more features like data-driven insights and natural language processing, that facilitate the business operations by making effective answers.
This all operation is done over your finger i.e. your smartphone. The service recognizes your request and provides a relevant and numerous financial data points by synchronizing tax obligations to expense tracking, cash flow etc.
Advantages of QuickBooks Assistant:
Smart use of resources:
Using QuickBooks Assistant, a client get more options from the assistant. The assistant analyzes and identifies each and every data related to the request of the clients. And it provides a better option that makes a smart decision. This process is very fast where a client asks questions or queries related to finances and the assistant suggest all possible cases. The client simply chooses an effective and efficient option that makes more profit for the company.
Fast searching:
While using a desktop if we need a file we have to search it validate it and many more options as per security. This is time taking but, if we talk about QuickBooks Assistant we simply tap and ask for the file. The assistant provides all the related financial snapshot to the client.
Help to make better decisions:
With the help of QuickBooks Assistant, a client gain more confidence in making a better financial decision. Because of all possible cases and have more effective answers provided by Assistant.
A client can easily ask and get the answers whenever and where they need, assistant always ready to make answers and never let you down.
M-Office:
The mobile office is equal for both the new and older client who are work for themselves with limited office time that is less time to focus on their business. The mobile office provides the facility to make large in less by saving their time.
Navigations:
QuickBooks Assistant provides the guidance to the client who is unfamiliar with the features and activities like creation and adding of accounts." QuickBooks Assistant provides an easy and familiar environment where the user can simply get the answers about how to create and how to add accounts or invoice and more"
In iOS and Android QuickBooks is available in QuickBooks Self-Employed. The beta version is now available in QuickBooks Labs. all the QuickBooks Assistants mainly focus on the self-employed and small businesses to make smart decisions and Ease of use that makes everything smarter. By using Assistant the tax payment and more related factor are become easier and managing the business finance in such a way that it can easily achieve the goals.
How to use QuickBooks Assistant
First you have to Download and launch the Quickbooks Self-Employed app.
Click on "Help" by clicking the profile icon on your app or click on on the green (+) button on the home dashboard screen.
Ask a question or select a topic on which you need help.
How To Make Smart Business
Get All The Facts: Gather all of the facts and necessary information that impacts your business. This is important because you wouldn't to miss basic data that make difference how to run your business.
Focus On The Results: Think about what you need and consider the possible outcomes of your decision. A person wants to focus on the short-term and long-term goals regarding every aspect of their company. Searching for ways on improving how your company does business. It will be take a long way to accomplishing your business goals and mission statement.
Ask Around: It's important to consider different perspectives other than your own, get guidance from your friends and business peers. For example, good procedure is to talk with your important business partners and managers to get their opinion on how to manage your business. Requesting for advice can save you a lot of trouble down the road.
Learn to Relax: Don't try to do everything at the same time and when things get hectic stop what you're doing and take a 5-minute break. Take a deep breaths and try to do something that will make you feel relaxed. You will feel much improved and gain a new point of view on your current situation.
Learn From Your Mistakes: If you make an incorrect business then the next step is to learn from your mistakes and go from there. Such as, your company chooses a sales and advertising plan for a specific product, however, you don't get the normal result in the item of sales and customer satisfaction. At the point when this occurs, learn what went out wrong and use this knowledge the next time you market your different products.
Stay The Course: Managing your own business includes a series of continuous business decisions. Do not to put off essential choices, and don't stress over your past missteps — simply continue concentrating on what is best for your company. To decide the best result for your business, dependably tune in to your client needs. Making on the correct business choices does not need to be stressful.
QuickBooks Assistant
Ease of Use
Time Savings
Business Confidence
For Additional help, dial our QuickBooks support Number +1-855-441-4417 Toll-free.