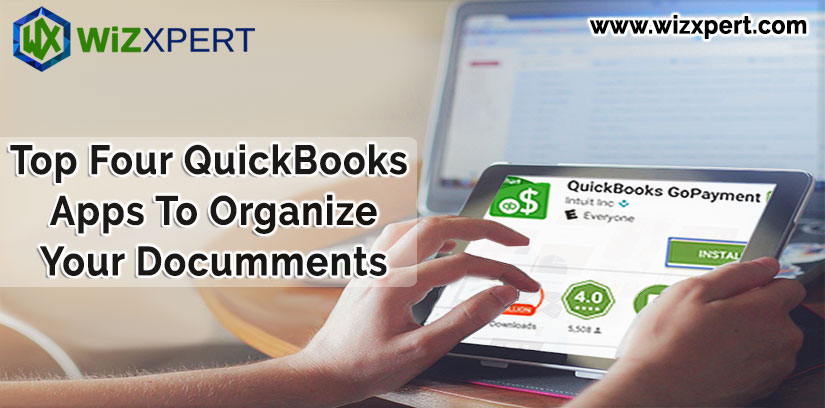 As we are in the 21st century, Therefore we have a lot of technology that we daily use directly or indirectly in our routine life. Technology needs data to run as well as to produce a correct result. Data have become more and more as per we use technology, as a result, it becomes very vast that we can't handle on our own. If we talk about CLOUDS there exist a large amount of data. And some time Clouds have also faced some trouble related to tracking of document and entry of data. This trouble is very impactful over business owners and to resolve it may try to make a lot of apps to handle data. 
The Quickbooks Provide some apps that neatly track and organize your important documents like Financial document, statements, invoice bills and automate receipts. Besides that, it helps you to focus on your business rather than focus on the organization of documents. Here we are discussing some best QuickBooks apps that will help you to organize your documents. 
QuickBooks Apps that help you to organize your documents
AutoEntry
QuickBooks Apps provides an automated technology where you need not do anything. They will do all your job like the entry of bills, sales invoices, receipts, bank statement and many more services.
QuickBooks automatically extract the data and fill the required field and save for the feature use. Besides that, it will definitely save your time as well as maintain your mental level.
Hubdoc
It provides a central Hub. Thus all document are saved and can access by some audit and proofing technique to validate the transaction. It can access through QuickBooks online which facilitate user to access it from anywhere.
The audit and proofing technique applied over a coded QuickBooks online transaction. Which include your bills, receipt, and invoice. From your saved document where it uses the date and synchronize all data and turn it into coded.
Neat
Here the organization of document takes place where Neat can be achieved by connecting with your QuickBooks account in just a few processes. When connection established you found an automated environment. Hence, services like automated receipt, accurate data recording, invoice capture, robust organization and categorization and unlimited data storage you will find.
LedgerDocs
With this, we have 1 click feature. Therefore we can create QuickBooks online transaction in just one click. Which include above-mentioned factors. Here we have a different path that helps us to access the data with one click without any failure.
How it works with QuickBooks:
Founded by a bookkeeping firm ledger Docs help users easily create QuickBooks Online transactions, such as invoices bills, and expenses, with the attached source document from the LedgerDocs document viewer, with our "1-Click, Create" feature. These filed documents can be seen with notes and tags from any exchange in question within QuickBooks online.
Now We hope that you'll understand the importance of these QuickBooks Apps. If you still have some queries to ask then feel free to contact us at our QuickBooks support number +1-855-441-4417 toll-free.