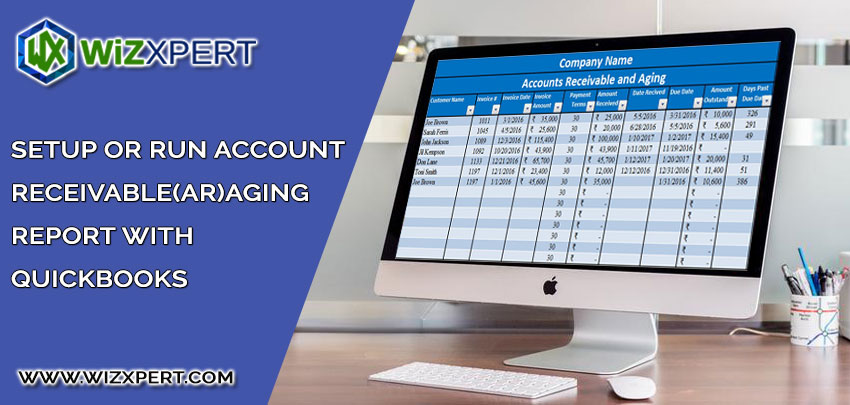 AR Aging Reports also knows as Accounts receivable aging report. It allows you to manage invoice very easily and efficiently. It also has a very useful report on that basis you can simply review all your due and overdue at regular intervals.
In business, everyone wants to be on top and we know that to make it possible an invoice is very important. An invoice is not only helping in understanding the existing or future cash flow position but also provide information/remainder at the time of payment for due and overdue invoices. For an accountant, it is not easy to remind all the due and overdue invoices. Hence, to make it easy to manage all the invoices, we have Account receivable(AR) Aging Report.
An AR report gives detail information about invoice such as unpaid invoice outstanding, including days of outstanding. In QB system you need to apply payment terms that ensure which invoice is unpaid and on the basis of outstanding days, it will send an alert message for due payment in invoices.
How to manage accounts receivable
Account receivable is created when a customer purchases your goods or services but does not pay for them at the time of purchase. Businesses with AR typically issue invoices at a later date. QuickBooks helps you manage account receivable by tracking invoices, payment, and identify your delinquent accounts. In just a few clicks you should send statement reminders to customers that are late paying you.
How to manage cash flow
It is crucial for  the small business to accurately track and manage both their accounts receivable and accounts manage their cash flow and stay financially healthy. Business can control their income – the postponement between the time they need to pay their providers and the time that they gather money from clients – to ensure that there is sufficient cash coming in to pay the bills today.
Run An AR Aging Reports in QuickBooks:
To run an AR we have some simple steps. Using this report you can access all outstanding invoice and you can filter invoice as per due date as well as due days. These steps are as follow-
Select Report option from QuickBooks menu. This will help you to access reports list.

Choose the customer and receivable form the report list.

From the list of report option select AR aging report.
Run An AR Aging Reports in QuickBooks online:
These steps are slightly different, but very useful. These steps are as follow:
Click on reports at QuickBooks home page menu.

Select A/R aging summary in a recommended tab.

Some term of A/R aging summary that helps in filtering reports-
Reporting period- choose a date.

Show non Zero or active only- show only active customers that have a due invoice.

Day per aging period- select a day you would like to access. Or you can use "#" to access each category.

Number of period- select period in between 1-4 (i.e. 1-30, 31-60, 61-90, 91-more). You can also use "#"
At last after detailing click on finish option and you can see all the related invoice of specific customer or categories on the display report.
Remember to do it…
Finally, we can see how A/R aging report is helpful for our business to keep our invoice at the top. It also helps in moving your cash flow with payment of invoice timely.
Here are some points that you should keep in mind-
In QuickBooks for all customer, always remember to create payment terms. This lead to provide timely and accurate payment reminders.

All credit sales should be recorded in QuickBooks.

For any outstanding invoice, create a follow-up plan if you are not already done.
At last, we know that without Account receivable(AR) Aging Report tool the track of outstanding invoice become very challenging. And with this tool, it is very easy to manage each and everything timely and accurately without taking any stress about how much days are left or when to pay.
If you need more discussion on this topic or any other topic or need QuickBooks Support, Dial our toll-free number +1-855-441-4417 and talk to an Intuit certified ProAdvisor.