Qbwin.Log: Lvl_ERROR–Error: Verify Online Account Information: Invalid Customer Id Number
Last Updated on: December 15th, 2018
Posted by:

QB

Category:

QuickBooks Error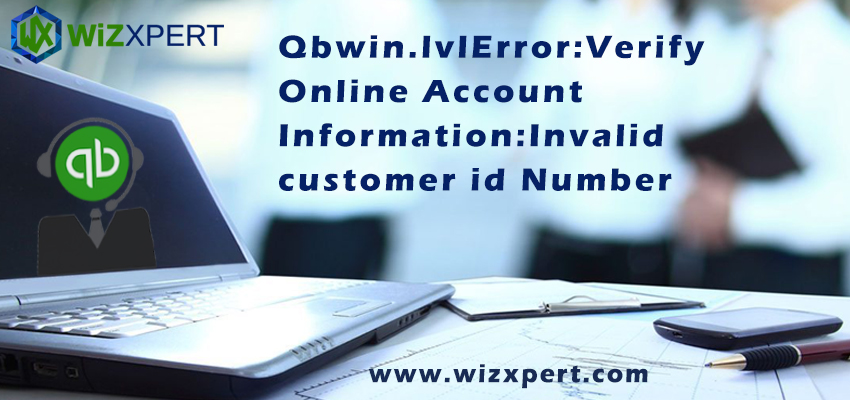 The Error message "Qbwin.Log: Lvl_ERROR–Error: Verify Online Account Information: Invalid Customer Id Number" displayed when you enter the Invalid Customer ID number while setting up your account with online services like Bank Feeds. The Log files of QuickBooks, Qbwin.log, is containing the error code mentioned with an error.
The experts of QuickBooks or people who have faced this problem recommend that if you have encountered with this issue, it is better to touch-base with a certified technical support person to troubleshoot the issue as Log file issue can be critical issues and it can be a breakdown to the productivity.
Although, for such a problem, the technical support person is required still we would advise trying following a possible solution for the issue.
Related article: Learn To Use QuickBooks Enterprise Features
There is two possible solution process are mentioned here.
Troubleshoot Solution-1
The very first step in order to fix the issue is to correct your customer ID. To perform any online service in Account Charts.
First to select the Company Option and then select the

Chart of Accounts.

Now check out your bank account which enabled for online services.

Press the right click button on the bank account and then click on the Edit Account option.

Now you need to go the setting tab for Bank Feed.

Under the setting tab, you need to make a correction in Customer ID. Then press and close the setting tab in order to come out from the screen.

Now you are required to run the similar data utility to make sure that the change(s) that you have made to the customer IDs. It should stop the process to be completed.
Related article: QuickBooks Set-Up Services: Why You Should Consider it?
Troubleshoot Solution-2
If you don't result in solution-1 then this process. In order to start the solution-2, the very first step is to verify your online bank information in your QuickBooks account. Then try to connect with your bank or any other financial institution with which your bank information is associated.
Go to the list menu, select the Chart of Accounts option.

When you encountered the error. Then you need to press the right-click on the account which associated with your online service of QuickBooks like Banking. Then go the Edit Account option.

Now you need to go to Bank Feed settings. And make your setup Customer ID information is matched with the Customer ID. Which is given in the documentation or manual of Online Account Access provided by your Bank or Financial Institution.

If this is unmatched then correct or rectifies this information, then press Save & Close option.
Related article: Fix Com Error Crashes – Step By Step Guide [QuickBooks Support]
Specific points to remember
If you have extra space, period, dash or any other special character in the Customer ID field. This can be the cause of this error. So if you notice this, remove it immediately.

According to the policy of your Bank or financial institution, Your Customer ID or PIN Fields may have alphanumeric characters. So make sure, you consider them while matching the ID with Customer ID field. Also, it can be case-sensitive too so please be careful while matching it.

As per the common practice of Banking or Financial institution. If you have exceeded the number of login attempts unsuccessfully. Then your account is locked (encountered with Error OL-334). If you are locked out, then you may need to contact your Bank. Or Financial institution and ask them to set your PIN.
Now, you need to go back to your Bank Feed center in your QuickBooks Account. And under Send Items to re-establish the connection.
We are assuming that you will get the positive result with following the processes. Now will be able to remove the error. In case, if you still have encountered with this error, or your QuickBooks is not working, then you need to immediately contact a Certified QuickBooks Technical expert in order to figure out the exact reason and troubleshoot the issue. You can contact our toll-free number to get instant QuickBooks help.