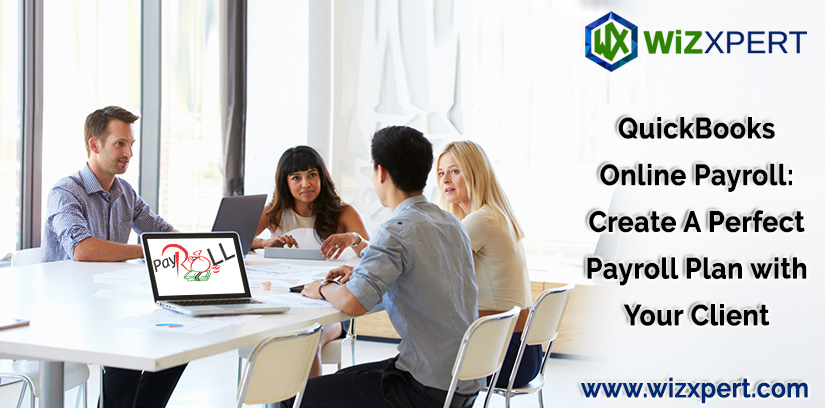 Did you really think that you can handle the Payroll for the company in a better way? I think not, because there is a question always arises that how can a company handle the payroll.
Let's deeply talk about it and interact with each part of the payroll related to the creation of the Payroll plan. As we know that it is very complicated and its job is to make the trustworthiness of the client and handle the payment system of the company in more effective and efficient. Here we have a solution for that:
Pros & Cons Of QuickBooks Online Payroll
Pros of QuickBooks Online Payroll
Clean, simple user interface
Accelerated setup
Smooth payroll process
Automatic payroll
Deep integration with QuickBooks Online
TSheets integration
New HR support from third-party providers
Cons of QuickBooks Online Payroll
Expensive
Slim employee portals
Online help files not focused enough
Extra charge for 1099s
Mobile apps don't replicate desktop experience
Handle the complication of the Payroll and the solution is QuickBooks Online Payroll.
In this modern era, we have many different types of clients that exist. These clients are can be different in size, shape, knowledgeable, confused, etc. We have to handle these clients and this is our responsibility to not only listen to the client but also know the problem deeply and should understand all the related issues that are arises before and after and also provide an effective solution.
Some client thinks that they know each law and their obligation related to payroll, but they even don't know that they have the wrong knowledge or they can be misguided or the client is not up-to-date with the new updates. Other clients like, those who are much vigilant to stay always up-to-date and manage the Payroll obligations. Some clients are unpredictable due to forgetting deadlines or miss required payments. Which causes penalty and other related issues like paying costly fees amended returns or interest.
Feel burden about payroll?? Don't worry here is a solution that can fit each type of client it's the matter that they want full service or they want to fully involve to manage the payroll taxes and don't want to pay penalty or other costly fees. These problems can be avoided with the help of QuickBooks Online Payroll. Here we are mainly focused on the comfort of the accountant who really doesn't want to involve payroll taxes and are not able to manage the compliance aspect due to a busy schedule.
The QuickBooks Online Payroll is a better choice for these accountants. It provides more flexibility to create or to control the Payroll system for me as well as the accountant. The most important feature of the QuickBooks Online Payroll is that it can monitor compliance and can access and use the data due to everything are in one place. Which is easy for the client as well as me to use it. So be happy with QuickBooks online services and keep using.
Now, come to the main point:
How to create? Here to save your time and for easily understanding follow these 5 steps:
Step 1:- Know about your client
To know that how much your client is vigilant about Payroll follow these factors that include some easy question:
Does the client is irresponsible about cash flow issues and always postpone to make the required Payment?
Is the client have a more busy schedule and he/she is forgetful?
Does your client have the necessary skill to do their own returns?
While examining these factors be obliged to understand the client because some client claims that they can handle the payroll but they don't even know how to make payment timely. So be practical and convince the client that they need help.
Step 2:- Decide the role in payroll
We know that once we identify the problem we can easily solve it similarly once you understand the client that which part a client can do easily and effective ways. On the basis of the determination, a QuickBooks Online Payroll provides flexibility in Payroll processing as it includes many features like you can log in to QuickBooks Online Accountant as per your need. And also you can use the Employee tab where you can use additional features like Set up reminder and monitor your client activities that they completed the required task before time or on time.
The Payroll Processing has four distinct roles:
Set up and maintenance of employee and Payroll
Here we maintain the required information and make entry and set up the employee for new hires.
Payroll execution
Pay required payment like takes, contributions and other obligations.
Filing of payroll tax returns.
Some possible way to decide the responsibility:
| | | |
| --- | --- | --- |
| Situation | Client | Practitioner |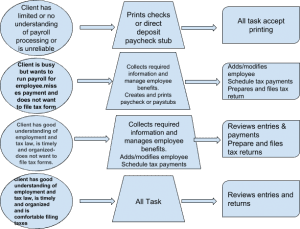 The QuickBooks Online Payroll services are very easy to use and due to web-based you can guide the client from anywhere and provide better guidance. It also includes additional features like it notify time to time about the filing by e-mail. If the client missed the mail the QuickBooks online Accountant becomes red which shows that some problem occurs. This help in reminding about forgotten to file and other missed payment etc.
Step 3:- Give the training to the client on the procedures about their portion of payroll plan
The main part of this is to make the client satisfied by practical. This causes better utilization and we should make sure that the client doesn't have any doubt about the use and handling of payroll. Here we should train the client as much he understood and be confident about handling payroll.
Behalf of that it provides some cool features like
Downloadable forms
The Payroll setup interface
The ability to have multiple Payroll schedules
Add-ons
The ability to track multiple work locations in different states.
Compliance reminders via E-mail
Hence, QuickBooks Online Payroll is the most interesting interface that interacts with the client and provides a better way to understand the clients and collaborate efficiently with the client.
Step 4:-Things to consider when choosing a salary versus hourly
Here are some things to pay employees hourly or with an annual salary:
A salaried employee is one that is paid a fixed rate set intervals for a job whereas hourly employees are paid by the hour for work performed. There are advantages and disadvantages to paying salary vs hourly. We'll examine the advantages of each kind of employee pay, for example, the simplicity of organization and accuracy so that you can choose what works best for your small business.
Step 5:-Industry and Role
Conventions on ay differ based on the industry and position. Such as hourly pay is appro[riate for a restaurant waiter or convenience store cashier, but likely not for the restaurant general manager. Similarly, the salary might be more appropriate for a marketing associate at a Pr firm or a writer at a publication. You can find out more about your industry by examining the conversing and talking to fellow business owners.
you may lose the ability to your competitors based on your choice of hourly versus salary. Say you have a small marketing agency but you want to pay hourly (which isn't normal for the industry).
Finally, don't wait just go for the QuickBooks Online Payroll.
Call our Toll-free QuickBooks payroll support number +1-855-441-4417 to get any help related to your QuickBooks payroll.
QuickBooks Online Payroll
Web-based Service(Easily accessible)
Automatic Reminders e-mails
Summary
The QuickBooks Online Payroll services are very easy to use and due to web-based you can guide the client from anywhere and provide better guidance