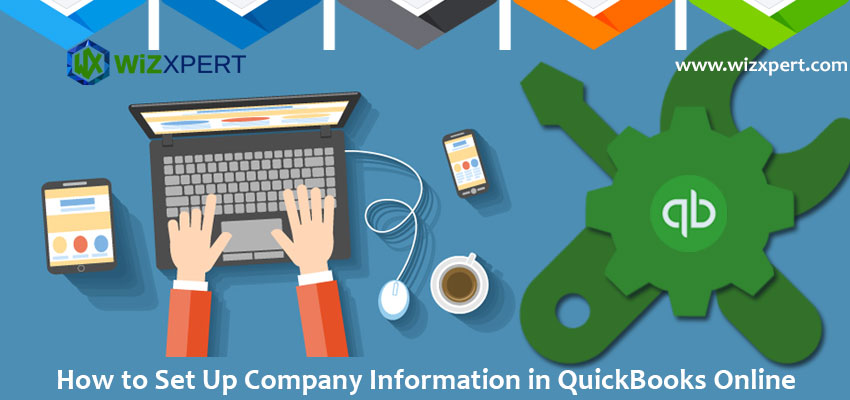 In today article we will learn how to set up company information in QuickBooks Online. It's quick and easy to change your company name, address, email or EIN.
To setup company information three basic steps are mandatory.
Entering basic company information.
Choosing your industry.
Setting up or importing a chart of accounts.
Related Article: QuickBooks Online- Understanding Items, Products and Services
Why do we need to improve company set up information?
it's a very important thing to update your company information because what you provide in the section it will be affected the content information that appears on the sales receipts, invoice, and estimates to send to your customers. if you don't complete company set up its like's to encounter issues.
For example, in the event that you send invoices to clients who you hope to mail you a check however you didn't set up your contact data in Company Settings, at that point your receipt will exclude your street number and your clients won't realize where to mail installments to. This will in all probability postpone installment and result in an income issue for you.
Steps To Set Up Company Information in QuickBooks Online
Step 1: Company Settings
While setting up QuickBooks, it asks for more information about your company. It's important to enter all information about the company should be corrected the first time, it cannot be changed.
First of all, Type your company name in the company field and then a long list of industry types appear.

After that, choose the best option for your organization from the drop down box.

After that, with the help of this field, you can also tell QuickBooks Online what your business sells. QuickBooks Online can track the sale of products, services and late buildup types of sales and then Select Services.

After that, choose the Company Type.

After that, you will get a question that asks, "Do you want to import from QuickBooks for Windows or Mac?"

The last step is to rule by QuickBooks Online approximately your preferred payment methods. Select all the methods that apply. Select Cash, Cheque, and Credit card/debit card.

Click Save and Next.

Select Save and Next to complete the setup and go to the Home window.

Click on the Company Name menu in the top right corner.
Click Company Settings.
After that, The Company Settings window displays for you. There are over 60 settings that can be modified in this window. If you first setup QuickBooks Online, it is not important to modify every setting. There are several important settings to modify and the rest can be edited as needed.
Read more: How to create budgets and how does budgeting work in QuickBooks
Step 2: Company Contact Information
The company right of entry opinion section at the severity of the window is important. This mention will be completed also the look that you entered subsequent to you first set up the company file. If your company entry recommendation changes, this is where you will update the opinion. Ensure that the Company Name reads Your Company Name, ex: Joe's Landscaping. The Company ablaze is entered in the Company Settings knocked out Contact Info.
Check the Company habitat to make steadfast it is accurate.
You may also like: Converting Payroll from QuickBooks Desktop to QuickBooks Online
The in the middle of-door unconventional in the company settings is Company email residence. Ensure that the rework email domicile is entered in this sports ground.
QuickBooks Online lets you track new attainable information taking into account your Company website and Company phone number.
Step 3: Accounting Information
Next step, register a business number.
first of all, enter your Business Number

Then, Click on the Advanced setting button in the left-hand menu of the Settings window.

After that, Click Edit under Accounting

After that, Abandon the First month of IT(income tax) year as the First month of the company fiscal year and then set up the fiscal year for your organization, you desire to be confident your accounting records are secure and no entries are made in previous periods.
Read more: Connecting Your Bank Account To QuickBooks Via Direct Feed
Step 4: Close the Books
We have an option in QuickBooks Online that is known as Close the Books it helps to guard transactions against previous periods being charged.
If you pick the Close the Books feature.
First of all, select the Close the Books option.

Now enter the Closing date in the Closing date field. In addition to setting a closing date. 

Enter the password, for example, 256652. Enter the password again in the next field Confirm Password. Now you know that you cannot make errors in previous periods.

After editing the basic preferences, and before closing the settings window, click on the Save button. In addition, ensures that the settings you have updated are saved and QuickBooks Online has been customized for your company. Now, You will reward to the Company Settings to update or shorten mention as needed.
Set up your company info in QuickBooks Online Payroll
Follow these steps, if you have not set up payroll
First, go to the Employees or Payroll menu, now look for the let's get your business ready for payday, and under this option, click on Let's go to Get set up for QuickBooks Online Payroll.
If you've already set up payroll
Click on the Gear icon, and later click on Account & settings.
Now, you need to insert the legal name for your business.
Make sure you have to use the name under which you registered your company with HMRC. You can find this legal name to the QuickBooks Online Company Settings.
Now, insert the address of your company.
Make sure you have to use the same address under which you registered your company with HMRC. You can find this legal name to the QuickBooks Online Company Settings.
No, save all your changes.
I hope you find this article useful. If you have any query related to this or another topic, you can call QuickBooks Online Support Phone Number+1-855-441-4417.
More Articles to Read: