When you are running a business and there are a number of employees are working for you then you need to issue W2 tax forms for those employees to whom you pay more than $600 per year. So, here we are with an article having the steps to print W2 forms according to IRS guidelines, the article consists of the process and steps of printing the W2 forms with images attached of real interface and other necessary guidelines. Read the complete article to learn all the details of QuickBooks W2 forms in QBO & QBD. If you encounter any trouble then contact our QuickBooks ProAdvisor toll-free: +1-818-295-3510
These W-2 forms are used for reporting the wages of the employees to the Federal Tax agencies or IRS(Internal Revenue Service). In this post, we'll teach you how to print QuickBooks W2 forms in QuickBooks Online and Desktop.
There are some guidelines from the IRS that need to be strictly followed while printing the W-2 from QuickBooks. So let's start without delaying any further.
How to Print W2 forms in OuickBooks Online
Inbuilt feature to print a W2 tax form is only available in the Enhanced Payroll version or in the Basic version which is subscribed before April 2013.
IRS W2 Forms Printing Requirements for QuickBooks Online
4-up Perforated/Blank printable W2 forms for employees.
You can only use non-reflective black ink to print W-2 forms as per IRS guidelines.
NOTE: Remember preprinted W2 forms are not compatible with QuickBooks Online.
Set up Preference for W-2 Tax Form in QuickBooks Online Payroll
Before proceeding you need to select the paper you'll be using to print W2 in company payroll preferences.
Go to 'Settings' and then 'Payroll Settings'.
In 'Preference' select the appropriate W2 printing option.
View and Print W2 from QuickBooks Online
Open QuickBooks Online, then go to 'Taxes' and after that select 'Payroll Tax'.
Select the 'Annual Forms' in the Forms section.
Next, you can select a specific employee or all employees by ticking the box next to the employees.
Now select W2 B, C and 2.(W2 copy A will be filed only electronically so you don't need to print them.)
Finally, select View and form will open in your computer's PDF Reader (commonly Adobe Reader).
Then, Go to 'File' and print W2s forms.
W2 Copy B is for the Federal/IRS tax return filing and W2 Copy 2 is for the state or local agencies. W2 Copy C is kept by the employee for records.

How to Print W2 in QuickBooks Desktop
Printing W2 forms in QuickBooks Desktop is not as simple as it was in the QBO. You need to carefully pay attention to every step if you want to learn how to print W2 in QuickBooks Desktop for employees perfectly. In addition to W-2 form QuickBooks also process W3 forms which act as a summary of the W2 tax form.
IRS W2 Forms Printing Requirement for QuickBooks Desktop
You need the preprinted W2 forms or 3-up Perforated/Blank printable forms for employees if you are using QuickBooks Standard Payroll or Enhanced Payroll.

If you are using the QuickBooks Payroll Basic service, then the form will not be available in your QuickBooks Desktop. But, you can manually create a payroll summary report to get the data you need for filing the form.

But if you are using QuickBooks Assisted Payroll then you need to print W2 on 4-up perforated forms.
The updated Payroll Tax Table.
NOTE: QuickBooks Desktop is not compatible with the W2 PDF forms that are available from the IRS website.
So without delaying any more let us start printing W2 from QuickBooks Desktop.
Step 1: Open W-2 and W-3 Forms in QuickBooks Desktop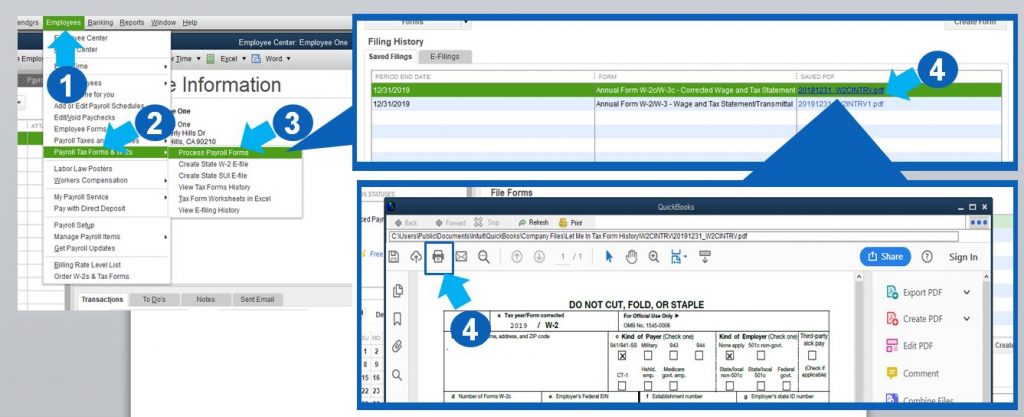 From the top Menu bar select 'Employees'.
Then in the drop-down menu select 'Payroll Tax forms & W2s'<'Process Payroll Forms'.
In the next window open the 'File Forms' tab. Then in the list find Annual Form W-2/W-3- Wage and Tax Statement/Transmittal and click on 'Create Form'.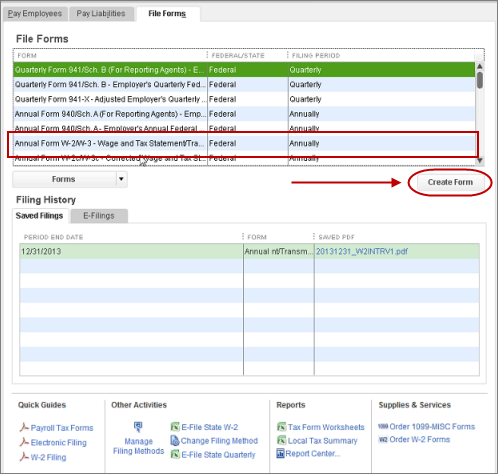 Sometimes you might not able to find the form on the list. The first reason could be that the form is present at the bottom of the list so you need to scroll down to the bottom. The second reason could be that the form is inactive. Click on the Forms drop-down menu and select 'Make a New Form Active'.
You can select employees in batch or all employees at once if want to print W2 forms for all.
Enter the year of printing form in the 'Select Filling Period' field. Remember QuickBooks Desktop can only store one version of W2 tax form at a time that means you once you receive a 2018 version of forms then you may not be able to print 2017 form in QuickBooks Desktop.
Next, you have to select the employee for whom you are printing a W2 form. You can select all the employees at once by tick marking the box. If you haven't reviewed the W2 forms of all employees than you can see an uncheck mark on the review box. Here you can review and edit the form and then click on 'Submit form'.
Step 2: Select Paper type to Print W-2 and W-3 Forms
In this window, you have to choose which type of paper you are using to print W2 forms and the option under 'For Employee' will depend on it. You can only print one item at a time but the window will remain open until you close it so you can print other items as well.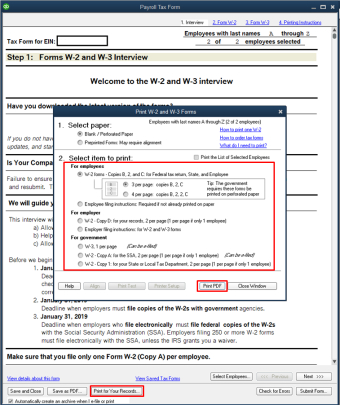 After reviewing and submitting the form a new window will pop-up 'Print W2 and W3 Forms'.
In the Select paper, choose anyone between Blank/Perforated Paper or Preprinted Form.
Now in the second section 'Select item to Print' we've three options.
For Employees
If you'll be using a Blank/Perforated Paper.

W2 Forms: Select one from 3 per page or 4 per page.
Select the Employee Filing instructions if not preprinted on the paper.

For Preprinted Forms

W-2 Copy B: This will be used for Federal tax return or IRS filing.
W-2 Copy 2: For filing in State and Local Tax department
W-2 Copy C: Employees can keep this copy for record.
Select the Employee filing instructions if not preprinted on the form.
For Employer
W-2 Copy D: For Employer's record (1 per page for 1 employee)
Employer filing instructions for W2 and W3 forms.
For Government
W-3: 1 per page
W-2 Copy A: For SSA(Social Security Administration)
W-2 Copy 1: For State and Local tax department, 2 per page.
NOTE: If you are filing forms W-2 and W-3 electronically with the Social Security Administration then you don't need to mail Copy A.
Step 3: Print W2 and W3 Forms from PDF Reader
If you are using a Preprinted Form then you may have to make some changes in the Form alignment. For this click on the 'Align' button after that, you can review your form by clicking on the 'Print Test'. You can also save these settings for the future.
But if you are using the Blank/Perforated Paper then you don't need to do that.
NOTE: The Government prefers W2 forms to be printed on perforated paper.
After finalizing the printing settings click on the 'Print PDF' option. This will export your form to the PDF reader.
To print, open form in PDF reader then click on the 'File' and then 'Print'.
Things to do before and after printing W-2
Automatically archive QuickBooks W-2 forms after e-filing or printing in QuickBooks Desktop
In the Payroll Tax Form window, make sure to checkmark the box in front of Automatically create an archive when I e-file or print. You can find this option at the bottom left corner of the Payroll tax form window.
By doing this, the form will be automatically saved in the PDF form at the default location whenever you e-file or print the form.
In the Payroll Tax Form window, click on the Save as Pdf option at the bottom left corner of the screen. Then, select a location where you want to save the form as draft and click on save.
How can I access my archived forms even if I no longer have an active payroll subscription?
If you don't have an active Payroll subscription plan then don't worry you can still access your archived W-2 forms. You can browse through the folder in your system that contains the archived forms without even opening the QuickBooks Desktop.
Go to the Local Disk C\Users\Public\Documents\Intuit\QuickBooks\Sample Company File\QuickBooks 20XX\(Company Name) Tax Form History. After that select the folder of the archived form that you need. The name of the folder will consist of 941, W-2 in their name.
How to Reprint W2 in QuickBooks Desktop
In QuickBooks, you can also reprint a lost W2 form. If any employee has lost their W2 form by mistake then you can reprint the form within the W2 tax terms and Internal Revenue Service guidelines.
Follow the below steps to reprint a QuickBooks W2 form.
From the top menu bar select the employees and then click on the 'Payroll Centre'.
Select the 'Annual Form'.
From the drop-down menu select the employee for whom you want to reprint W2 form and then click on the 'W2 Copy B, C, 2'.
Enter the desired year and select 'View Reprint'. Internal Revenue Service requires the words 'Reissued statement' if the form is reprinting.
By clicking view report the W2 form will open in a new window in PDF format and after that click on 'continue'.
You can either use a Blank/Perforated paper or simple plain paper to reprint W2 form.
To print, go to the File menu and then click on the 'Print' option.
How to Print W-2s Form in QuickBooks Desktop Payroll Assisted
Find out the procedure to print W-2s form in QuickBooks Desktop payroll Assisted with the self-print option.
First of all, login to your payroll tax center. You can follow the below sub-steps to access to the payroll tax center.

Go to the 'Employees' tab, and select the 'Payroll Center' option from the list.
Click the 'File Forms' tab, and then the 'View/Print Forms & W-2s' option.
Now enter the PIN, and access to the tax payroll center.

After accessing to the payroll tax center, go to the 'W-2' tab.
Choose the employees, and then the 'Open/save Selected' option.
Now, you may prompted to select the reason of W-2s printing. You will get the below 3 options to choose the reason:

I'm printing original employee W-2s – If you need to give the form to the employee for the first-time.
I'm printing replacement employee W-2s– If the W-2 form lost or damaged.
I'm printing W-2s for my records– If the copy for the company files.
A printing paper will appear, according to your selection, and adjust paper into your printer.
QuickBooks Desktop payroll Assisted need 4 horizontal W-2s per page, so arrange the page properly.
Now, a file of adobe reader will open , includingthe W-2 selections.
Select the 'File' menu, and then the 'Print' option to print the W-2s.
The Bottom Line
We hope that now you've learned how to print QuickBooks W2 forms in QuickBooks Online and Desktop. Preparing, e-filing or printing W2 forms or any other federal tax-related forms like 1099 forms or W4 forms could be a very difficult task to accomplish. Therefore, Our QuickBooks ProAdvisor can provide any assistance you need related to QuickBooks or accounting services. This is our 24/7 QuickBooks customer support number +1-818-295-3510. You can call us any time according to your convenience for more information.