QuickBooks uses Microsoft Outlook services to send your forms, invoices, and transactions through Emails.
Microsoft Outlook integration with QuickBooks provides the most convenient way to send to your emails directly from QuickBooks.
But sometimes errors like "QuickBooks is unable to send your emails to Outlook due to network connection failure" or "QuickBooks Outlook is not responding" or "QuickBooks com error when emailing invoice" or "Can't email from QuickBooks Pro 2015 using Outlook through Office 365 2013" affect the seamless performance of the software.
Therefore, we come up with this article in which you can learn how to resolve this error message shows on your computer screen.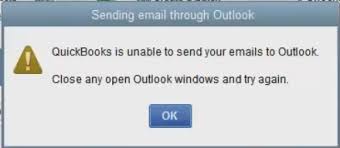 How to Fix Error QuickBooks won't send Emails?
Main causes QuickBooks is unable to send your emails to Outlook
Before diagnosing the error first, we have to find out why QuickBooks can't send emails using Outlook & why does it freeze. The issue could be the QuickBooks Outlook integration or with the email settings.
Let's have a closer look on the reasons why these errors are happening.
The Microsoft Outlook is not correctly integrated with QuickBooks.
You are using an outdated version of Mircosoft Outlook.
Email preferences in QuickBooks are not set up perfectly.
Microsoft Outlook is already running in Background when you email from QuickBooks using Outlook.
QuickBooks is running as an Administrator.
Damaged or corrupted MAPI32.dll component file. Due to this error message "QuickBooks is unable to send your Emails to Outlook" appears on the screen.
The outlook is not responding to QuickBooks.
MS Outlook or Microsoft Office Suite is damaged.
Methods to fix error "QuickBooks unable to send Emails" or "Outlook freezes when sending email"
Try these solutions one by one if you can't send emails from QuickBooks using Outlook.
Solution 1: Change QuickBooks Administrative Settings
Close QuickBooks and other running programs on your computer.
Open the Windows Start menu.
In search bar type 'QuickBooks'.
Right-click on the QuickBooks option and then go to the File location.
In the folder, locate QuickBooks.exe file and right-click on it to open the 'Properties' window.
In the next window, open the 'Compatibility' tab and disable 'Run this program as Administrator' option.
If the option is not available then select 'Show Properties for AII user'.
Finally, Apply the changes.
Try to send a test email from QuickBooks using Outlook. If the error still appears proceed to the next solution.
Solution 2: Change Email Preferences in QuickBooks
Open QuickBooks, go to 'Edit' and then 'Preferences'. If you use QuickBooks Outlook integration then sign in with your Outlook account and proceed to the next step.
Now open the 'Send Forms' option and click on 'My Preferences'.
In the Email option, choose Microsoft Outlook.
If you still can't email from QuickBooks, then try to disable and enable QuickBooks Email services.
Again go to Edit<Preferences<Send Forms<My Preferences.
Click on QuickBooks Email or Webmail to turn it off.
Again open 'My Preferences' and click on Outlook.
Restart QuickBooks.
If you still can't email from QuickBooks then you can try the next solution.
Solution 3: Set up Internet Explorer Email Preferences
Close both QuickBooks and Microsoft Outlook.
Open Internet Explorer(IE) web browser.
In tools, open Settings and then click on Internet Option.
In the Program tab, click on the 'Set Programs' option.
In Set your default program, Select Outlook as your default email service.
Apply changes and close Internet Explorer.
Open Quickbooks and try to send a test email to Outlook to see if the error is fixed or not.
Solution 4: Repair damaged MAPI32.dll Microsoft Component File
This file act as a communication bridge between Outlook and QuickBooks. If this file is damaged then QuickBooks unable to send emails due to network connection failure. You might need some technical knowledge if you are going to repair MAPI32.dll by yourself or you could have the assistance of some IT professional.
Before performing this method, let's check first whether Outlook is working with other software rather than QuickBooks or not. To do this
Open Microsoft Word
Create a new document and send it via Outlook.
Go to File-menu<Send<Email as a PDF attachment.
If MS Word is able to send emails using Outlook but QuickBooks can't then follow the below steps.
Close all the running program and click on the Window start button
Open File Explorer and in the search bar at the top, type C:\Windows\System32.
In the next window, locate and run Fixmapi.exe
Follow the on-screen instructions to finish the repair and restart your computer.
Again try to send a test email if still, QuickBooks is unable to send your emails to Outlook then continue with the next solution.
Solution 5: Reinstall QuickBooks by using Clean Install
After performing all the above solutions if you can't send emails from QuickBook then surely the problem is with the QuickBooks software. You can try to reinstall QuickBooks using a clean install tool to fix any technical glitches.
Close QuickBooks and other programs.
Open Task Manager and end all the QuickBooks related process.
Uninstall QuickBooks and reinstall it with a Clean install tool.
Reboot your system and Update QuickBooks to the latest release.
Now try to send your emails to Outlook.
Frequently Asked Questions
Why QuickBooks won't email invoices anymore?
Sometimes when you try to send an invoice by email, you could face an error message "We were unable to connect to the email server for your email provider". This is because your system firewall or antivirus is blocking Quickbooks. To fix this error
Open Tech help window.
From the list find QBW.INI file and open it.
Now, in the notepad exchange [install_new] with [QBWEBMAIL] CUSTOM_CERT_ENABLE=1.
Now open File and then click on Save.
Can QuickBooks automatically send invoices?
If the error QuickBooks is unable to send your emails to outlook is still bothering you even after trying all the above methods then we recommend you to take assistance from a professional. You can also find support from our team of QuickBooks ProAdvisor. Our team consists of trained and Intuit's certified professionals who can resolve any error or issue instantly. Connect with us via our 24*7 toll-free customer support number +1-855-441-4417 to know more about our services.