PayPal Integration with QuickBooks Online
Last Updated on: February 8th, 2018
Posted by:

admin

Category:

QuickBooks Online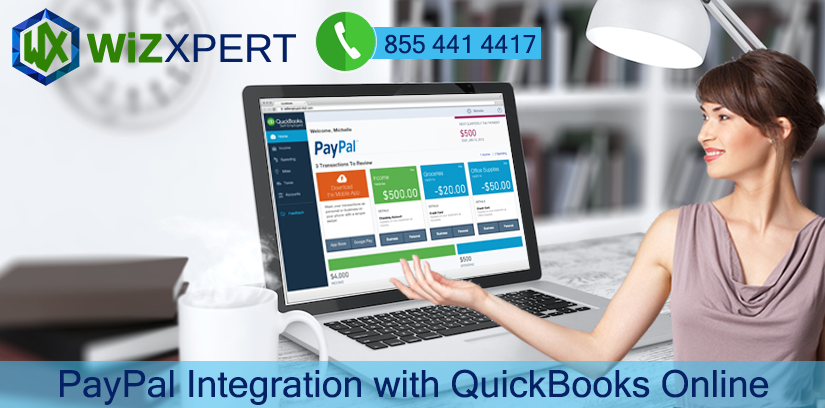 In this article i am discussing about Paypal Integration with QuickBooks. PayPal is a payment Getway  and many people is using in the world. It is  safe and secure way to send money, make an online payment, receive money or discover a merchant account also. With over 100 million plus active registered accounts, PayPal helps each person and businesses receive and make payments in more than 200 plus currencies in 200 overs markets. 
QuickBooks is a set of software who maintain the accounting and offer many other online solution also. QuickBooks Online is the web version of the popular accounting packages .It is use for any integration to connect QB Online to hundreds of other apps. To get more information about PayPal Integration with QuickBooks Contact our QuickBooks Online Support team.
Related Article: QuickBooks Integration With Salesforce
Many Benefits of PayPal like pay with flexibility and it's quick and easy.
How do I Sync and PayPal Integration with QuickBooks Online?
First of all visit the Apps tab in QB Online and Follow below steps:
First of all you have to Sign in to your QuickBooks Online account.
After that click on the Apps tab
Find PayPal App for the search.
Select App
After that click on Get App Now button
Select  the QuickBooks Online company.
After that Allow/Authorize the app to connect to QuickBooks Online
After doing above step and Once setup done, QB Sync with PayPal every 15 minute and update new transaction from PayPal to QuickBooks Online. One more advantage, You will get daily summery  detail of integration.
Note:Not connect multiple PayPal account to your QuickBooks Online If connect, you will not able to get detail of sales transaction.

Import PayPal Transactions to 

QuickBooks

 Online
If you use PayPal account to gather payments for services or product it has three general ways that you'll do this:
With PayPal that you simply would import into your accounting product. This 

may be

 associated IFF file or a CSV file.
Using a PayPal Bank Feed machine, that you may use to reconcile the PayPal account along with your 

QuickBooks

 on-line company file.
Using a program that uses the comparatively new PayPal API to drag information into 

QuickBooks

 on-line.
Related Blog: Point of Sale Integration with QuickBooks
Process to importing your PayPal Debit Card Transactions within QuickBooks Online
Firstly, Sign to your 

QuickBooks

 Online account
Apps tab

Place the sync with PayPal app card

Click on setting of the Sync with 

Paypal

 app card. A tab 

will be opened

Now, In App setting section click on Edit option.
Ensure that the check box 

is marked

 for 

Include my PayPal Debit Card transactions when importing

.
Above steps will help  you to sync and automatically import PayPal Debit Card transactions into QB.

Improve your cash flow with QuickBooks and PayPal Integration.
Fisrt of all Get paid faster: – Send associate invoice from your accounting software and seamlessly settle for PayPal payments
Secondly Manage your payments: – Manage your invoices and settle for payments on the associated with the 

QuickBooks

 mobile application.
Third one is easily manage clients: – faucet into over 200M plus active customer accounts exploitation PayPal to pay on-line.
After that books are auto-updated: – QB auto-updates invoices and reconciles charges and deposits, help to keep your books balanced.
Second last one is PayPal Payments straight to the bank: – PayPal used to less few trips to the bank. QB auto-deposits your PayPal, Master card and bank transfer payments.
In the last PCI compliant: – At Intuit, we're here to guard your business and your customers.
If you have any problem in your QuickBooks PayPal Integration with QuickBooks Online , just contact our QuickBooks Online Customer Helpline Number +1-855-441-4417.. We give best technical help to manage QuickBooks PayPal Integration. We'll Sort out all your confusion or doubt of this software.