Petty cash is one of the smartest features of QuickBooks in which you can easily pay for your business small expenses. In this article, we will discuss how we can set up and use petty cash in QuickBooks. In this article, you may learn easy steps to set up petty cash in QB along with the definition and put cash in and take out. Go through the complete article to know more about this interesting topic and learn it with ease. Having an issue, contact our QuickBooks ProAdvisor toll-free: +1-844-405-0904
Before proceeding further, let's have a brief introduction on Petty Cash.
What is Petty cash?
It is a small amount of money that is available for purchasing small expenses for your business without writing a cheque. The amount of petty cash will differ by company and may be in the range of $30 – $300.
A petty cash can be used for office supplies, gifts, and cards for customers, flowers, paying for lunch for employees, or reimbursing employees for expenses.
Set up and Use Petty Cash in QuickBooks
Set up Petty Cash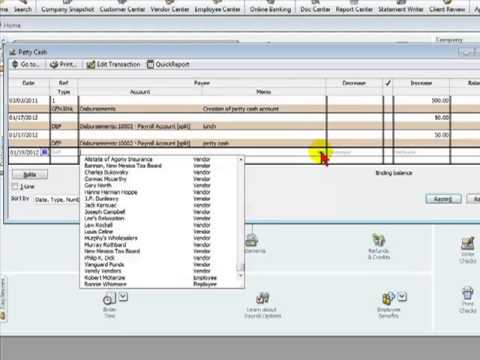 Here, we will learn several steps to set up petty cash to transfer funds from your bank account.
First, go to Settings and select Chart of Accounts.
Click on New button.
Now, from the Account Type drop-down, choose Bank.
And, from the Detail Type drop-down menu, choose Cash on hand.
Register Petty Cash for the account name
The initial balance will be created when you transfer money from the cheque-in account by signing a check or transferring funds. In case, if you have already money to use for petty cash, then only enter the amount in the Balance field and choose the as of date.
After, select Save and Close.
Hope, now you successfully created your account.
Use Petty Cash
Now, you successfully created your account, but surely question will arise in your mind about how to use Petty cash in QuickBooks? Don,t worry here we will discuss step-by-step procedures to use Petty Cash in QuickBooks.
Put Cash In:
First, withdraw some cash from your cheque-in account and put it in a locked petty cash box.
Keep a record of the transactions in QuickBooks Online:

If you wrote a cheque for cash: select to create ⊕ and then check. After, select petty cash as the payee. And Select ➕ add new if petty cash is not there in your payees' list.
If you withdraw cash without writing check:

Select create ⦽ and then transfer.
Take Cash Out:
 Whenever you give cash to the employee or use petty cash by yourself, make a record with a paper of slip that contains to whom, which, where and what the money used for. This is similar to a receipt that helps you to track the cash that you had.
Every time, the amount on a receipt and the cash you have left should add up to the amount you deposit in the box.
Frequently Asked Question
What type of account Petty cash is?
Petty cash is a current asset and should be listed on the company's balance sheet as a debit. To initially deposit money into a cash account, the accountant must write a check for "Petty Cash" so that the desired cash amount is kept in hand and then cash the check at the company's bank
Why do businesses use Petty cash?
A certain amount of money is used as a start-up and is kept on hand for these small purchases. Every time money is withdrawn from the Petty Cash Fund, a slip must be filled to keep it in the box or drawer. The slip helps you to know, who took the money, how much and what was the intended purpose for the cash.
How we differentiate Cash and Petty cash?
Petty Cash is the fund for purchasing small expenses for your business while cash is the sum of all available cash for your business.
Why is it called the Petty Cash?
Petty cash is derived from the "Petty" word which means "Minor". As the same 'Petty Cash' was a small amount of cash which was set aside for small purchases, much less for the manufacture and encashment of cheques.
Why Petty Cash is Important?
The main purpose of Petty Cash is to assure that funds are being used properly. It is also an important internal restriction for fraud obstruction.
---
Hope, after the brief discussion on "How to set up and use petty cash in QuickBooks", you are able to do it by yourself. If you still have any queries and problems regarding the same or any QuickBooks issue please feel free to contact our certified ProAdvisor and directly reach us by dialing +1-844-405-0904.