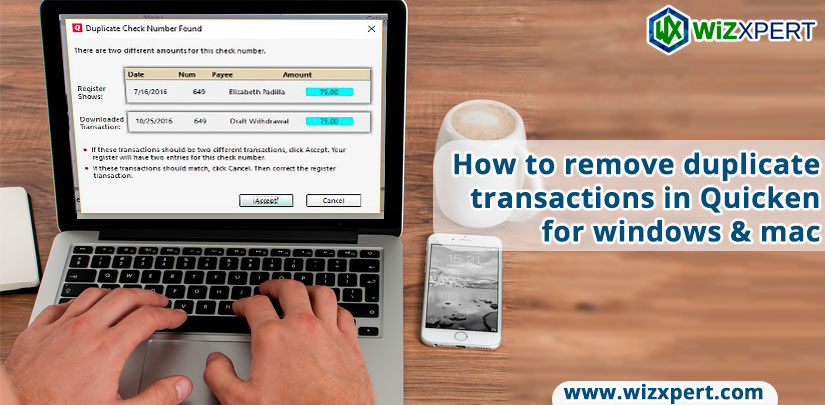 Having trouble with duplicate transactions in Quicken? Don't worry, here we will discuss all the possible methods to remove the duplicate transactions. Nowadays many users are facing the issue regarding Quicken duplicate transactions. In any transaction, if you know about full details of a transaction then it is easy to resolve the issue of the Duplicate transaction. By looking at the download of these IDs for these transactions in Quicken 2018, we easily determine what's causing these duplicates. But, do you know what is a duplicate transaction and why do duplicate transactions occur?
Merchant, sometimes accidentally charged two or more times on a credit card for the same purchase. So, it is called a duplicate transaction.
Let's understand by example. When you purchase anything online or other locations, merchants generate the duplicate transaction code and this only happens when the time is the same or the same amount of things with a small amount of time. That's the reason the Duplicate transaction is generated. Let's have a look at the possible ways of its occurrence:
Reasons for duplicate transactions in Quicken are as follows;
If you have Deactivated and Reactivated your Quicken accounts.

And, if your bank changed the format of Financial Institution Transaction ID(FITID) in a Direct Connect account.
Reactivating an Account
Just keep in mind that whenever you reactivate your existing accounts in Quicken Mac then you are prompted to Add, Ignore or Link the accounts found at the bank using your credentials. In case if you chose to Add rather than Link then you can end up with duplicate accounts.
What are the solutions
You need to deactivate the duplicate or new account after that delete it. Just follow these Reactivate instructions and make sure to carefully Link the accounts.
Although reactivating an account has the potential to create duplicate transactions in the existing account. And, one of the solutions is to delete the duplicates from the account register.
If your financial Institution changed their format for FITID
This is the reason for causing duplicate transactions to download because Quicken flags previously downloaded transactions by the FITID as a mechanism in order to prevent duplicates from downloading. If FITID changes on existing transactions and they are transmitted to Quicken then Quicken has no way of knowing that they are really duplicates of previously downloaded transactions.
The solution for this is to delete the duplicates from the account register.
Moving further, let's discuss how you can fix the duplicate transactions issue in Quicken?
Quicken for Windows
Method 1: You need to add the downloaded ID column to your register
Firstly open Quicken

Next, click on the Register Columns gear icon that is present at the top right of the account register.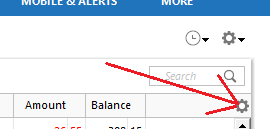 Now, make a checkmark next to Downloaded ID after that click Done.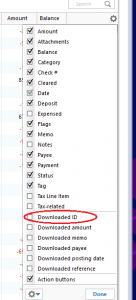 Note: For using Two-Line Display, all you need to do is select Downloaded ID and Downloaded reference.
After that review the Downloaded ID. And, this is the unique identifier for each downloaded transaction. Basically, it is used by Quicken to determine which transactions have been downloaded and which ones need to be downloaded.
Method 2: You need to determine the cause for Duplicate transactions in Quicken
Deactivate and reactivate an account in Quicken
Initially, go to Tools > Account List(Ctrl+A)

Next, click on Edit for the account that you want to deactivate again.

After that go to Online Services.

Now click on Deactivate and Yes.

Click on Deactivate and to confirm.

Press Done.

Next to receive reactivate the account.

Again click on Tools >? Account List and click Edit for the same account.

Select Online Services.

Click on Set Up Now.
And in the process to reactivate the account, Quicken will pull up your bank account information. Make sure to Link your account instead of adding it.
In case, if you see duplicate transactions into your register then delete them manually.
Downloaded transactions appear twice in the register
Initially, go to the account register.

Now, look for duplicate transactions and delete them.

Next press Ctrl+2 on your keyboard and delete the duplicate transactions.

After that set the register back to Two-line display just by pressing Ctrl+2 again.
And if you don't have any idea regarding how to delete duplicate transactions then you can contact Quicken Support team for the help.
Quicken for Mac
Method 1: Deactivate and Reactivate Quicken account
After Deactivating Quicken account reactivates it again.

In order to reactivate Quicken may ask to link, add or ignore the account.

Now Click on Link and click Next.

Again go back to your account register and see if there any duplicate transactions. If present then deletes them manually.
Method 2: Check with the bank if they changed Financial Institution Transaction ID(FITID)
Also, if the bank changed the FITID then there might be chances you would face duplicate transactions in Quicken.

In order to prevent Quicken duplicate transactions, you need to update the FITID.

After updating FITID, check-in your register for duplicate transactions. And if present, delete them manually.
How to delete multiple duplicate transactions
Just go through the given steps below, in order to delete numerous duplicate transactions.
Note: You can delete multiple transactions simultaneously in the register only.
At first, make a backup of data file. This will ensure that you have a "fall-back" file you can use to get back to where you were when you started.

In order to view the register, select the affected account.

After that click the first duplicate transaction to highlight it.

Now, hold the Ctrl key on your keyboard then click each of the duplicate transactions in the register.

After selecting all the duplicate transactions just right-click on any one of them and select Delete.
Conclusion:
As we have discussed all the possible to remove the duplicate transactions in Quicken. If you still have any queries related to that then you contact Quicken Support. Or you can also dial our toll-free number 8888839555.